Think Outsourcing is 'Out' of the Question?

Let's clear up a few things about Managed IT Services first.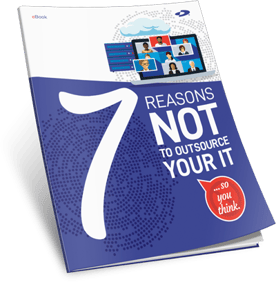 We've heard so many reasons why businesses remain hesitant to Outsource IT, from expense, to IT control (or perceived lack thereof), to the uber-dangerous assumption that "a security breach will never happen to me."
This eBook offers a fresh perspective and a better understanding of the peace of mind that comes with hiring a Managed IT Services partner.
A few common objections we'll clear up:
"We're too small for hackers to come after."

So you think your SMB isn't a potential cyber security target? Think again.

"Outsourcing is just too expensive:"

Consider cost vs. value - as well as the enormous expense of Ransomware-related downtime.

"What we're doing now has always worked."

Technology obsolescence isn't just a productivity pitfall... it's a serious cyber security risk
Fill out the form to get your eBook!