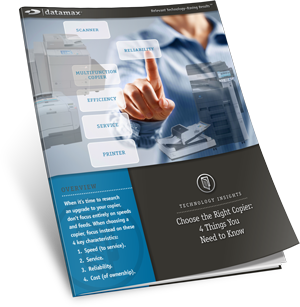 So here they are!
speed

service

reliability

total cost of ownership
They may seem obvious, but you must "peel the onion back" and take a much closer look at what they mean.
Copiers (also called multifunction printers, MFPs) are key contributors to your office's productivity. Match your business need to the equipment that will meet that need, not a pre-defined set of functions you think you need.
Download your FREE copy today to understand why when you dig much deeper on these four things it will lead you to the right equipment for your office.