Lunch & Learn details:
When: Wednesday, September 27, 2017
Session 1: 11:30 am to 1:00 pm
Lunch: RX Catering
Session 2: 4:00 pm to 5:30 pm
Snacks: Wine & Cheese
Where: The "New" Datamax Technology Center, 7400 Kanis Road, Little Rock, AR
When you arrive, be sure to fill out an entry form to win a Amazon - Echo Dot (2nd Generation). One (1) to be given away at each of our event times!
---
Our Guest Speaker:
Uday Ali Pabrai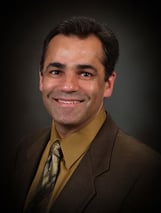 Cyber Security & Compliance Expert, MSEE, CISSP (ISSAP, ISSMP), Security+, Chairman & Chief Executive of ecfirst
Mr. Pabrai is a highly sought after expert and has successfully delivered solutions to U.S. government agencies, IT firms, healthcare systems, legal & other organizations worldwide.
He has served as an Interim CISO for a health system with 40+ locations in USA. Mr. Pabrai has led numerous engagements worldwide for ISO 27001, PCI DSS, NIST & HIPAA/HITECH security assessments. ecfirst is an approved HITRUST CSF Assessor and a PCI Qualified Security Assessor.
Mr. Pabrai has presented passionate briefs to tens of thousands globally, including the USA, United Kingdom, France, Taiwan, Singapore, Canada, India, UAE, Africa, Saudi Arabia, Philippines, Japan & others. Conferences Mr. Pabrai has been featured at include HCCA, ISACA CSX, HIMSS, InfraGuard (FBI), ISSA, HIPAA Summit, Google Privacy & Security Summit, Microsoft Tech Summit, Internet World, DCI Expo, & dozens of others. Mr. Pabrai is the author of several Published works.
Mr. Pabrai is a proud member of the U.S. InfraGard (FBI).