Cody Simon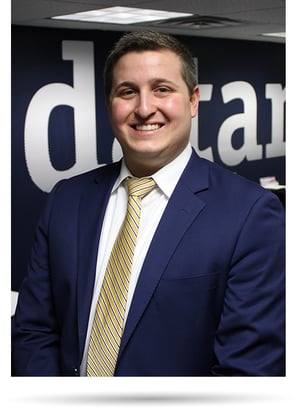 Area Sales Manager
Why Datamax? At Datamax, culture trumps everything, creating a workplace environment that empowers and inspires its employees
Days at Datamax:
About Cody
As an Area Sales Manager at Datamax, Cody Simon recognizes the necessity of truly understanding organizations — their needs, their challenges, and their vision — to develop technology solutions that are both relevant and impactful. Sustaining a long-term partnership is a key objective with every business he serves.
Cody joined the Datamax organization in January 2016. As an Account Manager, he analyzed, recommended and implemented document workflow solutions for specific industry and organizational needs. He earned the President's Club designation shortly before being promoted to Area Sales Manager in August 2019.
Prior to joining Datamax, Cody worked as a Brokerage Associate at Colliers-International in Bentonville, Ark. There he developed extensive collaboration skills in a fast-paced environment, including site research, design work, leasing and sales calls and tenant representation. The collaboration skills gained have helped frame his strong inter-department relationships at Datamax, as well as the ability to work closely with clients to develop and optimize their unique business processes.
Cody graduated from the University of Arkansas Fayetteville in 2013, earning a B.S. in Marketing/Marketing Management.
Home Town: Little Rock, Arkansas
Free Time: Golf, cooking, entertaining, and being outdoors (especially on the water).
Raving Fan of: Arkansas Razorbacks, Chicago Cubs
Something Bigger: ARHIMSS, Ronald McDonald House Charities, Children's Protection Center, Rotary Club of Little Rock, Hat Club of Little Rock