Relevant solutions require Discovery.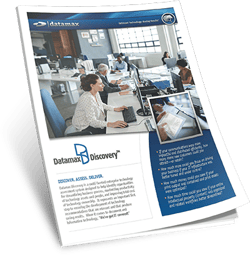 Datamax believes any technology implementation – production print included – first requires discovery. The Relevant Technology and Raving Results you deserve and expect don't transpire without digging deeper into your specific business environment. That's why we introduce Datamax Discovery®, a multi-faceted assessment system designed to help you maximize productivity and improve total cost of technology ownership.
Get started with Datamax and schedule your Production Print Assessment today!