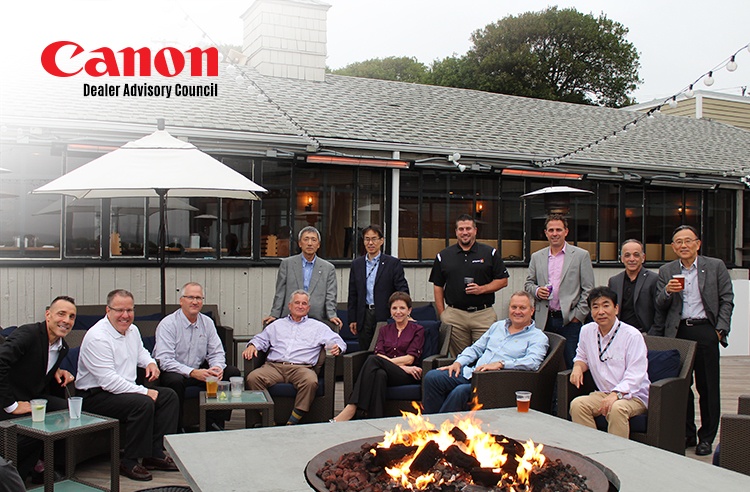 Little Rock, AR, September 19, 2017 — Canon Continues to Value Datamax Business Insights at its 2017 Dealer Advisory Council Meeting.
The Canon Dealer Advisory Council represents a spectrum of select Canon Dealership leaders from around the United States. The Dealer Advisory Council meets several times per year with top Canon Executives to advise on products, processes, and strategies from the dealers' perspectives, as well as to collaborate on new ways to accentuate Manufacturer/Dealer relations and partnership alignment.
"It is a real privilege to continue service on Canon's Dealer Advisory Council for 2017. Our recent meeting produced some great dialog and great ideas that are sure to enhance market positioning, improve solution delivery, and drive higher customer satisfaction levels with the manufacturer and dealer. From my point of view, any time we can spend time strategically on such things, the more we will elevate our ability to Create Raving Fans — Datamax's stated mission," says Barry Simon, President, Datamax Inc.
As the President of Datamax, Barry has served on the Dealer Advisory Council for eight (8) years. He also served as Council Chairman for five (5) of those years.
Additionally, Datamax has been selected as Canon Advanced Partner and has enjoyed that distinction for four (4) straight years.
---
About Datamax
Datamax Inc. offers the latest equipment and solutions in technology to increase efficiency and productivity in customers' offices. Datamax Inc. has been in business for over sixty (60) years with offices in Arkansas and Texas with more than two-hundred (200) employees in two (2) states.
For the complete portfolio of Datamax products and solutions, please visit their websites at www.datamaxarkansas.com or www.datamaxtexas.com.
---
Like them on Facebook:
www.facebook.com/datamaxarkansas or www.facebook.com/datamaxtexas
Follow them on Twitter:
@datamaxarkansas or @datamaxtexas
Connect with them on LinkedIn:
www.linkedin.com/company/datamaxarkansas or www.linkedin.com/company/datamaxtexas
Direct Inquiries can be made to:
Robert Caldwell
Vice President, Marketing
Datamax Inc.
7400 Kanis Road, Little Rock, AR 72204
800-633-1526 | Ext: 5414
rcaldwell@datamaxtexas.com