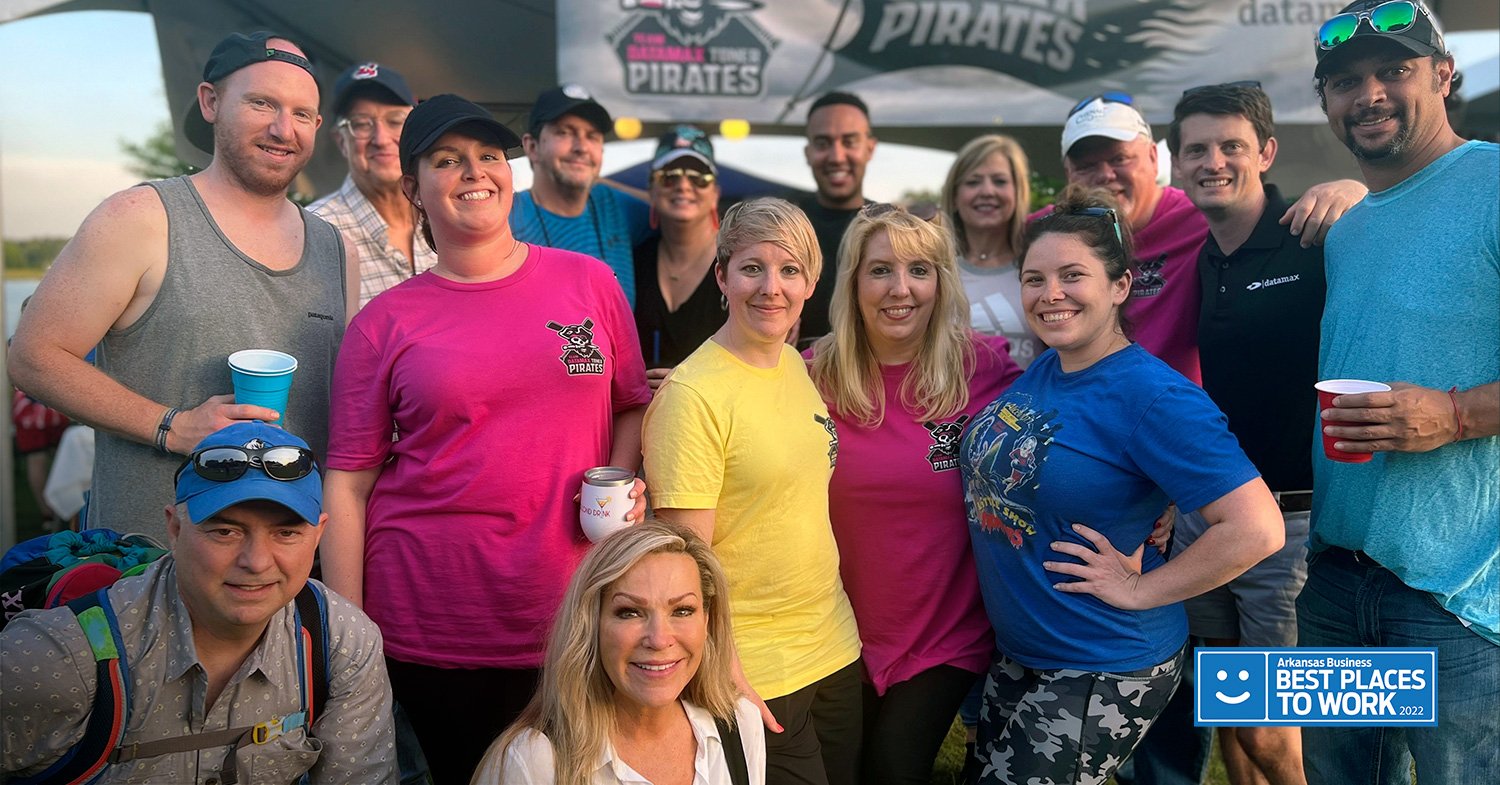 Little Rock, ARK (July 12, 2022) - It's been said that consistency breeds success. Datamax, in being named Best Places to Work in Arkansas for the sixth straight year, not only demonstrates its commitment to company culture, but also its consistency in living it out amid continued global workplace challenges.
In its ninth year, Arkansas Business continues to offer this program in partnership with Workforce Research Group. This survey and awards program was designed to identify, recognize and honor the best employers in Arkansas, benefiting the state's economy, workforce and businesses.
"We are proud and humbled to once again be named 'Best Places to Work in Arkansas,'" Datamax Inc. President Barry Simon said. "To win something once, you're excited. To do it six times in a row? To me, that shows you're being consistent at what you're doing. I'm proud to have the employees we have, and certainly thrilled to consider all of them family."
To be considered for participation, companies had to fulfill the following eligibility requirements:
Be a for-profit, not-for-profit business or government entity;
Be a publicly or privately held business;
Have a facility in Arkansas;
Have at least 15 employees in Arkansas;
Be in business a minimum of 1 year.
Employers are asked to fill out an in-depth questionnaire about their company, while employees are asked to take a survey. These elements allow Workforce Research Group to collect direct information and honest feedback about their workplace to determine if they're one of the "Best."
"We're humbled to have employees feel the way they feel, but even if they don't, we are grateful that they share that with us too, so we can improve as an organization. It's always nice to know how you are doing," Simon said.
From lingering supply chain issues and hiring and staffing challenges that have plagued all industries, Simon credits the Datamax culture at large for sustaining that "Raving Fan" experience for customers and internal coworkers alike.
"In a lot of ways, COVID was easier to deal with than the Supply Chain challenges. But all of our people are doing their best to work together to make the best decisions possible (for customers)," Simon said. "As a company, we continue to invest in our people to make sure we do whatever is possible to make sure our customers are Raving Fans, and so is our own Datamax family. Culture trumps everything at Datamax."
Winners will be celebrated and category winners, including the Benchmark Award winner, will be revealed at a special awards ceremony featuring company representatives in person as well as those joining via virtual watch parties on Sept. 29, and then published in a special supplement of Arkansas Business on Oct. 3.
For more information on the Best Places to Work in Arkansas program or to purchase ticket packages visit www.arkansasbusiness.com/bestplacestowork
PHOTO: Datamax team members at the 2022 River Cities Dragon Boat Festival, benefitting the Children's Protection Center.
About Datamax
Datamax Inc. offers the latest equipment and solutions in technology to increase efficiency and productivity in customers' offices. Datamax Inc. has been in business for over sixty-five (65) years with offices in Arkansas and Texas with more than two hundred (200) employees in two (2) states.
---
Like them on Facebook: www.facebook.com/datamaxarkansas or www.facebook.com/datamaxtexas
Follow them on Twitter:
@datamaxarkansas or @datamaxtexas
Connect with them on LinkedIn:
www.linkedin.com/company/datamaxarkansas or www.linkedin.com/company/datamaxtexas
Direct Inquiries can be made to:
Jeff Walker
Marketing Communications Manager
Datamax Inc.
800-986-4782
jwalker@datamaxtexas.com