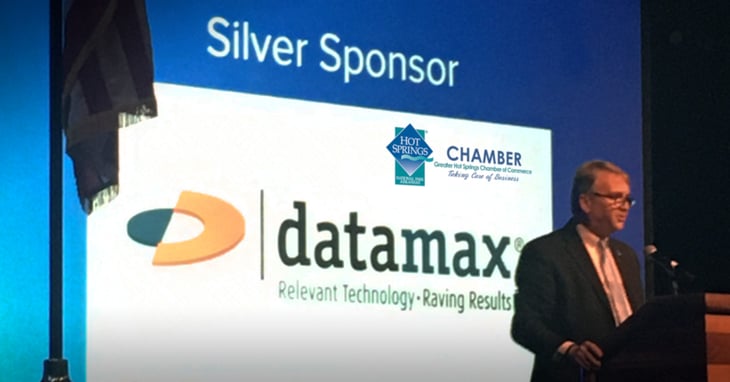 Hot Springs, ARK - (Oct. 22, 2021) — Datamax Inc. Area Sales Manager Lee Wheelington describes the Hot Springs community as a neighborly place – a city where business interactions are often conducted over breaking of bread, or even casual run-ins at the grocery store.
The Greater Hot Springs Chamber of Commerce, he says, is masterful at introducing those neighbors, with a passion for connecting good people and good businesses to one another since its inception. Decades later, that hasn't changed a bit.
This month Datamax celebrates its 50th anniversary as a member of the Greater Hot Springs Chamber of Commerce. This milestone marks a long-standing commitment by both parties to support one another, as well as surrounding neighbors.
"To me, I think this anniversary shows our commitment to the growth and success of the community. It also shows the faith and the confidence that the community has in us, allowing us to be here this long," Wheelington said.
Wheelington came to Hot Springs in 1999, and has made it a point to sustain regular interactions with and support of Chamber activities there. These include leads groups, events like Cards over Coffee, ribbon cuttings, and the annual awards banquet, which Datamax routinely sponsors. Prior to Lee's arrival, Datamax's Louis Massenelli was a benevolent torch bearer of chamber involvement.
"I love this chamber," Lee said. "Our relationship with them is part of our weekly business activity. They truly look out for how they can help members. In the many social events that they host, ones that turn into casual business meetings, I always walk away with an opportunity to Create a Raving Fan."
Shannon LaDuke, Business Development Director for the Greater Hot Springs Chamber of Commerce, says that her team takes to heart "creating a sense of community."
"Part of my job is to connect businesses and business owners and help them promote each other while we're promoting them," LaDuke said. "I think in general, a town this size, it lends itself to a very friendly 'lift up your neighbor' type of place."
LaDuke recently posted Datamax's "Chamberversary" in their newsletter as well as their regular "Monday Memo" email. She credits both Massenelli and Wheelington for their ongoing support over the 50 years.
"Datamax always pledges a certain amount of sponsorship money. They are part of a leads group that's been running for 15 years straight, and Datamax is part of most of our major events. We love to promote them in any way that we can," LaDuke said.
For more about the Greater Hot Springs Chamber of Commerce, visit them online at https://www.hotspringschamber.com/
Pictured: Pictured above is Greater Hot Springs Chamber of Commerce President and CEO Gary Troutman, speaking at a chamber awards banquet.
---
About the Greater Hot Springs Chamber of Commerce
For more than a century, the Greater Hot Springs Chamber of Commerce has been the voice of business and the visionary organization in Hot Springs. The organization represents over 900 businesses of all sizes and all industries in the greater Hot Springs region.

The Chamber's activities are overseen by our executive committee, board of directors and board of advisors, which are made up of Hot Springs' top business leaders. With a staff of eight, the chamber supports members and the business community through economic and community development, government relations, education and workforce development initiatives, and tourism growth.
Like them on Facebook: www.facebook.com/hotspringschamber
Follow them on Twitter:
@GHSChamber
Connect with them on LinkedIn:
www.linkedin.com/company/great-hot-springs-chamber
---
About Datamax
Datamax Inc. offers the latest equipment and solutions in technology to increase efficiency and productivity in customers' offices. Datamax Inc. has been in business for over sixty-five (65) years with offices in Arkansas and Texas with more than two hundred (200) employees in two (2) states.
Like them on Facebook: www.facebook.com/datamaxarkansas or www.facebook.com/datamaxtexas
Follow them on Twitter:
@datamaxarkansas or @datamaxtexas
Connect with them on LinkedIn:
www.linkedin.com/company/datamaxarkansas or www.linkedin.com/company/datamaxtexas
Direct Inquiries can be made to:
Jeff Walker
Marketing Communications Manager
Datamax Inc.
800-986-4782
jwalker@datamaxtexas.com