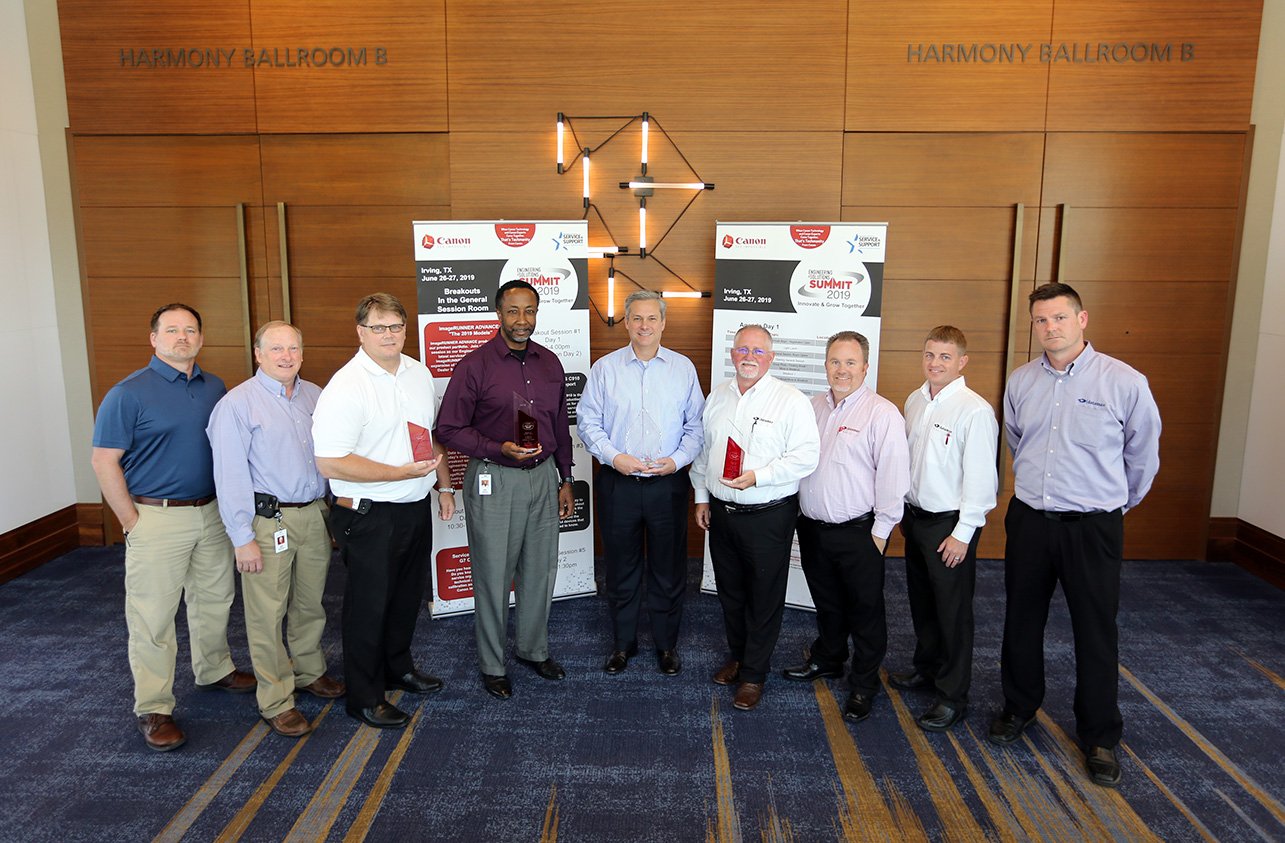 Irving, TX (July 9, 2019) - Datamax Inc. was recognized at the recent Canon Engineering and Solutions Summit for its long-standing, organization-wide Association of Technical Service Professionals (ATSP) attainment. This exclusive recognition further solidifies Datamax's unequivocally strong partnership with Canon USA, as well as its unique commitment to a superior client service experience.
Datamax representatives were called up to accept the award during the Summit's opening ceremonies, when Canon USA Regional Service and Training Manager Jery Lane commended Datamax's outstanding performance in supporting the ATSP program.
"It was an honor for the company to be recognized in front of all the other dealers (at the Summit)," Datamax Texas Director of Service Steve Kennemer said. "There is a significant amount of time and resources that go into achieving this year after year. It's so important because ATSP plays a big part in total customer satisfaction: It teaches technicians how to deal with customers. How to aide them in advanced trouble shooting. It also keeps their skills fine-tuned and up to date."
Technicians at each Datamax location spend literally hundreds of hours in online and hands-on training to become ATSP certified. The program consists of a variety of modules and exams, as well as device-specific education, all designed to measure both the knowledge and the demonstration of the skills that are required in real-world copier support settings.
Datamax Arkansas Service Manager Mark McKinney applauds his group of technicians for their tireless efforts in ATSP-specific training throughout the year.
"If I could have all of (my team of technicians) walk up and receive that award with me, I would," McKinney said. "They're the ones who work extremely hard all year to earn ATSP… For customers, this ATSP certification guarantees that when one of our technicians walks in to work on a machine, they have a high level of expertise on that equipment. And that means faster response times, higher fix rates, etc."
Datamax Texas has earned ATSP recognition for an unprecedented 12 straight years, the only dealership in the region to do so, and one of only four nationwide. Datamax Arkansas has achieved ATSP status three straight years. Meanwhile, in its first year as part of the Datamax organization, the East Texas branch, which includes Tyler, Longview and Lufkin offices, became ATSP certified as well.
"It's our commitment to keep our East Texas technicians abreast of the latest and greatest in technologies with regards to office equipment," Vice President of Operations Stephen Hampton, who offices out of Tyler, said. "ATSP certification, which keeps our technicians highly knowledgeable and qualified, is very relevant to the ability to provide excellent customer service. It sets us apart in our marketplace."
In addition to the in-depth technician training, ATSP certification also provides Datamax priority access to Canon's Tier 3 support, bringing in the highest level of expertise for troubleshooting and faster resolution to unique Canon equipment issues a client may face.
The Canon Summit is held annually to share with dealership team leaders emerging technology and upgrades to the manufacturer's line of hardware and software solutions.
About Datamax
Datamax Inc. offers the latest equipment and solutions in technology to increase efficiency and productivity in customers' offices. Datamax Inc. has been in business for over sixty (60) years with offices in Arkansas and Texas with more than two-hundred (200) employees in two (2) states.
---
Like them on Facebook: www.facebook.com/datamaxarkansas or www.facebook.com/datamaxtexas
Follow them on Twitter:
@datamaxarkansas or @datamaxtexas
Connect with them on LinkedIn:
www.linkedin.com/company/datamaxarkansas or www.linkedin.com/company/datamaxtexas
Direct Inquiries can be made to:
Jeff Walker
Marketing Communications Manager
Datamax Inc.
800-986-4782
jwalker@datamaxtexas.com