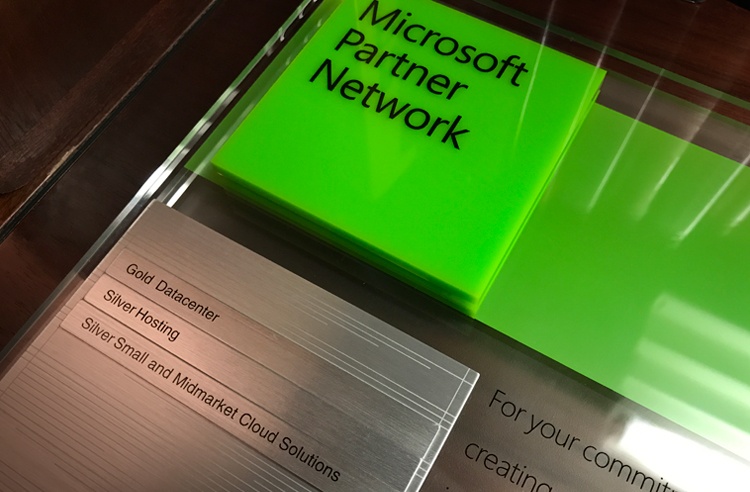 Little Rock, AR, September 12, 2017 — Datamax is proud to achieve Gold Partner Status with Microsoft Corporation for the 12th Year in a Row.
"For your commitment to creating and delivering innovative customer solutions and services based on Microsoft technologies, we proudly recognize your dedication to excellence." (2017 - Gold - Datacenter, Silver - Hosting, Silver - Small and Midmarket Cloud Solutions) — Satya Nadella, Chief Executive Officer, Microsoft Corporation.
The Microsoft Partner Network is the most powerful community of its kind — larger than Amazon Web Services (AWS) and Salesforce combined, thus leveraging its vast partner resources is a strategic proposition for Datamax.
"Thanks to a team effort involving technical staff in both the Arkansas and Texas marketplaces, Datamax is proud to announce that we have achieved Microsoft Gold Partner status for 2017-2018. Datamax is officially certified as a Gold Datacenter partner, a Silver Hosting partner, and a Silver Small and Midmarket Cloud Solutions partner." — Justin Huffaker, Vice President of Strategic Technology, Datamax Inc.

Datamax's twelve (12) year focus on achieving and maintaining Microsoft Gold Partner status is firstly about ensuring it is best equipped to help customers modernize their infrastructure, migrate applications and data to the cloud, and deploy the best-managed infrastructure services possible. Offering customers the ability to transform data centers that are more flexible, scalable, secure, and cost-effective is paramount. Offering hybrid solutions that bridge on-premises and the cloud is essential as well.
Secondarily, becoming a more relevant partner, a foundational mission at Datamax, is an important outcome of the Microsoft Partner accreditation process. In a study by IDC, asking the question, "Why do Customers look to qualified IT Partners?" the top six answers surfaced:
I need someone to be my Trusted Technology Advisor.
I need to adapt and innovate in the world of digital business.
I want someone who's local to me.
I want to work with a firm that knows my industry and my business.
I want help from someone who can make technology easy for us.
I need help in moving my business to the cloud.
"Having the technical know-how is one thing — and a big thing. Being a relevant and valued partner is at a whole other level. At Datamax, we believe in the Microsoft Partner Network and the effort and investment to achieve it, and think it provides the very best platform to deliver all of the above as a technology partner," says Justin.
---
About Datamax
Datamax Inc. offers the latest equipment and solutions in technology to increase efficiency and productivity in customers' offices. Datamax Inc. has been in business for over sixty (60) years with offices in Arkansas and Texas with more than two-hundred (200) employees in two (2) states.
For the complete portfolio of Datamax products and solutions, please visit their websites at www.datamaxarkansas.com or www.datamaxtexas.com.
---
Like them on Facebook:
www.facebook.com/datamaxarkansas or www.facebook.com/datamaxtexas
Follow them on Twitter:
@datamaxarkansas or @datamaxtexas
Connect with them on LinkedIn:
www.linkedin.com/company/datamaxarkansas or www.linkedin.com/company/datamaxtexas
Direct Inquiries can be made to:
Robert Caldwell
Vice President, Marketing
Datamax Inc.
7400 Kanis Road, Little Rock, AR 72204
800-633-1526 | Ext: 5414
rcaldwell@datamaxtexas.com