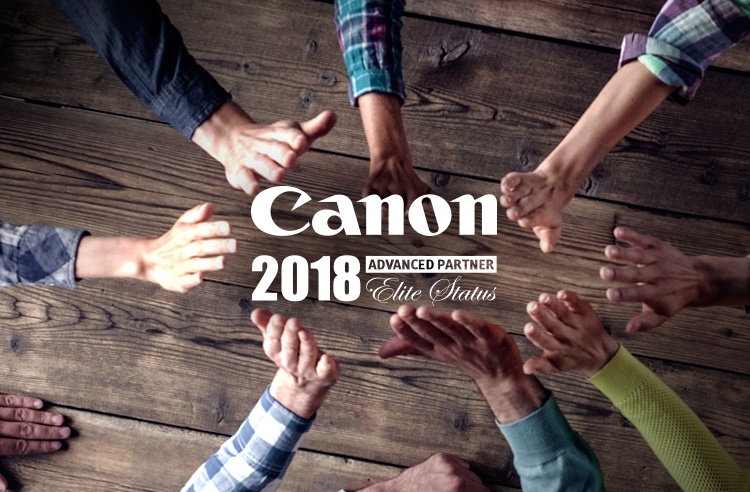 Little Rock, AR, Feb. 16, 2018 — For an unprecedented fifth straight year, Datamax, Inc. has achieved Advanced Partner Status with Canon for 2018.
This distinction once again places Datamax among the elite few within the Canon Authorized Dealership community, as less than 10 percent of these dealers qualify for the Advanced Partner Program.
"We are thrilled and honored to be recognized by Canon for a fifth straight year," Datamax, Inc. President Barry Simon said. "We value our long-standing relationship with this innovative organization, and we look forward to continued success together moving ahead."
This year, Datamax, Inc. celebrates its 35th anniversary of partnering with Canon. Simon credits Canon as being a key component to Datamax's sustained success in both Texas and Arkansas.
Earning membership in the Advanced Partner Program is contingent on providing high-quality products and solutions with high-quality service and business practices. The program offers support and tools to help awarded businesses succeed, such as priority product and service training, access to Canon senior-level managment, sales support tools and enhanced ordering support.
"Qualifying for this program means you provide high quality products, service and business practices," said Toyotsugu Kuwamura, Executive Vice President and General Manager Business Imaging Solutions Group, Canon USA. "With the Advanced Partner Program, we can take our relationship and your business to the next level."
In addition to being named to the Canon Advanced Partner Program for a fifth straight year, Datamax is a Canon ATSP Service Provider (10 years in a row), a Konica Minolta PRO-TECH Service Provider (4 years in a row), and a Microsoft Gold Partner since 2006. Additionally, it has been recognized as an ENX Magazine ELITE DEALER AWARD recipient for the last two years, and voted "One of the Best Places to Work" by Arkansas Business for 2017.
---
About Datamax

Datamax Inc. offers the latest equipment and solutions in technology to increase efficiency and productivity in customers' offices. Datamax Inc. has been in business for over sixty (60) years with offices in Arkansas and Texas with more than two-hundred (250) employees in two (2) states.
For the complete portfolio of Datamax products and solutions, please visit their websites at www.datamaxarkansas.com or www.datamaxtexas.com.
---
Like them on Facebook:
www.facebook.com/datamaxarkansas or www.facebook.com/datamaxtexas
Follow them on Twitter:
@datamaxarkansas or @datamaxtexas
Connect with them on LinkedIn:
www.linkedin.com/company/datamaxarkansas or www.linkedin.com/company/datamaxtexas
Direct Inquiries can be made to:
Jeff Walker
Marketing Communications Manager
Datamax Inc.
800.986.4782