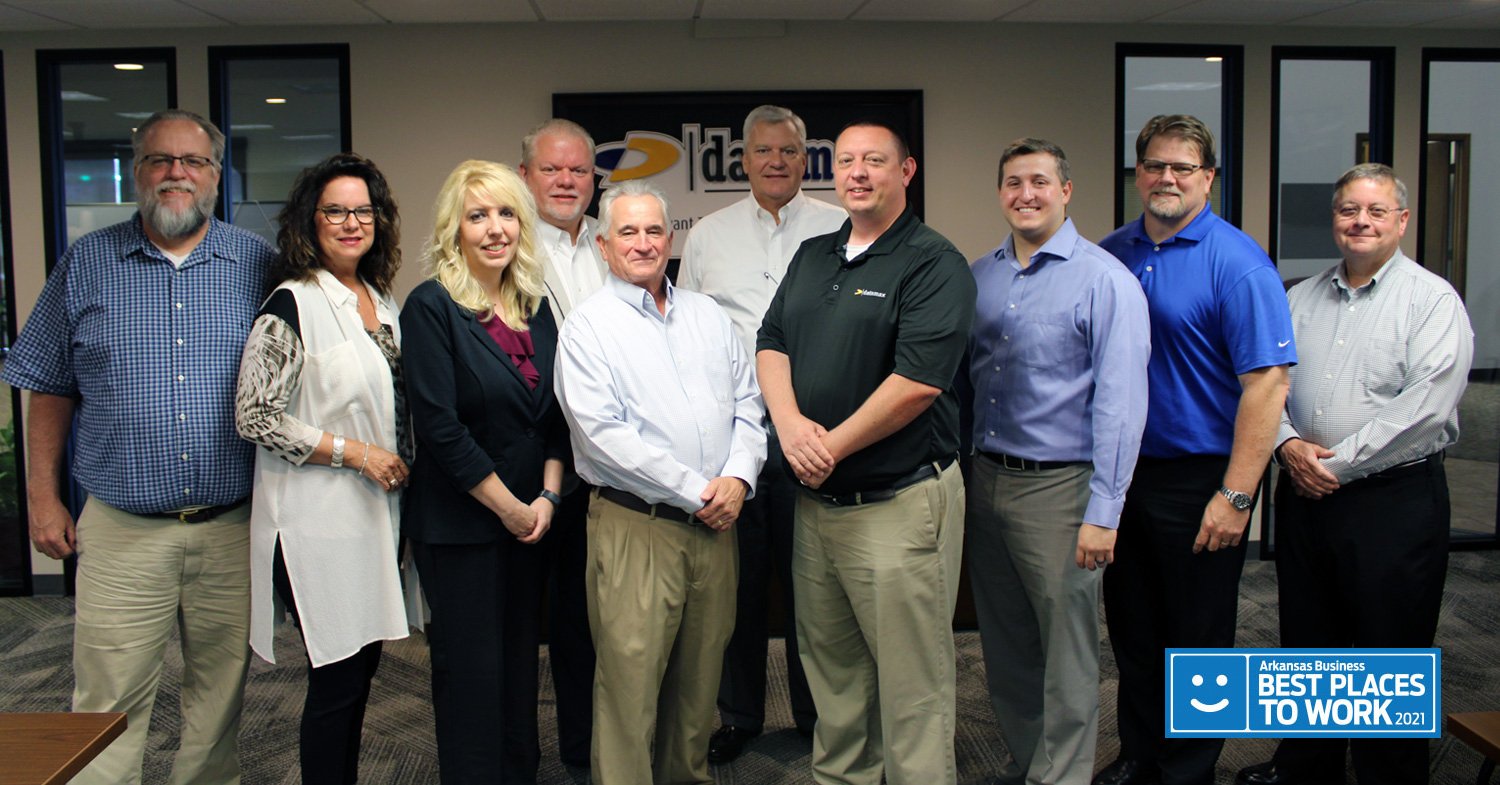 Little Rock, ARK - (July 19, 2021) — Datamax Inc. is proud to be named "Best Places to Work in Arkansas" for a fifth consecutive year. This survey and awards program, conducted by Arkansas Business and Best Companies Group, bases its winners on an employee survey and an evaluation of company workplace policies, practices, philosophy, systems, and demographics.
In an unprecedented year that brought unforeseen challenges to businesses everywhere, company culture became a keystone to weathering the pandemic in 2020. In that spirit, the company's response to the challenges faced by COVID-19 played a definitive role in the "Best Places to Work" survey and selection process.
"It is an honor to be named 'Best Places to Work.' It's something you certainly strive for," Datamax Inc. President Barry Simon said. "But it's also rewarding to know that people within our company will tell us what we're doing right, and what we're not doing right, so we have the ability to address those issues. Our culture isn't just something that is written down. It is something that we honor and we live by. We never wavered in that regard (throughout the pandemic)."
As COVID-19 became a reality at Datamax Arkansas offices, workplace policies were made flexible, including well-structured work-from-home policies for many employees.
The company also invested in anti-microbial product spraying equipment to provide protection against bacteria, viruses, and fungi, as well as body temperature screening kiosks to help stop the threat of COVID-19 at the door.
Simon himself conducted weekly video messages to communicate with the entire organization emerging policies, updates, and reassurance that, as he often says, "The Best is Yet to Be."
Datamax Arkansas Human Resources Manager Tamara Hargrove said, "Barry's weekly update videos helped everyone feel safe, protected, and certainly in the know."
To be considered for participation, companies had to fulfill the following eligibility requirements:
Be a for-profit, not-for-profit business or government entity;
Be a publicly or privately held business;
Have a facility in Arkansas;
Have at least 15 employees in Arkansas;
Be in business a minimum of 1 year.
Companies from across the state entered the two-part survey process to determine the Best Places to Work in Arkansas. The first part consisted of evaluating each nominated company's workplace policies, practices, philosophy, systems, and demographics.
This part of the process was worth approximately 25% of the total evaluation. The second part consisted of an employee survey to measure the employee experience. This part of the process was worth approximately 75% of the total evaluation. The combined scores determined the top companies and the final rankings. Best Companies Group managed the overall registration and survey process in Arkansas, analyzed the data, and determined the final rankings.
Winners will be celebrated and category winners, including the Benchmark Award winner, will be revealed at a hybrid event with in-person and virtual package options on Sept. 29 at the DoubleTree Hotel Little Rock, and then published in a special supplement of Arkansas Business on Oct. 4.
"Every decision we made was geared around, 'how do we take care of our employees,' and 'how do we take care of our customers,'" Simon said. "That's what building a strong culture and a quality organization is about."
---
About Datamax
Datamax Inc. offers the latest equipment and solutions in technology to increase efficiency and productivity in customers' offices. Datamax Inc. has been in business for over sixty-five (65) years with offices in Arkansas and Texas with more than two hundred (200) employees in two (2) states.
---
Like them on Facebook: www.facebook.com/datamaxarkansas or www.facebook.com/datamaxtexas
Follow them on Twitter:
@datamaxarkansas or @datamaxtexas
Connect with them on LinkedIn:
www.linkedin.com/company/datamaxarkansas or www.linkedin.com/company/datamaxtexas
Direct Inquiries can be made to:
Jeff Walker
Marketing Communications Manager
Datamax Inc.
800-986-4782
jwalker@datamaxtexas.com