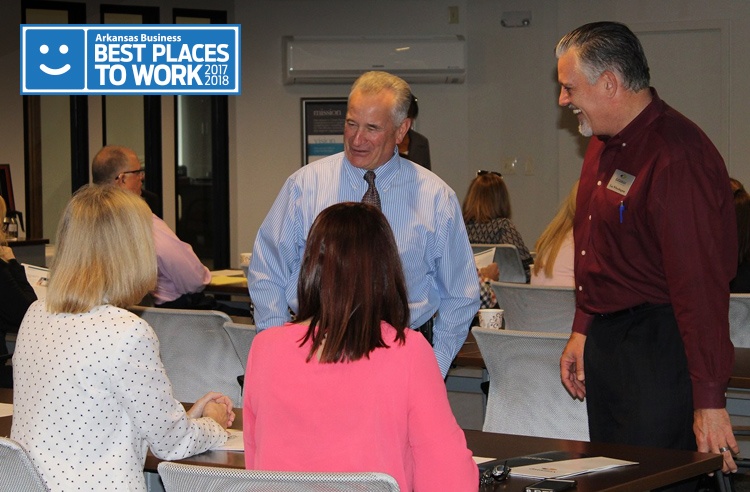 Little Rock, AR ( July 23, 2018) - Datamax was recently named "Best Places to Work in Arkansas" for the second consecutive year by Arkansas Business and Best Companies Group.

"We are very honored to be awarded 'Best Places to Work in Arkansas' two years in a row," Barry Simon, President of Datamax Inc., said. "At Datamax, our mission is about Creating Raving Fans®, and that includes not just our clients and the communities we serve, but our employees as well."

That core mission of "Creating Raving Fans" follows a rather simple formula: Provide rapid response to needs, resourceful resolution to issues and real (maximized) return on every technology investment. But the philosophy also reflects Datamax's strong cultural fabric, and its collective passion for generating enthusiastic client feedback to solutions solely relevant to them.
"Culture trumps everything," Simon said. "At Datamax, we aren't satisfied with customers or employees just being satisfied. Our mission is much bigger."

The Arkansas Business survey and awards program was designed to identify, recognize and honor the best employers in Arkansas, benefiting the state's economy, workforce and businesses. The list is made up of 40 companies.

To be considered for participation, companies had to fulfill the following eligibility requirements:
Be a for-profit, not-for-profit business or government entity;
Be a publicly or privately held business;
Have a facility in Arkansas;
Have at least 15 employees in Arkansas;
Be in business a minimum of 1 year.
Companies from across the state entered the two-part survey process to determine the "Best Places to Work in Arkansas." The first part consisted of evaluating each nominated company's workplace policies, practices, philosophy, systems and demographics.

This part of the process was worth approximately 25% of the total evaluation. The second part consisted of an employee survey to measure the employee experience. This part of the process was worth approximately 75% of the total evaluation. The combined scores determined the top companies and the final rankings. Best Companies Group managed the overall registration and survey process in Arkansas, analyzed the data and determined the final rankings.

The winners will be honored at a special event on September 27, 2018, and then published in a special supplement of Arkansas Business on October 1, 2018.

For more information on the Best Places to Work in Arkansas program, please visit www.BestPlacestoWorkAR.com.
About Datamax
Datamax Inc. offers the latest equipment and solutions in technology to increase efficiency and productivity in customers' offices. Datamax Inc. has been in business for over 60 years with offices in Arkansas and Texas with more than 250 employees in two states.
For the complete portfolio of Datamax products and solutions, please visit their websites at www.datamaxarkansas.com or www.datamaxtexas.com.
---
Like them on Facebook:
www.facebook.com/datamaxarkansas or www.facebook.com/datamaxtexas
Follow them on Twitter:
@datamaxarkansas or @datamaxtexas
Connect with them on LinkedIn:
www.linkedin.com/company/datamaxarkansas or www.linkedin.com/company/datamaxtexas
Direct Inquiries can be made to:
Jeff Walker
Marketing Communications Manager
Datamax Inc.
800-986-4782
jwalker@datamaxtexas.com