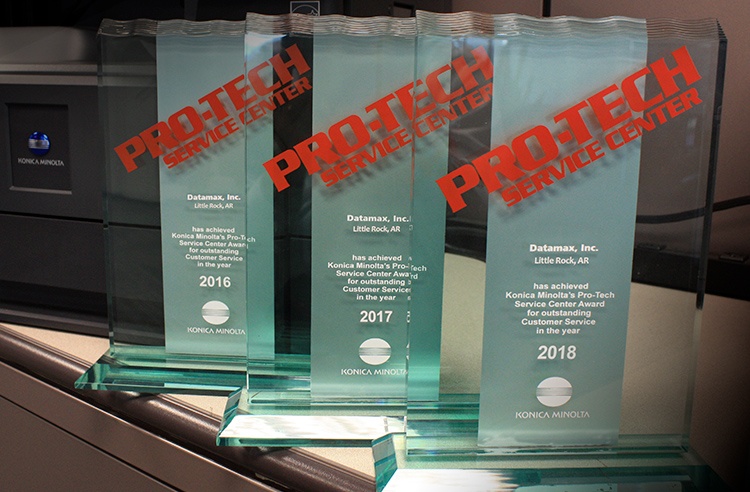 Little Rock, AR (Aug. 24, 2018) - For the third consecutive year, Konica Minolta awarded Datamax Arkansas with its coveted Pro-Tech Service Award for demonstrating excellence in both technical expertise and delivering top-tier client support.
In earning the award, Datamax Arkansas technicians committed to hundreds of hours of online and classroom training with Konica Minolta throughout the past year, building insight on both the equipment itself and customer service best practices.
"When you have a dealer that can say, 'we're selling this product, and we've also gone through this amount of training with this manufacturer,' it shows dedication," Datamax Arkansas Director of Service Mark McKinney said. "These technicians have dedicated themselves to these machines, how to repair them, and how to communicate with the client."
The client benefits of partnering with a Pro-Tech Service Award dealership include:
Professional, customer-oriented service department management and administration policies
Service response times significantly better than the industry average
Preventive maintenance programs that ensure maximum uptime and superior performance
Inventory control systems that provide immediate access to replacement parts and components
Comprehensive training programs and performance reviews to maintain the highest level of expertise
Skilled technical specialists and service personnel trained on your specific products
2018 marks the 30th year of the Konica Minolta Pro-Tech Award. Winners will be recognized at Konica Minolta Dealership Meeting later this year.
About Konica Minolta
Konica Minolta Business Solutions U.S.A., Inc. is reshaping and revolutionizing the Workplace of the Future™. With our comprehensive portfolio, we deliver solutions to leverage mobility, cloud services, and optimize business processes with workflow automation. Our All Covered IT Services division offers a range of IT strategy, support, and network security solutions across all verticals. Konica Minolta has been recognized as the #1 Brand for Customer Loyalty in the MFP Office Copier Market by Brand Keys for 10 consecutive years and is proud to be ranked on the Forbes 2017 America's Best Employers list. Konica Minolta, Inc. has been named to the Dow Jones Sustainability World Index for five years in a row. We partner with our customers to give shape to ideas and work to bring value to our society. Follow Konica Minolta on Facebook, YouTube, and Twitter @KonicaMinoltaUS.
---
About Datamax
Datamax Inc. offers the latest equipment and solutions in technology to increase efficiency and productivity in customers' offices. Datamax Inc. has been in business for over 60 years with offices in Arkansas and Texas with more than 250 employees in two states.
For the complete portfolio of Datamax products and solutions, please visit their websites at www.datamaxarkansas.com or www.datamaxtexas.com.
---
Like them on Facebook:
www.facebook.com/datamaxarkansas or www.facebook.com/datamaxtexas
Follow them on Twitter:
@datamaxarkansas or @datamaxtexas
Connect with them on LinkedIn:
www.linkedin.com/company/datamaxarkansas or www.linkedin.com/company/datamaxtexas
Direct Inquiries can be made to:
Jeff Walker
Marketing Communications Manager
Datamax Inc.
800-986-4782
jwalker@datamaxtexas.com