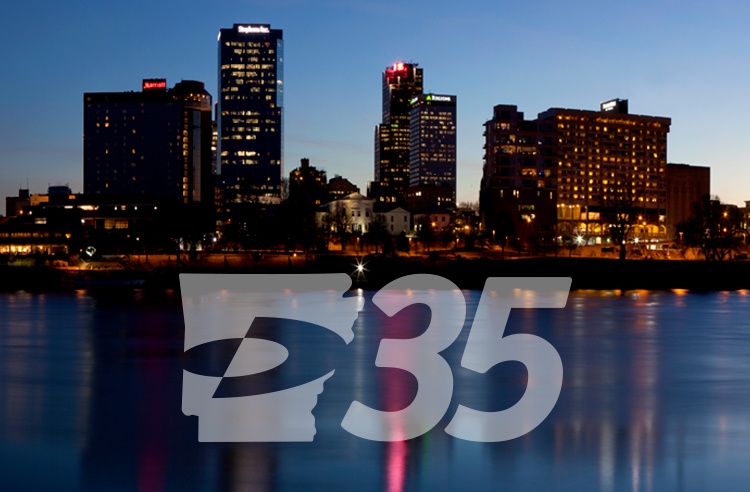 Little Rock, Ark., March 6, 2018 - Datamax Arkansas proudly announces its 35 year anniversary as a nationally recognized, privately-owned business technology provider. While the Datamax story certainly encompasses steady, continuous growth and thought-leadership in the array of technologies deployed, this 35th anniversary celebrates a thriving workplace culture summarized by its everyday mission of "Creating Raving Fans.®"
"Culture trumps everything," Datamax Inc. President Barry Simon said. "At Datamax, we aren't satisfied with customers or employees just being satisfied. Our mission is much bigger… I truly want it to be a very difficult decision for anyone to leave us (clients or employees)."
While there are many contributing factors to Datamax's longevity – including its early adoption of IT-related services and its 35-year partnership with Canon - its core mission of "Creating Raving Fans®" serves as its driving force, its heartbeat. In today's hyper-competitive business technology environment, Datamax doesn't operate on a clever slogan, but rather a unique way of life and of doing business.
The formula for success remains simple and direct: "Expertise plus execution plus a whole lot of enthusiasm in everything we do."
The Datamax Little Rock office opened in 1983, when the company acquired St. Louis-based A.B. Dick Products. The Little Rock office had 18 employees at the time. Simon arrived two years later, where he began to introduce the structure and integrated processes that would become long-term differentiating factors for Datamax: They offered features such as their own private leasing company, response time guarantees and unparalleled efficiency in delivery and installation.
"Everybody did everything they had to do then to get the job done. We were smaller, so we had to do things to differentiate ourselves," Simon said.
Over the next decade, the organization enjoyed substantial growth. With this came new challenges that Simon and industry consultant Mike Riordan confronted by instituting an organizational evaluation. Through their analysis, the two threaded together the "Creating Raving Fans®" philosophy that's become prevalent today.
Datamax Hot Springs opened in 1995. Five years later, in an effort to remain in front of evolving technologies, Datamax Arkansas entered the IT services arena when it acquired Micro Computer Technologies of Arkansas. The move introduced a full team of IT expertise to handle both a client's network and its office equipment, and positioned the company even further ahead of competitors.
Simon also credits its relationship with Canon as a major contributor to Datamax's sustained success. The Datamax Inc. president served on the Canon Advisory Board for five years, and says that he's always seen the role with Canon as a true partnership, not merely a vendor affiliation.
Datamax has long made "Raving Friends" in the communities it has served. More than just a technology partner, Datamax partners with Arkansas nonprofit organizations to offer both time and contributions to their efforts. For more on Datamax's community involvement, please visit https://www.datamaxarkansas.com/community
"The Datamax Little Blue Book we hand out to every employee outlines the idea that we accept the responsibility of being an involved corporate citizen in the community," Simon said. "I encourage employees to get involved with something they're passionate about. We need to give back to the communities we work in."
The technology services and solutions Datamax provides will continue to evolve for years ahead, while the company's philosophy of every-day productivity and passion stands steady as a rock.
"Longevity doesn't breed security. Productivity breeds security," Simon said. "The philosophy of raving fans comes from being consistent. Why has the philosophy served us so well in Arkansas? Because we talk about it every day."
Please click here to learn more about how Datamax has helped Arkansas businesses light it up for 35 years.
About Datamax
Datamax Inc. offers the latest equipment and solutions in technology to increase efficiency and productivity in customers' offices. Datamax Inc. has been in business for over sixty (60) years with offices in Arkansas and Texas with more than two-hundred (250) employees in two (2) states.
---

Like them on Facebook:
www.facebook.com/datamaxarkansas or www.facebook.com/datamaxtexas
Follow them on Twitter:
@datamaxarkansas or @datamaxtexas
Connect with them on LinkedIn:
www.linkedin.com/company/datamaxarkansas or www.linkedin.com/company/datamaxtexas
Direct Inquiries can be made to:
Jeff Walker
Marketing Communications Manager
Datamax Inc.
800-986-4782
jwalker@datamaxtexas.com