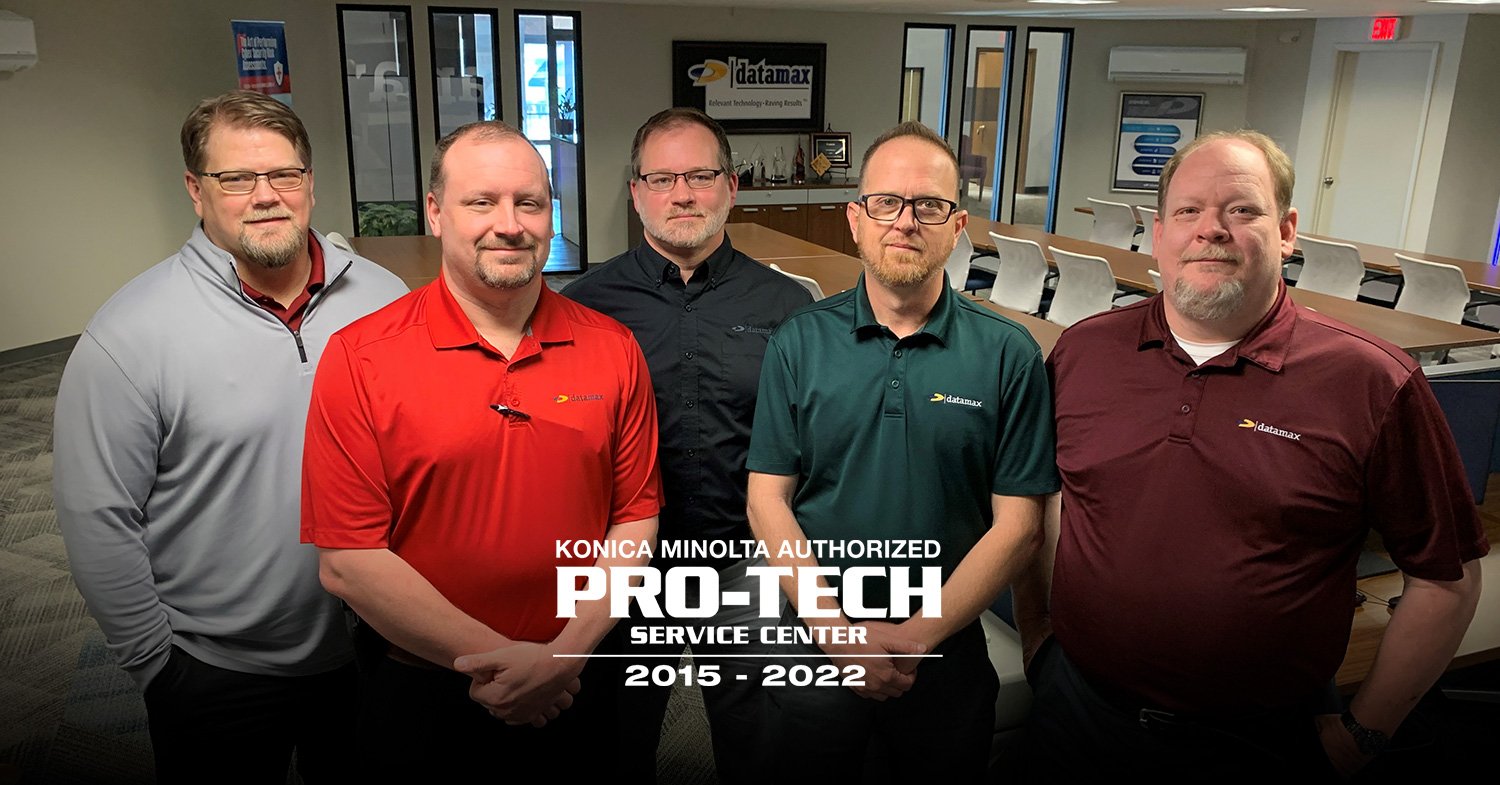 Little Rock, ARK (Sept. 19, 2022) — Delivering a customer experience worth raving about begins with expertise. Datamax Arkansas further solidified its commitment to "above-and-beyond" training and technician "know-how" by earning Konica Minolta's Pro-Tech recognition for the seventh consecutive year.Under the Pro-Tech program, every element of the service operation is scrutinized, including technical expertise, inventory control, dispatch systems, management skills and customer satisfaction. This rigid standard is the reason "our Pro-Tech Award has become such a powerful symbol of dedication and proficiency," according to Konica Minolta.
"(With this certification) we can say that our service techs have gone through a high level of training to confidently troubleshoot and repair a Konica Minolta machine," Datamax Arkansas Service Manager Mark McKinney said. "I'm proud to achieve this and proud of these guys who work so hard to obtain it. At the same time, at Datamax earning Pro-Tech every year is an expectation for our department."
The client benefits of partnering with a Pro-Tech Service Award dealership include:
Professional, customer-oriented service department management and administration policies
Service response times significantly better than the industry average
Preventive maintenance programs that ensure maximum uptime and superior performance
Inventory control systems that provide immediate access to replacement parts and components
Comprehensive training programs and performance reviews to maintain the highest level of expertise
Skilled technical specialists and service personnel trained on your specific products
"The Pro-Tech certification award gives every Konica Minolta customer a distinct advantage: The assurance of knowing that your Konica Minolta dealers have the skills, the technical training and the dedication to keep your equipment operating at the peak of productivity," said Kevin Streuli, Vice President, Solutions Support Division, at Konica Minolta Business Solutions, USA. "If you're choosing a technology partner, that's an advantage worth considering."
---
About Konica Minolta
Konica Minolta Business Solutions U.S.A., Inc. is reshaping and revolutionizing the Workplace of the Future™. The company guides and supports its customers' digital transformation through its expansive office technology portfolio, including IT Services (All Covered), content services, managed print services, and industrial and commercial print solutions.
---
About Datamax
Datamax Inc. offers the latest equipment and solutions in technology to increase efficiency and productivity in customers' offices. Datamax Inc. has been in business for over sixty (60) years with offices in Arkansas and Texas with more than two-hundred and fifty (250) employees in two (2) states.
For the complete portfolio of Datamax products and solutions, please visit their websites at www.datamaxarkansas.com or www.datamaxtexas.com.
---
Like them on Facebook:
www.facebook.com/datamaxarkansas or www.facebook.com/datamaxtexas
Follow them on Twitter:
@datamaxarkansas or @datamaxtexas
Connect with them on LinkedIn:
www.linkedin.com/company/datamaxarkansas or www.linkedin.com/company/datamaxtexas
Direct Inquiries can be made to:
Jeff Walker
Marketing Communications Manager
Datamax Inc.
800-986-4782 | Ext: 2695
jwalker@datamaxinc.com