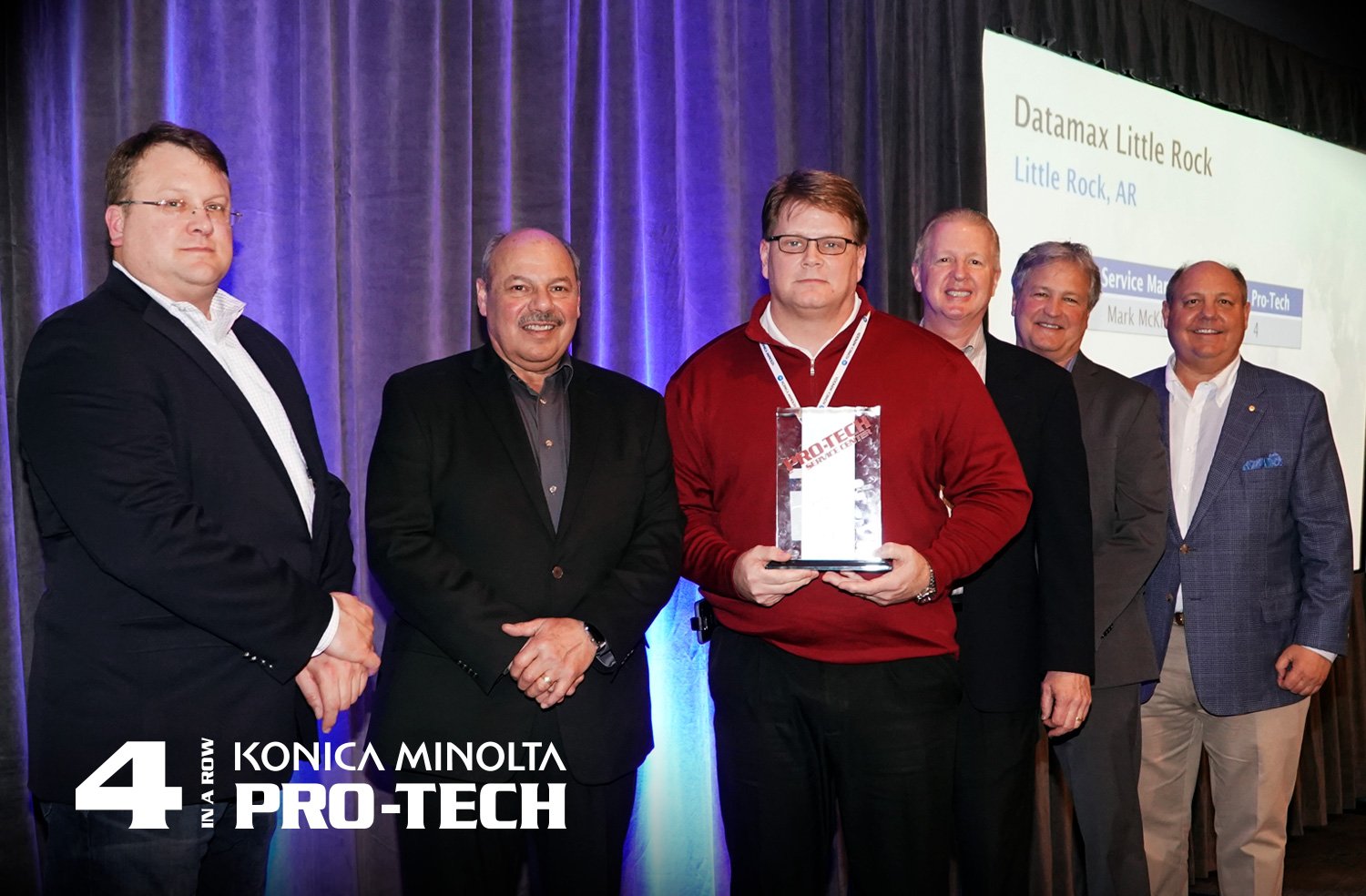 Little Rock, AR (April 4, 2019) – Datamax Arkansas was officially recognized for both its 2017 and 2018 Konica Minolta Pro-Tech Service Awards at the manufacturer's dealer conference held in Newport Beach, Calif. recently.
"The Pro-Tech Program is a rigorous process, and Konica Minolta recognizes and appreciates (Datamax's) exceptional commitment to customer support and satisfaction," said Sam Errigo, Executive Vice President, Sales and Business Development. "Congratulations to Datamax Little Rock for this outstanding achievement."
Datamax has earned this unique service distinction four straight years, as the dealership achieved Pro-Tech recognition for 2019 as well earlier this year. Attaining Pro-Tech-level status involves extensive and specific criteria for individual technician training, accounting for literally hundreds of hours of online and classroom sessions with Konica Minolta.
The award, says Datamax Arkansas Service Manager Mark McKinney, reflects each Datamax technician's pursuit of being the very best.
"This awards speaks to the achievement of our technicians. They work extremely hard to be the best of their trade," McKinney said. "Troubleshooting devices today can be a very difficult thing. Through this type of training, they're able to properly evaluate what is going on and fix the problem. The (Pro-Tech) training is very extensive, and helps in network training, color training, file training, it goes from the rollers all the way up to the paper type."
What the training, in turn, means for Datmax clients is less downtime, longer-running equipment, faster repair, and superior troubleshooting skills, McKinney says. In the year 2018, Datamax Arkansas averaged a 2:25-hour Response Time for Central Arkansas (2:49 state-wide), and a 3:33-hour Response + Resolution Time for Central Arkansas (3:56 statewide) on all service tickets.
To earn the Pro-Tech standard, each element of Datamax Arkansas's operation was evaluated, including management skills, inventory control systems, technical expertise, dispatch systems and customer satisfaction rankings. By becoming a part of this elite group of experts, Konica Minolta dealers are able to essentially raise the standard of customer service.
About Konica Minolta
Konica Minolta Business Solutions U.S.A., Inc. is reshaping and revolutionizing the Workplace of the Future™. With our comprehensive portfolio, we deliver solutions to leverage mobility, cloud services, and optimize business processes with workflow automation. Our All Covered IT Services division offers a range of IT strategy, support, and network security solutions across all verticals. Konica Minolta has been recognized as the #1 Brand for Customer Loyalty in the MFP Office Copier Market by Brand Keys for 10 consecutive years and is proud to be ranked on the Forbes 2017 America's Best Employers list. Konica Minolta, Inc. has been named to the Dow Jones Sustainability World Index for five years in a row. We partner with our customers to give shape to ideas and work to bring value to our society. Follow Konica Minolta on Facebook, YouTube, and Twitter @KonicaMinoltaUS.
---
About Datamax
Datamax Inc. offers the latest equipment and solutions in technology to increase efficiency and productivity in customers' offices. Datamax Inc. has been in business for over 60 years with offices in Arkansas and Texas with more than 250 employees in two states.
For the complete portfolio of Datamax products and solutions, please visit their websites at www.datamaxarkansas.com or www.datamaxtexas.com.
---
Like them on Facebook:
www.facebook.com/datamaxarkansas or www.facebook.com/datamaxtexas
Follow them on Twitter:
@datamaxarkansas or @datamaxtexas
Connect with them on LinkedIn:
www.linkedin.com/company/datamaxarkansas or www.linkedin.com/company/datamaxtexas
Direct Inquiries can be made to:
Jeff Walker
Marketing Communications Manager
Datamax Inc.
800-986-4782
jwalker@datamaxtexas.com