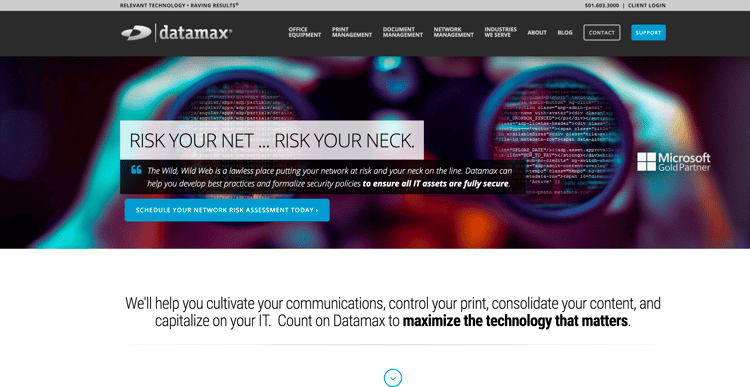 Little Rock, AR, May 24, 2017 — Datamax of Arkansas, which provides office technologies including printing devices, electronic document management, print management, and network management, announced today the launch of its newly revamped website. This redesigned website is built for simple, easy navigation so that visitors can find the answers they are looking for related to copiers, printers, and managed IT services. The website has a variety of educational resources to help guide visitors through the buying process.
The new website's combination of easy-to-use functionality and high-quality content assists site visitors understand each product and service. Every page was designed with the visitor in mind to help them understand their buying needs while showcasing Datamax's commitment to excellence in both product selection and ability to work with customers as a real partner. The new website went live on Monday, May 22, 2017 and is located at the same address: http://www.datamaxarkansas.com/
"We are proud to share the news of our new website launch. Our team has worked very hard to create a site that can clearly communicate the best-in-class office technology products and services we are able to offer our customers to assist in their success," said Barry Simon, President of Datamax Inc. "We believe that this new site will allow our visitors to have a great experience as they look to improve workflow processes, protect their data, and upgrade their printing equipment."
Datamax is recognized as a market leader in providing comprehensive consulting, service, and support for cost-effective technology-based solutions that improve organizational workflow. In operation for 60 years, Datamax, Inc. has two offices in Arkansas -- Little Rock and Hot Springs -- and another in Dallas/Fort Worth, Texas. The company's more than 210 employees focus on turning visitors into customers and customers into Raving Fans. Datamax Inc. enjoys coveted ATSP and PRO-TECH service recognition from Canon and Konica Minolta and is proud of their Microsoft Gold Partnership for the last 11 years.
---
Like them on Facebook:
www.facebook.com/datamaxarkansas or www.facebook.com/datamaxtexas
Follow them on Twitter:
@datamaxarkansas or @datamaxtexas
Connect with them on LinkedIn:
www.linkedin.com/company/datamaxarkansas or www.linkedin.com/company/datamaxtexas
DIrect Inquiries can be made to:
Robert Caldwell
Vice President, Marketing
Datamax Inc.
7400 Kanis Road, Little Rock, AR 72204
800-633-1526 | Ext: 5414
rcaldwell@datamaxtexas.com