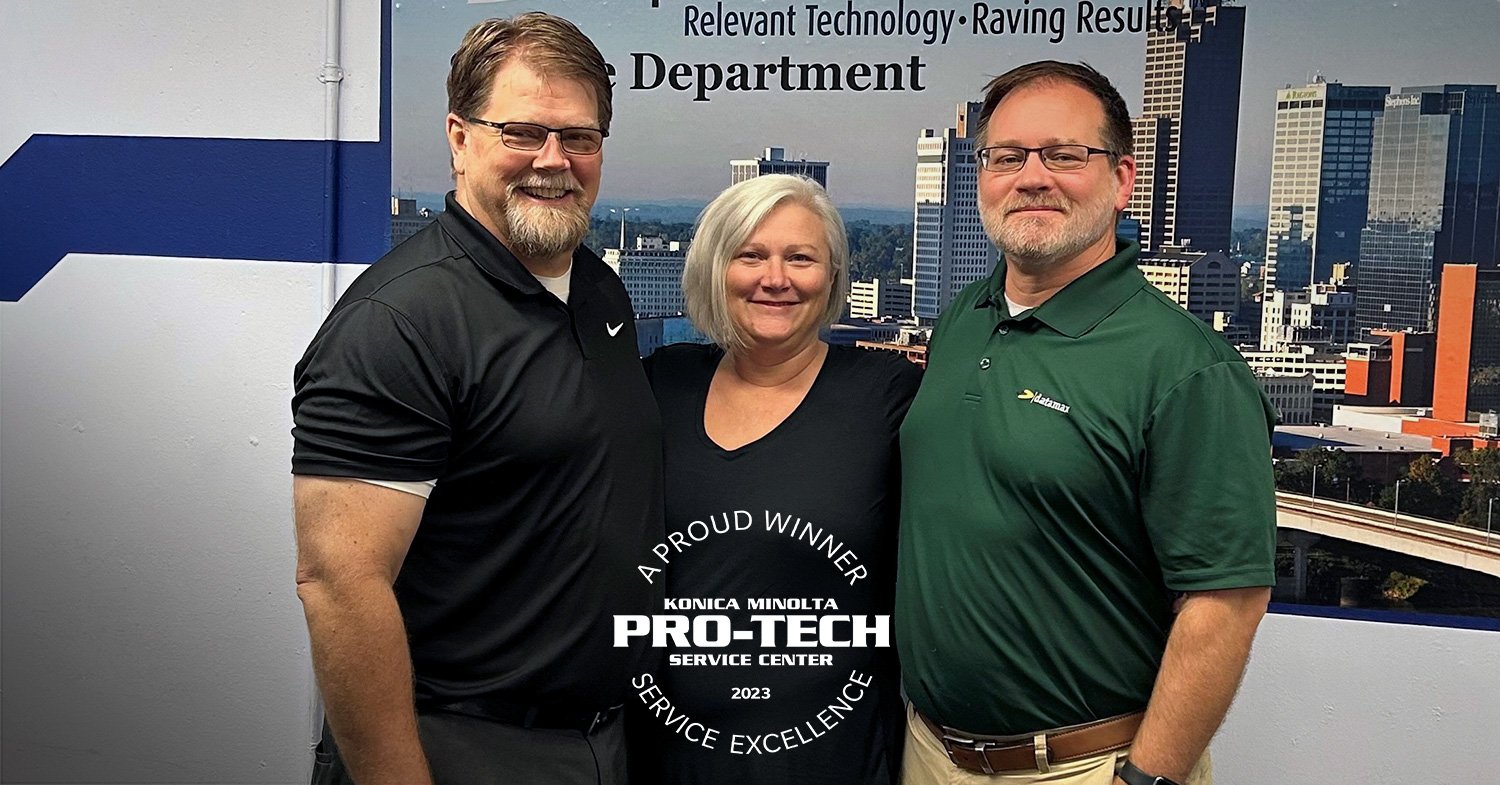 Little Rock, AR (Sept. 14, 2023) — Guided by its ongoing commitment to provide best-in-class copier repair service, Datamax has been named a Konica Minolta Pro-Tech Certified Partner for the eighth straight year. This service-based recognition puts Datamax in elite company among the copier dealership community and affords the organization priority support from the manufacturer.
"Every service manager knows that they are only as good as their technicians. If your technicians are passionate about what they do, they put in the time to train on the equipment and develop great customer skills, the department will enjoy success," Datamax Arkansas Service Manager Mark McKinney said. "For us, it's about finding people who want to be the best at what they do, they want to advance their skills, and they ask themselves at the end of each workday, 'How many people was I able to help today?'"
Throughout the year, the Datamax service team indulges in a vast amount of advanced training. To earn Pro-Tech status, a dealership must have a certain number of technicians complete and pass an exam on approximately 50 to 70 modules of online training, ranging from the Associate Level to the Master Level. The longer a dealer is Pro-Tech certified, the more the requirements increase.
Every element of the service operation is scrutinized, including technical expertise, inventory control, dispatch systems, management skills, and customer satisfaction. Additionally, a Konica Minolta representative physically visits both the dealership and a number of its clients to assess overall performance. Clients benefit from this recognition because Pro-Tech dealers earn priority access to Konica Minolta's contact support team for additional technical-related support or questions.
According to Konica Minolta, a Pro-Tech dealer offers clients the benefit of a broad range of enhanced technical and management skills, including:
Professional, customer-oriented service department management and administration policies
Service response times significantly better than the industry average
Preventive maintenance programs that ensure maximum uptime and superior performance
Inventory control systems that provide immediate access to replacement parts and components
Comprehensive training programs and performance reviews to maintain the highest level of expertise
Skilled technical specialists and service personnel trained on your specific products
"I know the program is challenging and requires a true commitment to service training. We at Konica Minolta sincerely appreciate your dedication and extra efforts above and beyond your daily tasks in order to achieve Pro-Tech for 2023," said Kevin Streuli, Vice President Solutions Support Division, Konica Minolta.
Pro-Tech certified dealers will be individually recognized among peers at the special awards ceremony held at the annual Konica Minolta Dealer Conference and Product Expo later this year.
---
About Konica Minolta
Konica Minolta Business Solutions U.S.A., Inc. is reshaping and revolutionizing the Workplace of the Future™. The company guides and supports its customers' digital transformation through its expansive office technology portfolio, including IT Services (All Covered), content services, managed print services, and industrial and commercial print solutions.
---
About Datamax
Datamax Inc. offers the latest equipment and solutions in technology to increase efficiency and productivity in customers' offices. Datamax Inc. has been in business for over sixty (60) years with offices in Arkansas and Texas with more than two-hundred and fifty (250) employees in two (2) states.
For the complete portfolio of Datamax products and solutions, please visit their websites at www.datamaxarkansas.com or www.datamaxtexas.com.
---
Like them on Facebook:
www.facebook.com/datamaxarkansas or www.facebook.com/datamaxtexas
Follow them on Twitter:
@datamaxarkansas or @datamaxtexas
Connect with them on LinkedIn:
www.linkedin.com/company/datamaxarkansas or www.linkedin.com/company/datamaxtexas
Direct Inquiries can be made to:
Jeff Walker
Marketing Communications Manager
Datamax Inc.
800-986-4782 | Ext: 2695
jwalker@datamaxinc.com