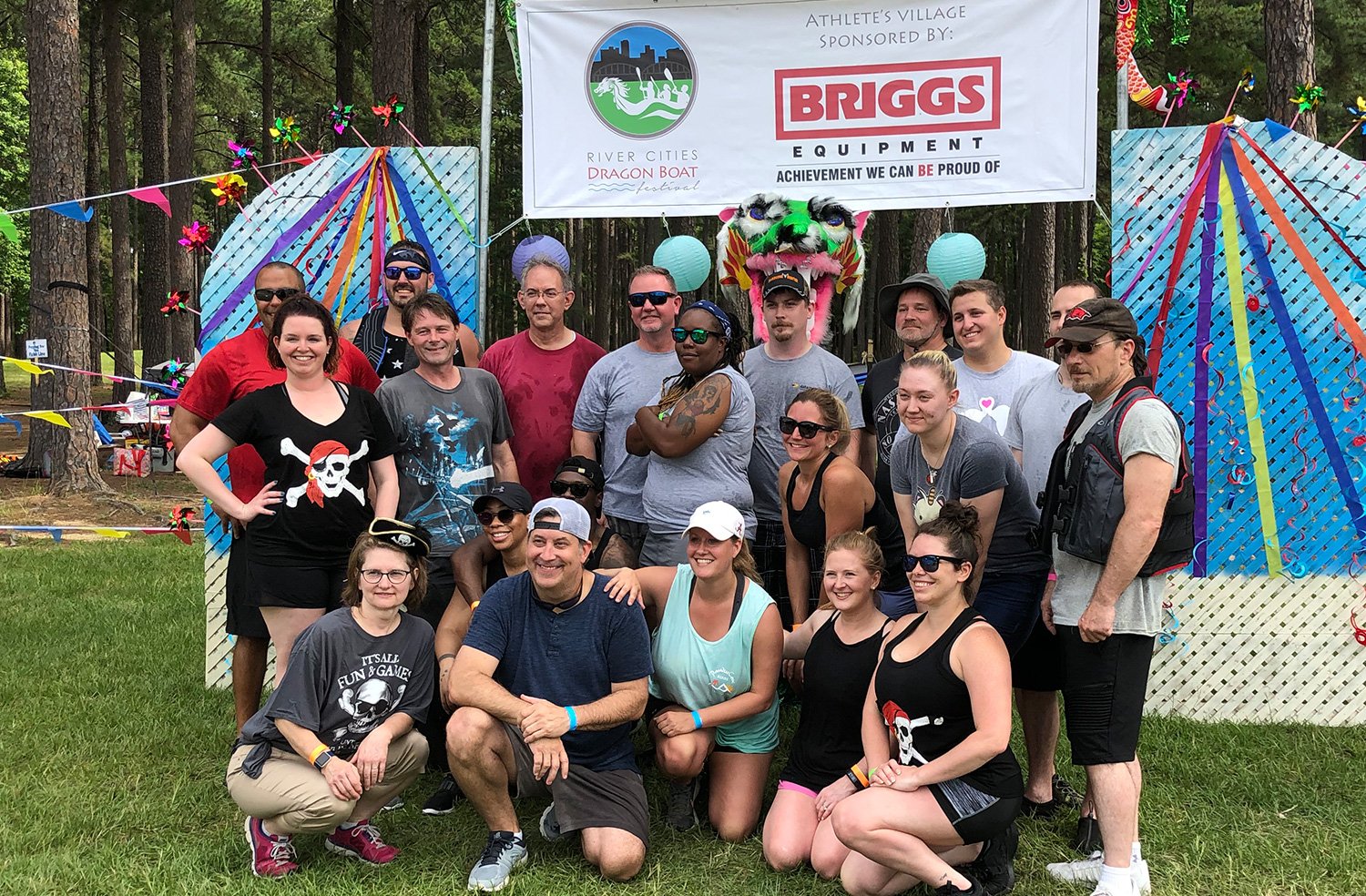 Maumelle, ARK - (June 24, 2019) - Datamax employees "paddled up" for the Children's Protection Center (CPC) at the 2019 River Cities Dragon Boat Festival recently. The CPC fundraiser pits 20 rowers,one drummer and a coach inside a 46-foot-long dragon boat in a race to the finish across Willastein Lake.
The Central Arkansas event brought together 37 teams and 3,500 people, including spectators and team supporters throughout the weekend.
Area Sales Manager John Garrison, who also serves on the board for the CPC, said that the Dragon Boat Fest is a great weekend for family festivity, for company camaraderie and ultimately, the opportunity to support a wonderful cause.
"It's just like (Area Sales Manager) Ken Allison said: The main reason we're out there is to support the CPC. The next thing is to have a lot of fun. And then everything else just falls into place after that," Garrison said.
Datamax, racing under the moniker of "Toner Pirates," earned the Team Spirit Award, for overall team synergy and showcasing support for other teams throughout the day. The group also placed eighth overall in the race standings.
"This is a great team building event. It's something different, and something that our whole company can get involved with," Datamax Inc. President Barry Simon Said. "But also, as an organization, it's important for us to give back to the communities that give us the opportunity to take care of their business technology needs."
The Dragon Boat Races are the biggest fundraiser of the year for the CPC, whose mission is to provide a child-friendly facility where professionals work together to protect and treat child abuse victims and their families. They also work to prevent child abuse in all its forms, and to hold offenders accountable.
"Instead of kids having to retell their (abuse) story to parents, to police, to doctors, and to the Department of Human Services, they go into a room with a family advocate, and the child tells the story once," Garrison said.
Administration Manager Kristen Finkbeiner organized a series of internal office fundraisers in the months leading up to the event, and employees raised more than $2,000 for the CPC. For the race itself, Finkbeiner was pleased to see the camaraderie that transpired from a full day of rigorous paddling.
"When you work your tail off together, and you're worn out after a long day, that naturally brings people together. But the exciting thing to me? We had people from every department participating. It's not just a sales thing. Not just an admin or service thing. To bring the whole company together for something like this – and support such a wonderful organization - was incredible," she said.
For more about the CPC, please visit www.childrensprotectioncenter.org.
About Datamax
Datamax Inc. offers the latest equipment and solutions in technology to increase efficiency and productivity in customers' offices. Datamax Inc. has been in business for over sixty (60) years with offices in Arkansas and Texas with more than two-hundred (200) employees in two (2) states.
---
Like them on Facebook: www.facebook.com/datamaxarkansas or www.facebook.com/datamaxtexas
Follow them on Twitter:
@datamaxarkansas or @datamaxtexas
Connect with them on LinkedIn:
www.linkedin.com/company/datamaxarkansas or www.linkedin.com/company/datamaxtexas
Direct Inquiries can be made to:
Jeff Walker
Marketing Communications Manager
Datamax Inc.
800-986-4782
jwalker@datamaxtexas.com