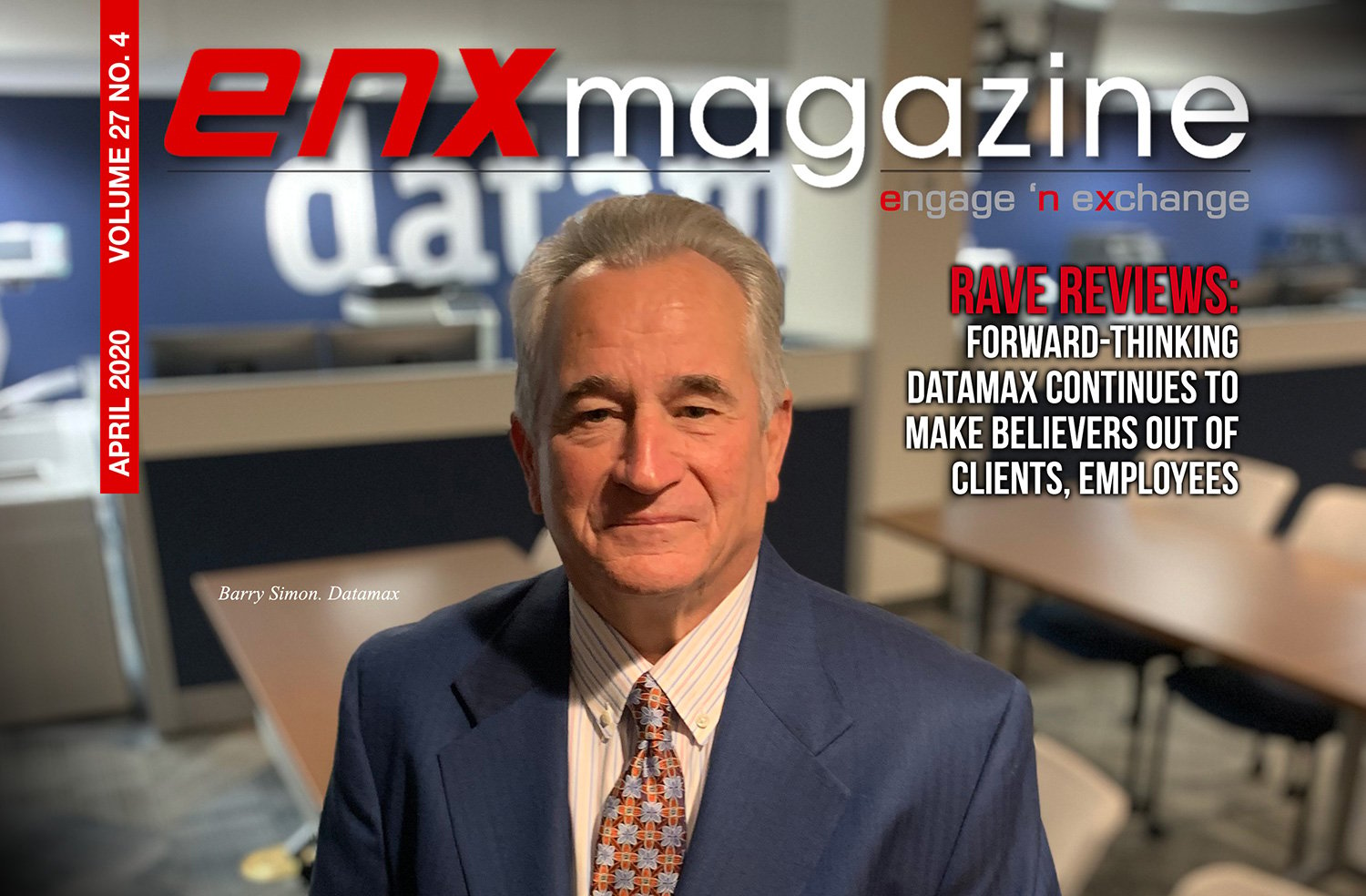 Little Rock, ARK (April 3, 2020) – Datamax Inc. President Barry Simon is proud to be featured on the cover of the April 2020 edition of ENX Magazine, a monthly publication that spotlights current trends, relevant information and key players within the office technology and document imaging industry.
"The privilege to be featured front and center in one of the industry's more valuable resource magazines is yet another big validation for the direction of our organization," Datamax Inc. Vice President of Marketing Robert Caldwell said. " At Datamax, we are all about Creating Raving Fans® — in everything we do. With clients, we maintain a pretty simple formula — ensure a rapid response to expressed or previously-uncovered needs, provide resourceful resolution to issues and, ultimately, maximize the return on every technology investment. That's what an ENX Elite Dealer does and that's what Datamax Executive Leadership demands."
The feature, "Rave Reviews: Forward-Thinking Datamax Continues to Make Believers Out of Clients, Employees," shares some of the methodology, mindset, and strategies moving forward for Datamax. In a Q&A format, Simon offers insights on the organization's evolving breadth of business technology services, its biggest challenges, and its key goals.
"You really have to focus on the areas that are going to make you different. We have to be careful not to get hung up on the notion that what we're doing is the best — you have to focus on your differentiators and, most importantly, what is relevant to the customer," Simon says in the article.
Founded in 1994, ENX Magazine provides exclusive editorial coverage on market opportunities and issues, news and trends, company profiles, new products, and industry insights. "ENX/The Week in Imaging (ENX/TWII)" eNewsletter is delivered weekly to more than 14,000 opt-in subscribers, bringing readers timely and relevant industry information.
The featured article also discusses two key acquisitions for Datamax: East Texas Copy Systems in January 2018 and Firmin's Office City in June 2019. Simon stresses the importance, with any acquisition, of looking beyond the numbers to ensure strong cultural alignment between both parties involved.
"For dealers that are just looking to cash out, we're probably not the best fit for them," Simon said.
Author Erik Cagle, ENX Editorial Director, asks Simon "What sets Datamax apart from the competition?" A portion of Simon's response:
"… In our mission to create raving fans, we knew we had to be truly relevant to the customer. Ultimately, we want them to have results worth raving about. It was important not to approach our customers with cookie-cutter presentations or proposals. We discover what they are looking for, what they need, and we try to be relevant with our recommendations, whether it's in office equipment, production print, IT services, VoIP/Unified Communications or document/content management."
Click to Read the full article »
---
About ENX
ENX Magazine is a monthly publication dedicated to the office technology and document imaging industry since 1994. Now in its 26th year, ENX Magazine continues to deliver exclusive editorial coverage on market opportunities and issues, news and trends, company profiles, new products, and industry insights through interviews with key players in all segments of the document technology industry.
---
About Datamax
Datamax Inc. offers the latest equipment and solutions in technology to increase efficiency and productivity in customers' offices. Datamax Inc. has been in business for over sixty (60) years with offices in Arkansas and Texas with more than two-hundred and fifty (250) employees in two (2) states.
For the complete portfolio of Datamax products and solutions, please visit their websites at www.datamaxarkansas.com or www.datamaxtexas.com.
---
Like them on Facebook:
www.facebook.com/datamaxarkansas or www.facebook.com/datamaxtexas
Follow them on Twitter:
@datamaxarkansas or @datamaxtexas
Connect with them on LinkedIn:
www.linkedin.com/company/datamaxarkansas or www.linkedin.com/company/datamaxtexas
Direct Inquiries can be made to:
Jeff Walker
Marketing Communications Manager
Datamax Inc.
800-986-4782 | Ext: 2695
jwalker@datamaxinc.com