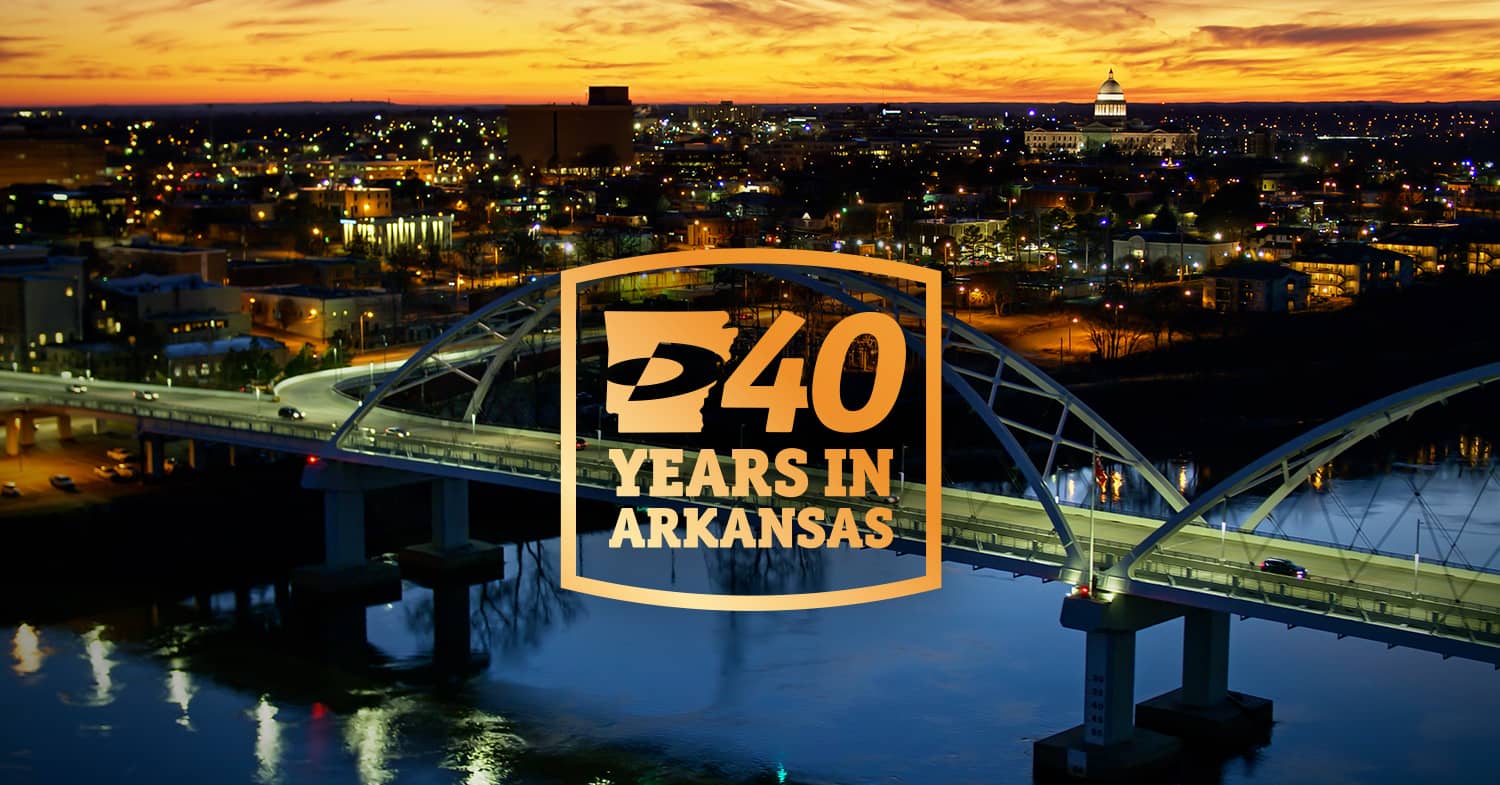 Little Rock, Ark. (March 30, 2023) — Datamax opens its doors to Little Rock and surrounding communities as we celebrate our 40th Anniversary in Arkansas with an Open House Event from 9:30 a.m. to 3 p.m. Thursday, May 11.
From offset presses to network-connected office copiers, mimeographs to Managed IT Services, for four decades Datamax has connected clients to relevant technology solutions that empower them to work more efficiently. Simultaneously, the organization's mission (and its sustained success) has been driven by connecting with the communities we're fortunate to serve.
"This event is really a celebration of the success that we've had in Arkansas, but also to show our customers and prospects that we appreciate everything they've done to help us get where we are today. It's a way to give back in a marketplace that we really cherish," Datamax Inc. President Barry Simon said.
The day's events will kick off with a Ribbon Cutting with the Little Rock Chamber of Commerce at 9:30 a.m. The Open House continues with a live onsite broadcast from 103.7 The Buzz, technology demonstrations, interactions with Miss Arkansas Ebony Mitchell, great food, prizes, a magician, and a cybersecurity presentation from VP of Strategic Technology Justin Huffaker.
7 reasons you don't want to miss

the 40th Anniversary Open House include:
Enjoy a live broadcast With Justin Acri And Wess Moore Of The Zone (103.7 The Buzz)
Meet Miss Arkansas, Ebony Mitchell
Savor a tasty lunch provided by Little Rock's finest food trucks
Win some great prizes
Learn about Cyber Security for businesspeople – (Info every businessperson should have to protect themselves and their businesses) from Datamax's IT Security Expert, Justin Huffaker
Experience high-energy wizardry from magician Aaron Acosta
Discover "Next Level" technology From Canon, Konica Minolta, and Lexmark
Datamax Little Rock opened in 1983 when it acquired Little Rock-based A.B. Dick Products. Over the next decade, the organization enjoyed steady, substantial growth. In addition, the Hot Springs office opened in 1995, followed by locations in Texarkana, El Dorado, and most recently, Fort Smith.
Creating Raving Fans® out of its clients remains the rallying cry for Datamax employees. Additionally, for an organization where Culture Trumps Everything, Datamax strives to Create Raving Fans of its very own, as exhibited by being named among the "Best Places to Work in Arkansas" for six consecutive years. In 2022, Datamax Arkansas won the Better Business Bureau's Torch Award for Ethics.
"The biggest thing for us as an organization continues to be about Creating Raving Fans,® and also being good stewards in the communities we serve," Simon said. "The philosophy of Raving Fans comes from being consistent. Why has the philosophy served us so well in Arkansas? Because we talk about it every day."
Datamax's Little Rock office is located at 7400 Kanis Road, Little Rock, Ark., 72204. For details about the Open House event, please visit www.datamaxarkansas.com/40.
---
About Datamax
Datamax Inc. offers the latest equipment and solutions in technology to increase efficiency and productivity in customers' offices. Datamax Inc. has been in business for over sixty-five (65) years with offices in Arkansas, Texas, and Missouri with more than two-hundred and fifty (250) employees in three (3) states.
For the complete portfolio of Datamax products and solutions, please visit their websites at www.datamaxarkansas.com or www.datamaxtexas.com.
---
Like them on Facebook:
www.facebook.com/datamaxarkansas or www.facebook.com/datamaxtexas
Follow them on Twitter:
@datamaxarkansas or @datamaxtexas
Connect with them on LinkedIn:
www.linkedin.com/company/datamaxarkansas or www.linkedin.com/company/datamaxtexas
Direct Inquiries can be made to:
Jeff Walker
Marketing Communications Manager
Datamax Inc.
800-986-4782 | Ext: 2695
jwalker@datamaxinc.com