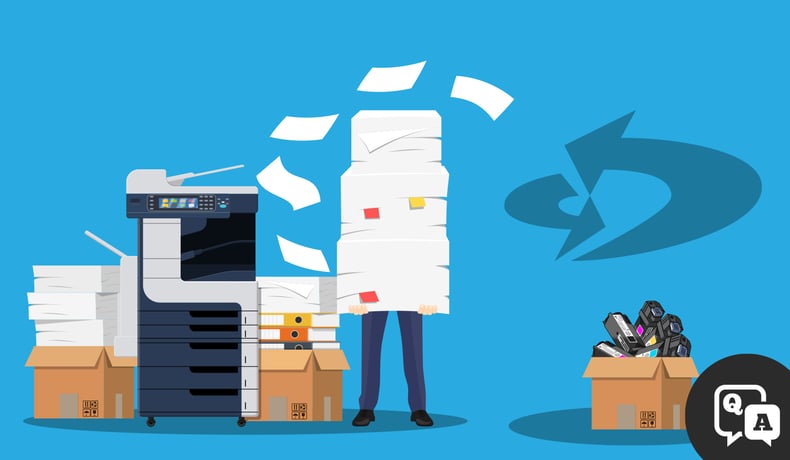 Follow these three simple steps to begin recycling your old cartridges and making a valuable positive impact on our environment.
If you're like most organizations we know, you go through A LOT of toner.
Just as reference: Datamax ships out an average of 5,046 consumables per month. That can account for A LOT of waste. According to Evolve Recycling, a laser cartridge thrown into landfill can take up to 450 years to decompose. As organizations continue to create initiatives to lessen their impact on the environment, recycling your toner cartridges is a wonderful way to keep non-renewable resources from ending up in landfills.
Recycling toner cartridges makes sense. It's easy. It's free. It's environmentally conscious.
The question becomes, how do you go about recycling your toner cartridges?
Here's how:
1. Have a designated area for your cartridges.
Most toner recycling programs, including Datamax's, do not allow for "onesies" or "twosesis:" They want a minimum of approximately 20 pounds. The idea, remember, is to protect the environment: The C02 emissions created from shipping/recycling one toner cartridge is counter-intuitive.
20 pounds equates to roughly six toner cartridges. Have a box next to your copier. As your toner is replaced, put it in a box until you're ready to collect and ship.
2. Log into the portal and fill out the form.
Visit this site for all the details regarding Datamax's recycling program: How to proceed, and what is and what is NOT accepted as recyclable. Midway down this page, you'll find a form to fill out, at which point you'll be given specific instructions on how to prepare your ink/toner items. Specify the number of labels you need, and then a PDF will be created with pre-paid shipping labels for you to print out.
On the Datamax Toner Recycling page, you'll also find toner recycling programs from several of our trusted technology partners, if you'd like to learn more.
3. Have it picked up, or take to nearest UPS facility.
Most companies have a UPS daily pickup. If that's the case, wrap your cartridges in bubble wrap to protect during shipment. If you don't have this service, take it to a nearby UPS drop off location.
It's as easy as that!
Datamax encourages our clients to participate in our toner cartridge recycling and collection programs to help minimize the impact on the environment. Want to take your efforts a step further? Get on the path toward giving green... and getting green back! Download our free "8 Smart Steps for Greener Printing Guide" to learn more!