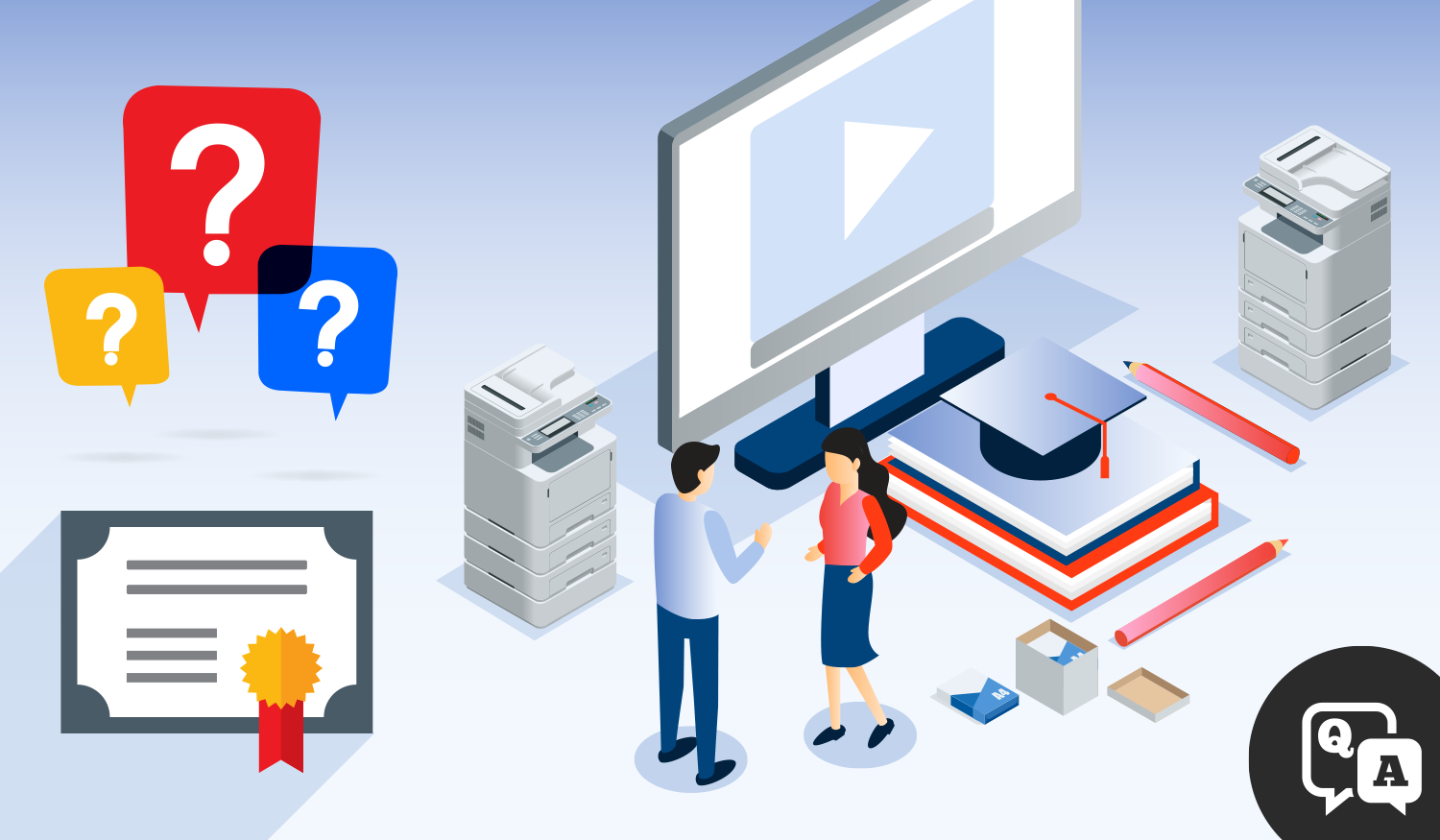 Advanced Certifications provide key advantages for all parties involved - both the vendor and the clients they represent. We'll discuss why in this blog.
Maybe you've heard copier companies tout the advanced service recognition they've earned from the manufacturers they represent. Maybe you haven't.
Canon's Association of Technical Service Professionals (ATSP) Certification. Konica Minolta's Pro-Tech. Ricoh's Circle of Excellence are just a few examples of manufacturer-specific advanced certification programs. They're give acclaim to service providers, provided they're willing to pursue such recognition.
The relevant question, however, is what does it mean for you as a customer? Anything, really? Or is it just grandstanding on the part of a copier company?
The short — and the long — answer to that question, we believe, is a resounding "yes," it matters! Advanced level service certifications are not participation trophies. They're not earned by completing a single multiple choice test. Qualifying for these achievements means a significant investment in both time for the service team, and money by the organization as a whole.
Think of the last time your check-engine light came on.
You don't want just anyone looking at your vehicle. You expect a certain level of training and expertise to ensure a). your car is properly diagnosed and b). the issue promptly resolved.
As a copier customer, the philosophy is no different. Just like vehicles, new copier models and their evolving technology demand continued education for technicians. Advanced service recognition means that the technician who visits your office has gone through a tremendous amount of relevant equipment-specific training to provide faster resolution; additionally, they've got the "know-how" to get it done right the first time.
What does advanced level training do for you?
Equips your technical representative to solve a broader range of problems
Fulfills response time promises (just showing up quickly is not enough)
Reduces your service problem diagnosis and resolution time
Enhances the completion of your service calls on the very first visit
Ensures continuity in service approach across all technicians that may support you
Positions expertise in delivering preventive (proactive) maintenance for you company
Fosters team problem-solving when collaboration is required for complex support issues
Maximizes your productivity and ultimate return on technology investment
What do they mean to the service provider? (In reality, they matter to you, too!)
Requires significant time investments by the technician and the company
Requires substantial monetary commitments, but produces higher training ROI
Requires re-certification and training each year (as in other professional disciplines)
Connects the service provider more closely with the manufacturer and their resources
Enhances technical recruiting and retention of the best talent to support your technology
Do you know where your service provider stands in terms of advanced recognition earned? Are you accustomed to three, even four days between service call and resolution? It's a great question to ask them. Their level of training directly impacts, ultimately, your level of device downtime and the efficiency at which your equipment operates.
To visit more about our technical training certifications (i.e. Canon Association of Technical Service Professionals (ATSP) and how they can help you maximize your return on technology investment, let's talk.
We think you'll agree, advanced level certifications account for much more than just grandstanding.
It's standing by a commitment to ongoing training and expertise.
Not sure where your provider stands? Looking for better response? Consider these four metrics, as measured by Datamax, back up the claim that Advanced Certifications matter!