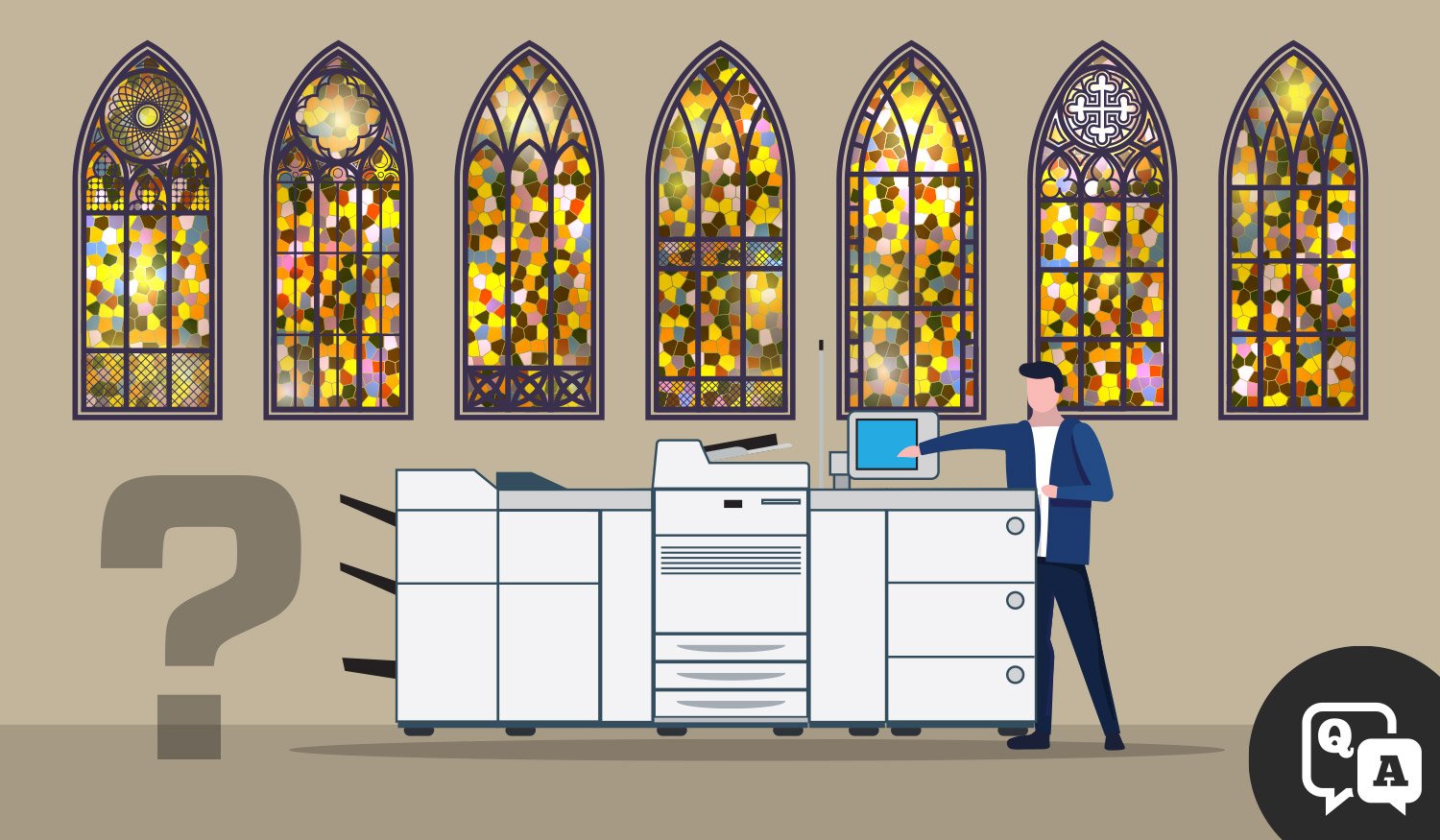 Answer these four questions to help determine if bringing print jobs in-house could help reduce costs... and stress.
If you're like a lot of churches, there's A LOT to be printed on a weekly basis.
Service bulletins, teaching materials, flyers, and of course the banners, posters, or other marketing pieces that advertise your ongoing series and/or convey your mission at large. More often than not, though the template may remain the same, the content within any given printed piece changes from week to week, meaning quick turnarounds are a regular part of your church staff's routine.
The bottom line: Printed materials play a big role in sharing your greater purpose as a congregation - but what's the most efficient way to create them? Have you considered bringing your print jobs in-house? Would cutting loose from an outsourced print vendor help you turn around jobs quicker? Would it cut costs? Would it save you time and unnecessary stress?
Let's dig a little deeper into these four questions.
1. Do you have the manpower?
Do you have an employee in-house who will conceptualize, design, and print your desired materials? While most recurring jobs are not difficult to complete off a number of pre-designated templates, it's important to have that person designated for the print jobs in hand
2. What are you printing, and how much are you actually printing?
Printing a few color posters three times a year? It may not be worth your while to bring jobs in-house.
But as you may know, outsourcing can cost thousands of dollars a month depending on what's being printed. If you're sending jobs out weekly for printed bulletins, and booklets, and additionally being charged for the folding of those materials, the cost can add up quickly.
Consider the smaller jobs, too. Printing in-house, especially for short-run jobs (generally a quantity of 5,000 or less), can save your organization drastically by cutting the large set-up costs, processing fees, and markups.
3. How much time are you waiting for jobs?
Your time is your most valuable asset.
Churches are often hamstrung by the deadlines – and wait time – that come with an outside print vendor (They have to be ready before Sunday!). Collecting the right file format. Waiting for a proof. Editing and sending back the corrected proof. What if, heaven forbid, you don't realize an error until Friday afternoon? Bringing jobs in-house can alleviate the sweat-drenching stress of making sure your materials are ready for Sunday's service.
4. What's the Service Level Agreement?
If you're even considering leasing or purchasing a production or lite production unit for your church materials, make sure you know the service details in fine detail. After all, if you're down, you're down.
Virtually any production customer (churches included) loses money fast when their equipment is not running. Ask about technicians' production level capabilities, response time, and resolution time before signing on.
If you're interested in learning more about harnessing the power of production print at your religious organization, please click the link below.