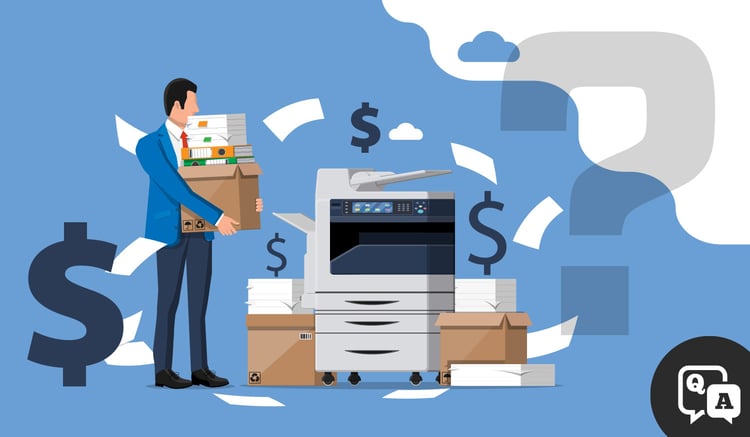 Here are 5 actions you can take right now to help save on printing-related costs at your office.
Been to the gas pump lately? Checked out at the grocery store? Rising inflation (and the cost of everyday goods) is top of mind for business owners everywhere at the moment.
Entrepreneurs and small business owners continue to search for ways to minimize operating costs but still conduct business as usual. One area inside the office that often gets overlooked is taking a hard look at printing costs. While printing remains an assumed necessity in normal business workflow (even in remote environments), there are some steps you can take right now to cut unnecessary spending.
What are some ways

you can cut printing costs right now? Here's 5.
1. Set duplex as default.
Canon's print drivers are installed by default to print two-sided. If you're not already doing so, set duplex printing as your standard and start saving paper immediately.
2. Make Black and White the standard.
Again, on the driver level, setting black and white as users' default can drastically cut down on color costs. Consider the times you've accidentally paid for color because of one small color logo on an email signature.
3. Utilize secure print.
Imagine this scenario: Two users send a job to the same device at the same time. Employee A picks up his or her job and part of Employee B's print job. Employee B realizes what has happened, and returns to his or her desk to print the job again. Meanwhile, Employee A sees the extra sheet and throws it away.
Secure Print (standard on Canon MFPs) enables you to hold a print job in the memory of an MFP until you enter the correct PIN (Personal Identification Number) on the device itself. It saves on waste and saves businesses money on clicks for jobs that were inadvertently sent to the printer, with no real intention of retrieving.
4. Add Department ID Authentication.
For a business that has multiple devices within an office, adding department ID authentication, you can actually limit the number of prints a user can print. You can also restrict color printing for said user. This comes at no additional charge with Canon MFP devices.
5. Introduce uniFLOW Express.
You can't improve what you don't accurately track.
uniFLOW Online Express is free and easy to install, secure cloud-based authentication, scanning, and accounting solution suitable for organizations who do not wish to invest in or manage local servers.
For the sake of printing costs, uniFLOW online express gives administrators access to a single report on volume, broken out by individual devices and/or users.
Managing both print and the processes behind the print – that's what Datamax can do for your organization. As part of our effort to help you maximize your return on technology investment, we'd love to visit about ways to optimize your print output and deploy an intelligent print strategy moving forward. Click below to get started!