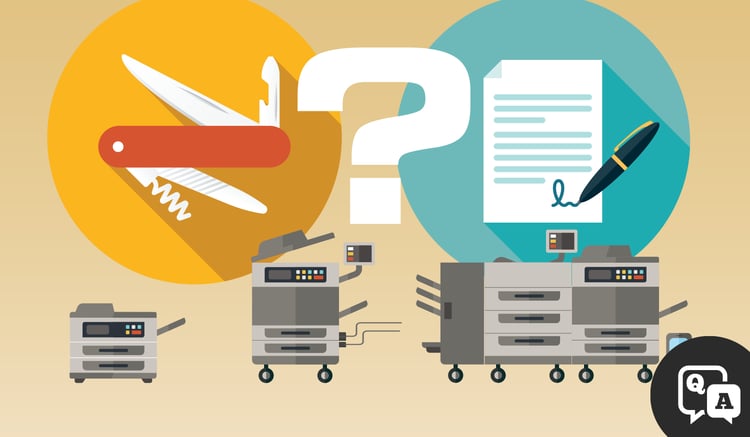 We'll discuss four areas where a Service Agreement provides critical peace of mind, and also three things you should know BEFORE you sign on the dotted line.
With 30 + years in this industry, I've seen a little bit of everything when it comes to DIY copier repair jobs (ahem ... disasters).
A few instances come to mind where clients attempted their own repairs: I've witnessed customers rip a paper jam out with a knife, only to cut the fixing film or destroy the rollers. I've seen liquid toner poured into machines that use dry toner. And even waste toner poured back into a hopper, which doesn't make for a clear image.
I know you would never do anything egregious as this, so why do you need a service agreement?
It's a fair question. After all, that spotless new copier is only days out of the box, the Canon logo still glimmering from the window sunlight. And hey, even if it's not a brand new piece of equipment, you may just want to save that money. Trust me, I understand.
But I've been in this industry long enough to know that a great service agreement is structured to give you peace of mind.
Service agreements are generally based on the segment (model) and the expected number of copies being produced per month. Generally, the higher the volume, the better the per copy rate. The agreements will almost always be structured in a such a way to include all labor, parts and supplies necessary to maintain your equipment.
But you're probably wondering about that peace of mind we promised.
4 Ways a Service Agreement Offers Peace of Mind:
1.Enhanced Operability of the Machine
With a maintenance agreement in place, your service team has the green light to perform all apparent repairs, as well as replace those parts that are nearing end of life, as to enhance the operability of your investment, and maximize the number of days between visits.
2. Easier Budgeting
A properly sized agreement allows customer to budget for their copy expenses on a monthly basis. Again, assuming that in your agreement, all parts, supplies and labor are figured into the cost of each copy produced, there should be no unexpected expenses for repairs.
3. Preventative Maintenance
As part of your agreement, service technicians will routinely inspect and proactively maintain the equipment in order to minimize untimely failures and maximize uptime. It's part of our job.
4. Proactive Monitoring
By utilizing a variety of tools, your copier delivers immediate and accurate notification of errors, jams, and alerts by e-mail to your service team, expediting the dispatch and service resolution process.
In addition, technicians have a full view of your equipment service data, remotely from their mobile device or desktop computer. With this information, they're equipped with relevant device insights upon arrival.
In short , you're able maximize uptime and gain faster resolution….without untimely interruptions.
3 Things You Should Know Before You Sign a Service Agreement:
1. Response + Resolution: get the details.
It's good to know the numbers. Find out every metric you can ahead of time: Response Time, Resolution Time and FCE (First Call Effective) Rate. These numbers speak volumes to the qualifications and expertise of the service department you're about to entrust with your investment.
It's also good to dig in the details. For instance, did you know… some organizations will base their responses times on when the customer receives a phone call? A reputable service provider by contrast, measures this metric from the time customers call to when we have a technician on site.
Also of note: Does your prospective service provider have advanced level certifications, such as Canon ATSP?
2. Service agreement: Know the language details.
As mentioned above, make sure that your agreement is "all-inclusive" in nature. Know with certainty that all labor, parts and supplies necessary are included to prevent extra expenses moving forward. Also, ask for specific details regarding escalation calls and applicable rates.
3. Bundling is better.
Be weary of single unit agreements when you have multiple machines. It is always better to allow multiple machines to share from a pool of copies, than have single agreements per machine.
Essentially, a service contract is intended to give you peace of mind moving forward, and to deliver the support you deserve far beyond the actual transition. In short... Best to study your service agreement closely, and then leave it to the pros!
Interested in continuing the conversation about the value and peace of mind that a service agreement with a reputable partner can bring your organization? Let's visit about ImageCare!