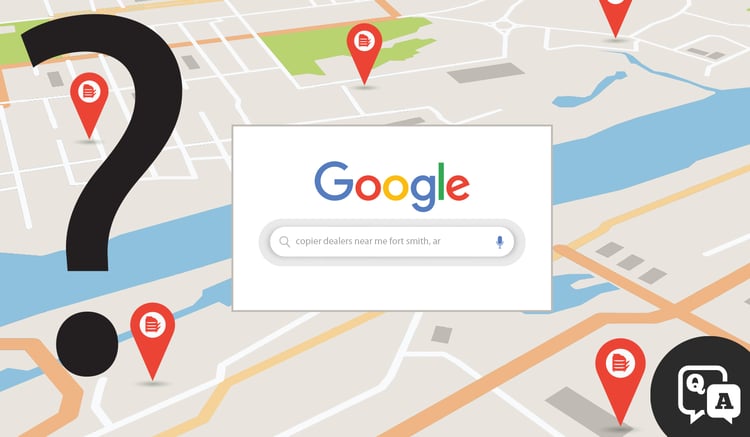 We'll look at five key areas that help you vet copier/office equipment companies and narrow your search in Fort Smith and the River Valley of Northwest Arkansas.
The Internet, if nothing else, has provided an infinite platform for doing your due diligence prior to purchase. Office equipment, much like a vehicle, is a long-term financial commitment that should never be bought or leased without adequate research.
Which is exactly what we want to help you with here.
Sure, copiers and printers are available online. But if you're a business, you're buying more than a box that prints and scans. With the right partner, you're gaining ongoing solution expertise and consultation that can actually improve your total cost of technology ownership.
So in your vetting process, how do you find the best copier company in the Fort Smith area? There are a number of manufacturer and independent dealer options. We're here to help guide that search process.
5 Questions That Will Help Vet

The Best Copier Company Near You in Fort Smith, Arkansas:
1. Local authorized dealer or manufacturer direct: What's the better option?
Many, but not all, copier manufacturers give buyers the opportunity to buy directly from them, including – to some degree - installation and support. Buyers also have the option to buy from a local authorized dealer, who will often represent a number of different manufacturers and provide a local presence for your ongoing needs.
When looking at some of the major copier manufacturers (like Canon, Xerox, Lexmark, Konica Minolta and Ricoh), consider researching accolades from such organizations as Buyers Lab Inc. A division of Keypoint Intelligence, BLI provides information and reports on the imaging industry regularly.
A few things to consider:
Local dealers are embedded in your community, and generally provide a higher volume of local technicians, and easier, expedited service routing.
They also often have the flexibility to provide a variety of solutions (from different manufacturers) to fit your needs.
No one likes getting transferred on the phone when an issue arises. A local provider often offers a live, local person on the other end of the line to help with billing issues, consumable needs, or leasing questions.
2. How many questions do they ask you?
Or is it a quick chat and a quote?
Just as any doctor should know that every patient is unique, so is every print environment. A strategic technology partner, before ever presenting a specific solution, should have a number of questions to ask, and a process in place for better understanding your business, and its workflow.
Ask what kind of print assessment or Discovery process a vendor has available. A few questions that should be asked:
How much volume are you currently printing?
What size and types of documents are produced in the office? What percentage require color?
What are the common workflow processes among and between departments?
Summarize your current business technology challenges.
What are your long-term expectations with print technology and your vendor?
What are your current business initiatives? Your short and long-term business goals?
3. How capable are they service-wise?
Regardless of what you buy from whom, you can count on a misfeed or jam somewhere down the road. Oh, and these devices need regular toner replenishment, too. Level of service is an insurmountably important factor when choosing a copier company. What you should be asking:
How long does it take them to respond to service calls?
Likewise, what is their resolution time and First Call Completion Rate?
Are they accurately measuring these service performance metrics?
What breadth of experience do their technicians have (IE, do they have advanced certifications to back their service knowledge?)
What's the copier company's Net Promoter Score (NPS)? NPS, which measures customer loyalty on a 1-10 scale, is considered the gold standard in customer experience metrics.
4. What are the purchase/lease options?
Just as in a car purchase, this office equipment will be around for a while, so you want to make sure any decision you make is financially sound. Here are a few questions you should consider when vetting your copier companies.
Do they offer leasing and purchasing options?
Is there an in-house leasing program available? This often affords the buyer flexibility in terms and a quicker resolution to leasing issues.
What happens at the end of your lease? What options exist, such as purchase, return, upgrade, or simply lease it again?
Does what the company is quoting you match your true business needs? If they haven't thoroughly assessed your current printing volume and trends, likely not.
What is the cost of a maintenance contract? What specifically does it cover and how long does it last?
5. Can they cover more than just copiers?
The ability to consolidate technology solutions to services into one vendor (and one phone call)? It just makes life easier for a business owner or IT Director. Other services you might ask about:
Managed IT Services
Document Management
Network Security
VoIP Phone Systems
Unified Communications
Network Security Consulting
In the end, don't just click "purchase" without asking questions first. Do your homework. In the meantime, if you would like to learn more about how Datamax can help you cultivate your communications, control your print, consolidate your content, and capitalize on your IT, we'd love the opportunity to visit. Click below to set up your print assessment!