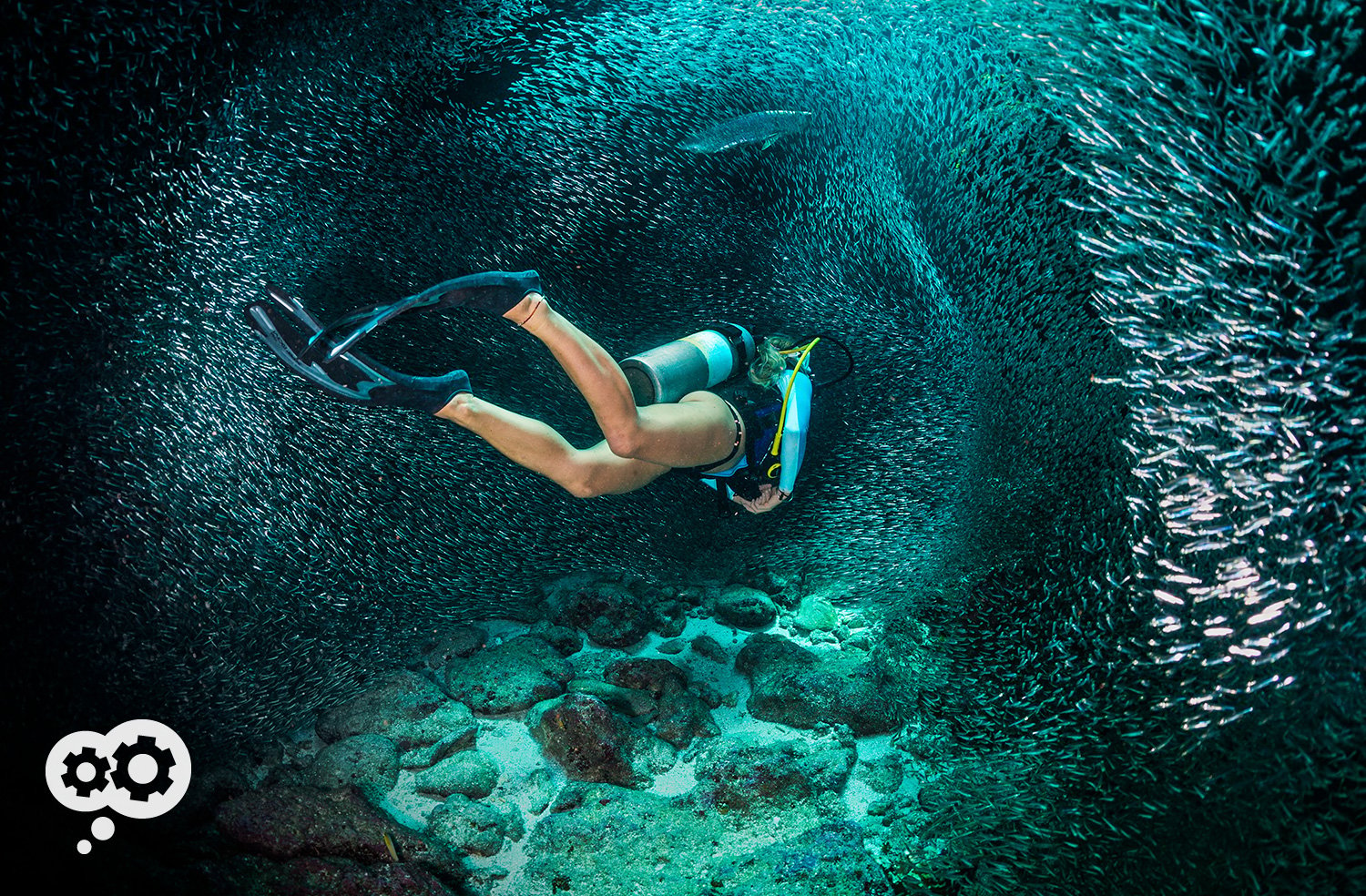 Developing a vision, and implementing it with strategically-placed solutions, will guide your exploration deep into the depths of your entire fleet of devices, and can lead to exhilarating new discoveries...including a dramatically more breathable bottom line.
"Plan your Dive. Dive Your Plan."
Descending steadily toward the ocean floor, entering the wilderness of the deep sea and the marine life that inhabits it can be exhilarating... life changing. Properly planning and executing your dive under a specific set of rules and checklists helps you maintain control over your equipment – and your environment. It ensures a successful dive.
Diving deep into your print environment means exploring ways to cut wasteful behavior, accurately track usage, and effectively supervise your fleet with rules and policies that, ultimately, save your organization time and money.
Right now, mentally scanning your fleet of MFPs and printers, do you have control over your equipment? Your environment? Developing a vision, and implementing it with strategically-placed solutions, will guide your exploration deep into the depths of your entire fleet of devices, and can lead to exhilarating new discoveries...including a dramatically more breathable bottom line.
Exploring your options, and implementing the right solutions, could be the difference between a successful dive and one rife with waste, unnecessary costs, and security deficiencies.
Are you ready to dive in?!
6 Rules for Diving Deep Into Your Print Environment
1. Check your gear ahead of time.
Once underwater, your survival depends almost entirely on your equipment. From test breathing your regulator, to pre-dive weight check, it's crucial that you feel confident in using your equipment – and that it is in optimal condition before you take the plunge.
Gear check for a fleet of devices entails initial discovery. Leveraging a multi-faceted assessment, you can can fully understand the state of your fleet, and uncover opportunities for streamlining print processes, maximizing productivity of print assets and people, and improving total cost of technology ownership.
2. Dive within your limits.
To avoid adverse, uncomfortable or even dangerous scenarios, one must set limits on planned dives that you are both physically and mentally capable of.
The people who print to your devices every day should have equal limits on what should be printable… and what should not. Doing so is an immediate cost-cutting and waste-eliminating endeavor. Using solutions like Papercut MF, you can create intelligent rules to limit user behavior and enforce sensible printing policies. You can remove jobs, encourage double-sided printing or create your own custom scripting logic (EXAMPLES: Display a pop-up message if a user forgets to select duplex on large jobs; or automatically route large jobs to more efficient high volume printers).
3. Regularly monitor depth and pressure.
It goes without saying… but regularly monitoring your depth and pressure gauge ensures that you have plenty of air in your tank for your ascent.
Monitoring your fleet means instantly seeing who is printing, what they're printing and when they printed on which device. Managed solutions, such as Papercut MF, can provide a dashboard that offers great visibility and easy access to a multitude of reports both micro (comparing users' current balance, print usage and settings) and macro (the printing summary of your entire organization).
You should be able to access reports in real-time straight from your web browser, as well as create your own scheduled reports to be generated and emailed to appropriate people within your organization.
4. Stay physically fit.
Diving is deceptively demanding on your body. Diving in strong currents, on top of carrying heavy gear and encountering extreme weather combine to make it a strenuous activity. Maintaining a high level of fitness is key to safety.
Your print fleet is as susceptible to information breach or internal misuse as other devices across your fleet – imagine the payroll statements sitting on the printer one minute, gone the next.
Think strongly about security. A few great examples are protecting sensitive documents via routing print jobs to the closest available printer, and securing all devices with user authentication.
5. Establish effective communication.
Once underwater, it's vital that divers have an already-established form of communication to signal actions like "I'm ascending," "I'm OK" or "Stop!" Often, a system of hand signals is used.
Likewise, establishing print standards isn't just about sending an email list of rules to end users. It's about effectively and continually communicating the expectations so that it is supported throughout the entire system.
Encourage sensible use by implementing filters to not only convert or restrict jobs, but also include customizable messages to inform users why restrictions are in place. Explain why a certain job is denied (because you can't print jobs more than 100 pages on the ink jet printer).
Additionally, get your organization behind your initiative by informing them, via a series of statistics, of their individual environmental impact from printing. This helps in not just adherence to policy, but actually changing a user's printing behavior.
6. Start with a diving course.
Not ready to dive in just yet?
An important first step for ANY diver is taking a course and gaining certification.
If you're ready to enable smarter printing practices for your organization, but not sure where to start, scheduling a print assessment is a giant first step toward getting your print spend - and best practices - under control. ALSO, join us for "Printability: A Datamax + ACDI Lunch & Learn." At this great event, you'll learn ways to print more securely, track and supervise more accurately, and cut waste and save on your bottom line.
Dive deep into your print environment. Discover new possibilities with Datamax!