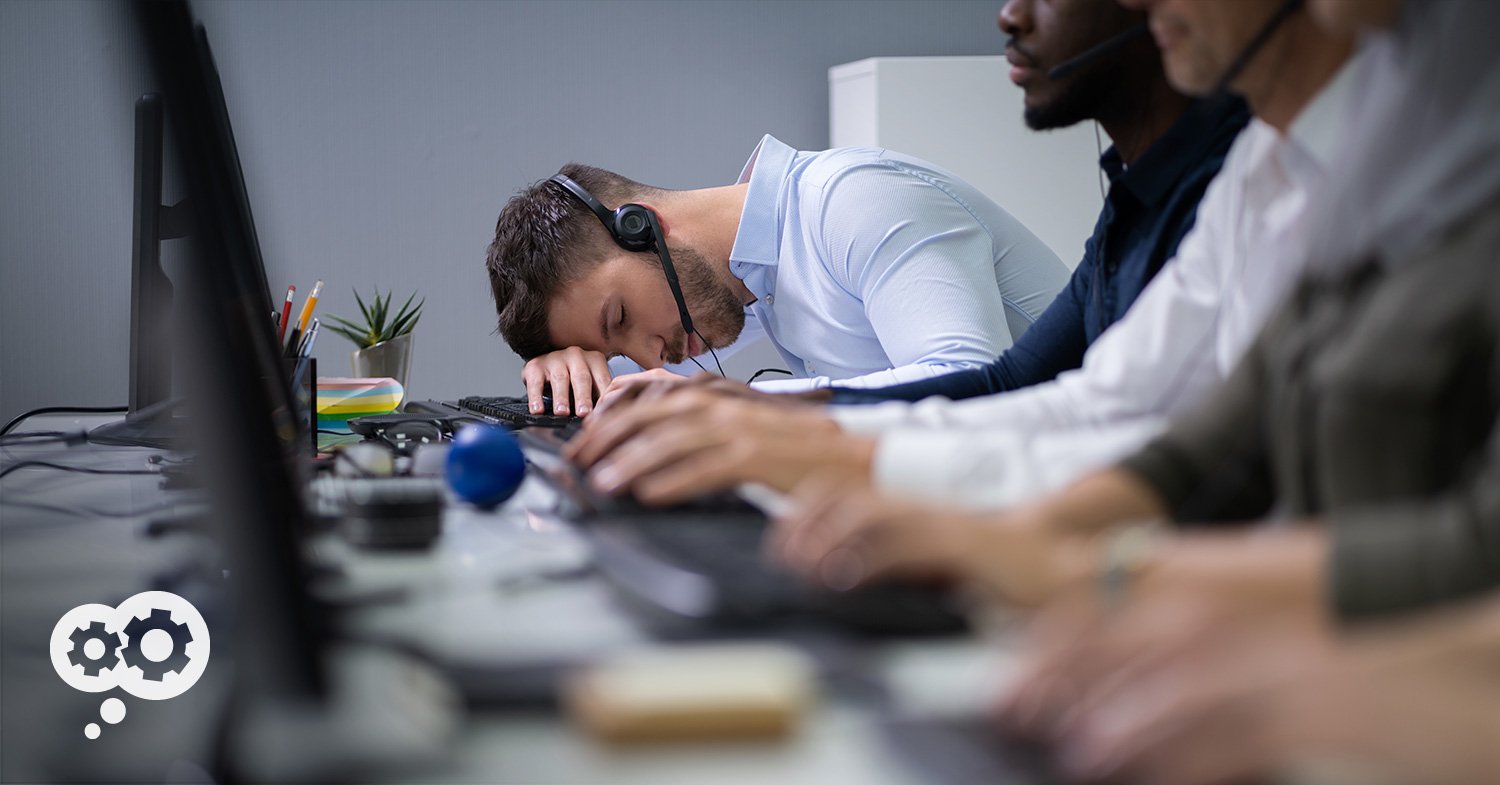 A proficient IT administrator derives satisfaction from automating tasks to enhance productivity, responsiveness ... and positivity.
IT staff fatigue is a real thing. It's an issue often explored in Nexthink's Pulse Report. Back in May 2020, we learned that 43% of IT leaders cited increasing support tickets as their biggest challenge since the start of the pandemic. "Since then," reads the report, "70% of tech leaders we polled said their ticket and call volume continue to spike, with a majority of those reporting increases up to 50%."

The report reasons that the real solution to fighting fatigue? Being more proactive. One area where this can be accomplished is in the arena of print management. It's a common pain point for teams dealing with drivers, print queues, print servers, network drop outs, et. al. However, for IT teams that are tasked with also managing print fleets, there is relief on this front.
Too much fatigue, too many tickets.

Too few tools to combat them.
A proficient IT administrator derives satisfaction (and fatigue relief) from automating tasks to enhance productivity, responsiveness... and positivity. However, with pressing manual assignments, a lack of IT administrative tools to manage them, and no time to really think strategically, IT support procedures proceed on as usual. Not enough tools pair poorly with an increasing number of tasks and tickets.
Are you an IT Administrator who's also managing a print fleet?

Here's a toolset that will help fight IT fatigue.
The Canon imageWARE Enterprise Management Console (iW EMC) is a web-based utility with remarkable scalability, catering to the installation and administration of various Canon and third-party networked devices within customer networks. It boasts advanced capabilities in automating tasks, such as the retrieval and distribution of device settings, device reboots, address book management, device discovery, and email notifications for device errors, and is ideal for medium to large enterprises.
iW EMC's unique framework paves the way for future innovation, and it's thoughtfully engineered for effortless implementation and streamlined expansion.
1. Centralized Print Device Management.
iW EMC performs the detection and retention of data regarding networked printers, including device location. It can be configured to automatically discover devices across various subnets at regular intervals through automated tasks, utilizing the SNMP protocol and Multicast device discovery.
2. Delivery and Retrieval of Print Device Settings.
This feature allows for both the retrieval and delivery of device settings, such as device location, system manager, and DNS Server. Additionally, it enables the capability to restart a single device or a group of devices remotely.
3. Print Device Status Viewing.
An IT administrator can monitor the status of devices through a unified portal. Furthermore, email alerts can be configured to notify administrators of various device errors.
4. Print Device Location Scalability.
Multiple iW EMC servers can be set up in diverse geographical locations to reduce network bandwidth requirements. IT administrators can access any iW EMC server on the network using the Computer Discovery and Management Module.
5. Automated Task Management.
As one example, it is exceedingly challenging for corporate IT personnel to manually update the address books of each individual device across the entire organization whenever an employee joins, changes positions, or departs from the company.
The imageWARE Enterprise Management Console offers a solution by automatically carrying out instructions and tasks created by IT administrators, either in real-time or as scheduled events, even during overnight hours or on weekends.
6. Built-In Print Device Security.
Security is top of mind for IT administrators today, and iW EMC prioritizes such by featuring Secure Socket Layer (SSL) security. Moreover, the software includes functions to prevent individual users from accessing device groups and supports native Active Directory integration.
7. Customizable Access Control.
iW EMC offers comprehensive user access control, allowing IT administrators to manage access to each iW EMC module by individual user accounts. It also supports Active Directory for user authentication. Here is a summary of the full suite of controls you can leverage:
Device Firmware Update
Device Configuration Management
Device Application Management
Address Book Management
Credential Management
Setting Profile Management
Meter Capture
Device Settings Configurator (separate software)
8. User Notifications.
IT administrators can send notifications to other IT staff about device status and communicate with individual users or all connected users to update them on changes to the printing environment or device configuration.
9. Personalized User Management Portal.
IT administrators have the flexibility to personalize the main portal to align with each user's specific needs.
IT Fatigue is a real thing.
Ready to do something about it?
IT administrators need the toolsets to truly maximize productivity and automate whenever possible. If you're interested in learning more about Canon imageWARE Enterprise Management Console, or ways to generally maximize your return on technology investment, click to schedule your visit with a Datamax Technology Specialist!
Source: Canon