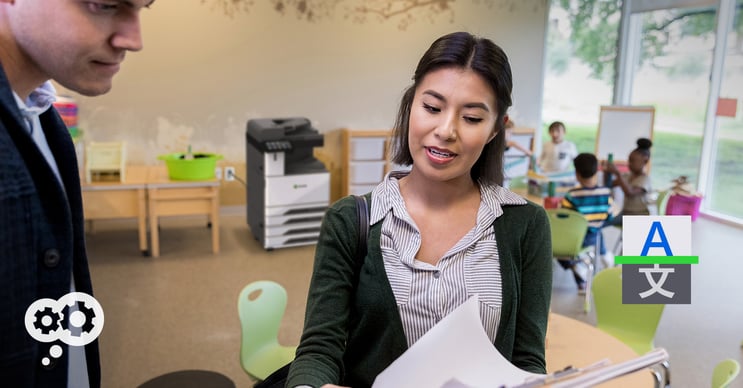 Lexmark's Translation Assistant offers real-time document language translation at your fingertips.
The language we use in business, on campus, or in the hospital waiting room has a great impact on those we serve. The responsibility to use language effectively only heightens when it serves not as a bridge to better communication, but as an unbreakable barrier.
Consider this statistic: 66 million people in the US speak a language other than English at home. How does that affect businesses, schools, and healthcare facilities directly? Consider this: According to one major US School district, there was 11,000 document backlogged and awaiting translation. And according to the National Library of Medicine, 20% of patients with limited English proficiency did not seek healthcare services for fear of not understanding their healthcare provider
Businesses, schools, government agencies, and healthcare organizations, without the ability to efficiently translate languages, uncover a failure to communicate and services suffer. In the end, it costs both time and money to break the language barrier, while end users remain lost in translation.
Just as language can present communication gaps, technology can help bridge those gaps. Lexmark's Translation Assistant offers real-time document language translation at your fingertips. This solution supports more than 100 languages through Lexmark's online portal.
Bridge the Language Gap

With Real-Time Document Translation:

Translation Assistant provides real-time document translation used in tandem with an organization's Lexmark multifunction printer (MFP). With this software solution, users can scan documents in the original language using a Lexmark MFP, select the appropriate output language from several choices, and receive a translated document within minutes.

After translation, these documents can then be printed or emailed directly to recipients, streamlining and improving communications with customers, students, parents, and constituents alike.
Bridge the Language Gap

in Education.

Translation becomes a critical component for schools so that parents are not otherwise excluded from their children's educational experience because of the language barrier.
Consider this school scenario, without a solution like a Translation Assistant:
A teacher drafts a letter in the teacher's instructional language.
If translation is necessary for a family, the teacher submits a letter to administration requesting such.
After being processed and completed, the teacher receives the translated document via email. Several days (or weeks) have passed.
The teacher prints the letter and either mails or emails the letter to the parents.
Now consider the process WITH Translation Assistant.
The teacher drafts a letter to parents in the instructional language.
If translation is necessary, the teacher scans the document into the MFP, and minutes later, the MFP prints the translated letter.
The teacher either mails it to the parents, hands it to the students, or emails it.
Days or weeks turn into mere minutes.
Bridge the Language Gap

in Healthcare.

Consider the recent COVID epidemic, when communication and updates changed on a dime and needed to be quickly disseminated, often in regions where English serves as a second language.

Rather than going through similar rigors to produce an accurately translated document, Translation Assistant translates - in real-time - public notices and patient communications in required languages, helping patients understand what's available now and how best to obtain medical assistance at any given moment.
Bridge the Language Gap

in Government.

A governmental agency's charge is to serve all constituents. For certain areas, this could mean dramatically diverse communities where multiple language "versions" of documents would best serve their needs. Using Translation Assistant, employees in state and local government offices can translate any number of informative or instructional documents into a targeted language in a matter of minutes, helping them better serve their growing and changing communities.

What does this "translate" to? Increased community engagement, enhanced awareness of government activity, and the potential for reduced costs for in-person translation services.

Is your government agency, healthcare organization, office, or school district lost in translation? Datamax can help you put rapid translation into action. By utilizing this scanning software solution the days or even weeks it might take to get a document translated transform into minutes. Interested in learning more? Schedule your visit with a Datamax technology specialist!