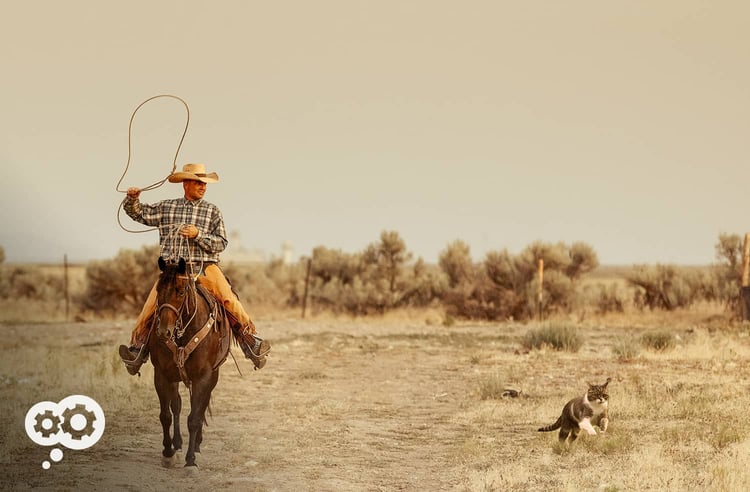 A thorough technology assessment – significantly more than a simple walk through – is designed to provide accurate insights and perspective on current infrastructure, workflow and personnel.
It can become a lot like herding cats.
Organizations often fall victim to processes that are unorganized, unwieldy and scattered in all directions: Delayed document approvals that gather dust on a desk or stall helplessly in a manager's inbox. Shaky (and unsecured) IT Infrastructure that has the wheels of IT personnel spinning for hours every day. Fluctuating monthly print costs that ride along spreadsheets like a rickety wooden roller coaster – enough shake and rattle to give any CFO a migraine.
Organizations deal with inefficiencies every day. But spending more time helplessly herding scattered processes than you are growing your business? Eventually, business owners, operations managers or IT directors realize it's time to sink their claws into a more cost-effective, streamlined workflow environment.
Two questions they can — and should
—

ask themselves amid such reflection:
1. "At what point have I reached my technology breaking point?"
(I.e.: That particular moment when you're ready to take a step back and pinpoint day-to-day operations that keep your business from thriving).
2. "How will you – my current technology vendor – assess my current situation?"
(I.e.: What tools and methodologies does the provider rely on to determine where you are today and where you'd like to be?)
The second question is huge. A thorough technology assessment – significantly more than a simple walk through – is designed to provide accurate insights and perspective on current infrastructure, workflow and personnel. Its purpose is to increase productivity, optimize operating expenses and build a technology platform that sustains future growth.
What will ensure a successful technology assessment?
Stakeholder engagement - Active executive management and stakeholder engagement and support during the assessment.
Clarity of Objectives - clearly stated assessment objectives and assessment methodology.
A Holistic Approach - Comprising workflow, documents/print, and network infrastructure.
Contextual Focus - Discover assessments conducted in concert with client's vertical industry.
Cooperative Investment - Time and resources are contributed by both partner and client.
Information Access - Freedom to access/acquire associated technology-related data regarding assets, performance and costs.
Assessment Deliverable - Detailed findings and prioritization of determined needs offered in formal graphical report format.
Three Areas of Assessment Your Organization should Consider:
Workflow Assessment - An analysis of key document and information-based processes that drive the business. By documenting workflow, infrastructure and people within these processes, recommendations are made to streamlined processes and enable higher staff productivity.
Print Assessment - This is a thorough rundown of all print devices, usage volume, print applications and a hard look at any hidden print costs. Next a print strategy is developed to optimize or "Right-Size" fleet deployment and, ultimately, improve an organization's Total Cost of Ownership.
Network Assessment - This assessment provides accurate insight on the vulnerability and overall effectiveness of current infrastructure. After assessing and scoring current network infrastructure, your technology partner will review the findings and provide recommendations. Also key is the process of planning, preparing end users, preparing infrastructure and on-board services. Finally, a network assessment should plan for and seek ongoing optimization.
---
Sick of herding cats? Ready to sink your claws into a more sustainable, cost-effective and productive environment for your employees and your bottom line? Consider Datamax. Our signature Datamax Discovery Program gives relevant technology recommendations for workflow, print or network - or, all of the above! Let's talk!