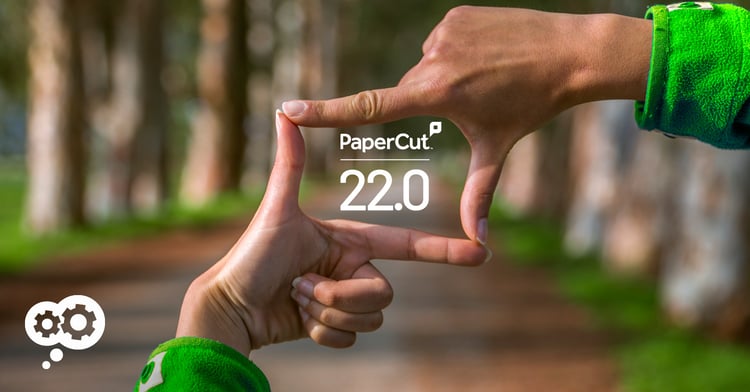 It's imperative in business to remain "green and growing" – and with this print management engagement, your organization is doing just that.
Printing smarter has always made good business sense. But it's also about thinking "green."
Print Management, at its core, is about reducing print waste through a multi-layered solution that includes print rules, security measures, and accurate tracking of print activity.
Headlined by its new sustainability program, Print Management solution PaperCut recently announced several new features that enhance the print experience for end users and continue to improve an organization's bottom line. It's imperative in business to remain "green and growing" – and this print management engagement is doing just that.
Green and Growing:

4 New Updates from PaperCut Print Management Software.
1. Forest Positive printing with PaperCut Grows program.
PaperCut has been reducing print waste for 20 years and counting, and recently published that it's prevented 3.2 billion unnecessary pages from being printed, amounting to 386,391 trees saved. But reducing waste is just one part of the problem. After reducing waste, how do we give back to the environment?
PaperCut Grows means workplaces can plant more trees than they use for printing, transforming print's impact into a Forest Positive force for ecological renewal. PaperCut Grows empowers businesses' print management to directly invest in the trees and forests of the world, as well as reduce print waste.
2. Choose scan compression levels.
Compression options have been added for Document Processing, because scanning through PaperCut previously delivered larger file sizes than expected. Administrators can now choose from three compression levels when configuring Scan Actions:
low - up to 50% reduction with visually identical document
medium - higher compression with some loss of fidelity
high - highest compression for drafts and long-term archive when images on the document aren't particularly important
3. Improve accessibility.
As part of its journey to achieve the WCAG 2.1 AA standards for end-user interfaces, PaperCut version 22.0 contains a new End-user Web Interface with a responsive, accessible, and fresh UI. This offers a better user experience for those with accessibility requirements.
4. Enjoy enhanced admin login page
PaperCut decided it was time to update its background image for the PaperCut MF admin login page. But it's more than a fresh illustration. They collated 22 stories about the company and wove those narratives into a work of art that represents PaperCut's journey as the little start-up that could.
What Can Print Management

do for your organization?

It's been estimated that the average worker prints 34 pages a day, 17% of which goes completely unused. Additionally, print isn't going away. According to Quocirca, more than 70% of 18-34-year-olds and IT decision-makers think office print is essential today and will continue to be important in 2025.

So the question becomes... how can you better manage your print environment, reduce waste, and ultimately maximize your return on technology investment? Components of a Print Management engagement with Datamax include:
Implement print policies to cut on costs and waste
Eliminate uncollected print jobs with Secure Print release
Gain full print visibility by department or individual with actionable reports
Authorize users to control who, when, and how they print
Enable BYOD printing and manage in a secure environment
Ready to get started? Click below to visit with a Datamax Print/Technology Specialist!