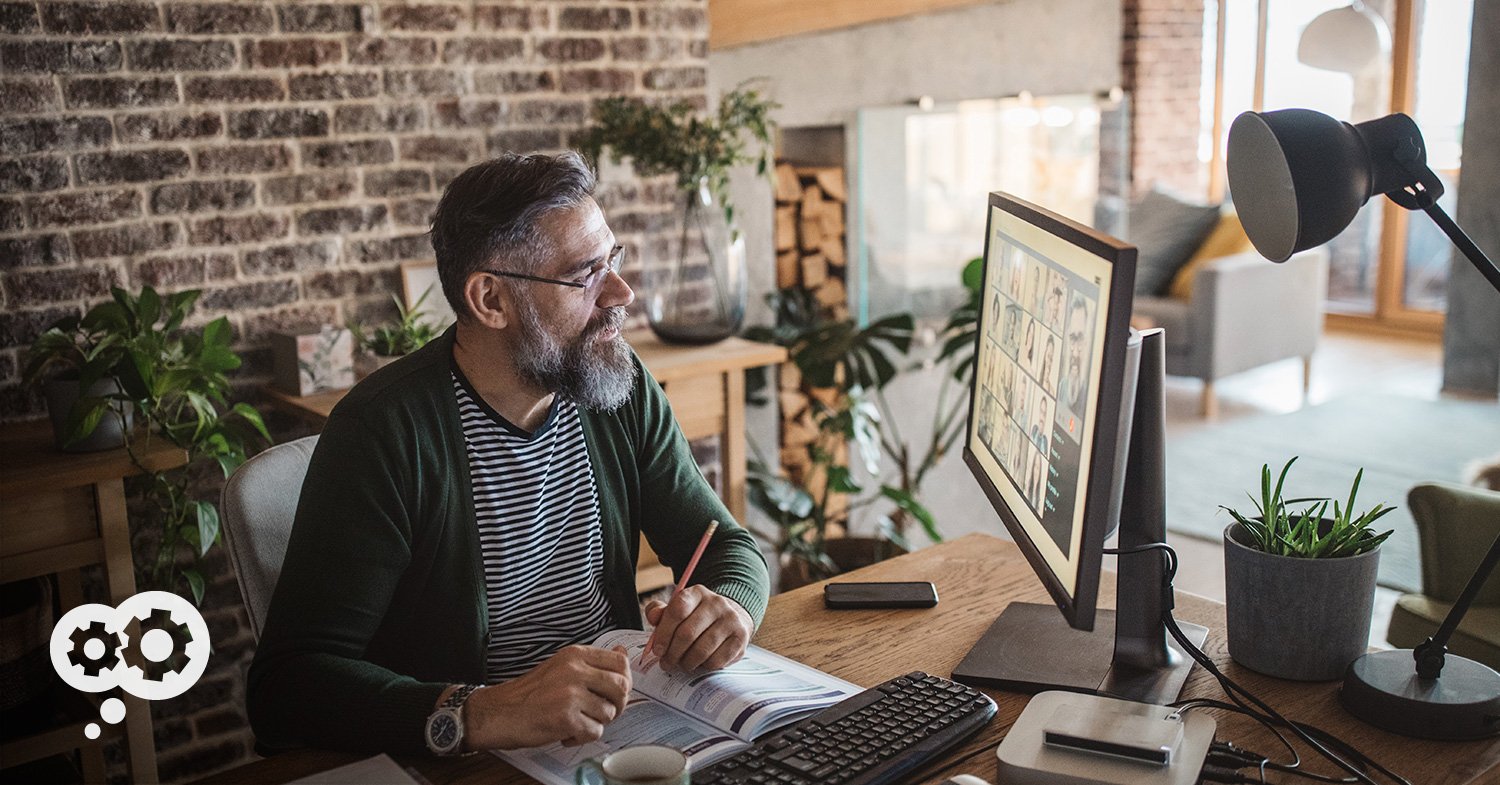 Hybrid work isn't a static concept – by nature, it implies that where people work will change over time, so your communication solution has to embody elasticity.
Legendary UCLA Coach John Wooden used to preach to players that "flexibility is the key to stability."
Disruption and adversity are everyday realities in sports. From the unexpected injury, a late-inning comeback, a defensive halftime adjustment, or a controversial call; the ability to recognize and adapt are keys to success on the playing field.
There has been no bigger business disruption than the pandemic, and adaptability continues to be a call to action for SMBs and enterprises alike. Flexibility continues to be a key to stability moving forward, as the need for communication and collaboration obviously does not cease in a remote work environment.
It's been said that in 2021 – and certainly moving into 2022 – that work no longer denotes a physical place. It's simply a verb. In other words, the WFH train has left the station. While a bevy of predictions of what "work" would look like in 2021 and beyond poured in during the pandemic, one assessment seems reasonable enough: Hybrid work is here to stay.
According to a recent PWC study, 83 percent of employees and 71 percent of employees think remote work has been successful. Furthermore, according to Intermedia, 74 percent of employers plan to adopt a broader, more flexibility work from home policy, while 25 to 30 percent of employees plan to work at home on a multiple-days-a-week basis by 2024.
For frontline workers, WFH is simply impossible. For some organizations, the impact it can have on company culture makes it too big a challenge to even consider. But WFH and the "hybrid" work model are at least considerable realities for many organizations moving forward.
What

is Hybrid Work?

As the name suggests, Hybrid Work Model is a blend of worker types and styles, ranging between in-office workers and fully remote employees. While every organization is unique in what specifically that entails, these could include:
In-office workers
Employees who choose to work at a remote location
Work from home workers
Works who are apart-time at home and part-time in the office
Workers who are in transit between locations due to travel or commute
Why

is Hybrid being introduced?

There are a number of reasons why this new, non-absolute definition of work is being introduced now. Just a few include:
Competition for employees: the hybrid trend is in motion
Employee satisfaction and productivity
Longer-term employee retention
Cost-savings (labor, real estate, travel)
Access to lower-cost labor geographies
What

are the Challenges associated with hybrid work?

There are certainly the technical challenges associated with setting up remote workers, such as Internet speed and addressing cohesive security protocols and procedures. There's also employee wellness to consider: According to Buffer, 27 percent of remote workers in 2020 reported an inability to unplug, while 15 percent pointed to loneliness and distractions as their biggest struggles.

Certainly, culture can suffer when no employees are coming into the office. While online meetings filled a void during forced remote work in 2020, one could easily argue that there is no substitute for actual, face-to-face physical interaction.

But one real, tangible challenge points to maintaining cohesive communication and collaboration amid a scattered workforce. Employees need to be able to reach each other, and they need to share and collaborate on any number of documents. Likewise, customers need to be able to reach your business – the core of any customer experience is the ability to engage with your business, whether via the website, email, phone, chat, or in person.
What are the 3 keys

to maintaining communication and collaboration in a Hybrid environment?

Today's knowledge workers have inherently different ways of communicating than the generation before them. The workplace is obviously changing. How does an organization recognize and adapt to a new environment while maintaining control continuity in employee morale?

Cloud Communications provider Intermedia points to 3 major keys to Hybrid Success.
1. A crazy simple solution.
Just as physical location proves to be a non-issue for many organizations today, so too should communication. Quite simply, one suite of tools should deliver all that you need – a business phone system with desktop and mobile applications, the ability to conduct virtual meetings with video, security, chat capability, even secure and easy file storage, and email or productivity applications.
A central and single management platform makes for easy deployment, easy administration, and easy scalability moving forward.
For instance, one system should let users:
Participate in a group meeting via video conference
Chat with a colleague to get a quick answer to a question
Present to customers via a webinar
Discuss a deal with a prospect from the phone in their office, the phone in their car, the phone at home, or wherever their laptop or PC happens to be located
Share and collaborate over a document with colleagues securely
Send and receive emails with links to a recorded video conference or that include automatically transcribed notes
2. Keep business at the center.
Your workforce may be scattered, but your center of business never should.
Customers should always reach you the same way they always have. Your business phone number doesn't change, nor do your employees' business phone numbers. For example, employees should never have to share personal phone numbers = their business phones SHOULD travel with them.
IT management should have the ability to add phone lines or remove them easily and succinctly.
With an integrated, cloud-native unified communication and collaboration engagement, your hybrid work model should ensure all conversations travel through the business and remain centrally managed under one platform.
3. Flexibility
With that, we're right back to where we started - flexibility.
Hybrid work isn't a static concept – by nature, it implies that where people work will change over time, so your communication solution has to embody elasticity.
Elastic communications technology doesn't care about "where." Elastic communication also supports the unpredictability of a hybrid work model. When an employee decides to move to a rural location, where your business doesn't have an office, customers and employees can still reach that employee without awareness of the move.
When evaluating communications solutions, consider just how flexible it looks for you and your workforce moving forward.
UCaaS offers

that flexibility.

Unified Communications as a Service (UCaaS), a cloud-based communications platform, offers flexible, business-centric, simple communication and collaboration technology. It enables users to be more productive and share ideas and content through a single system, regardless of location.
It ensures your ability to recognize and adapt, to remain flexible for whatever happens on the playing field ahead.

Ready to find out more about what a UCaaS engagement can mean for your business? Click below to visit with one of our technology specialists and start your assessment!
SOURCE: Intermedia