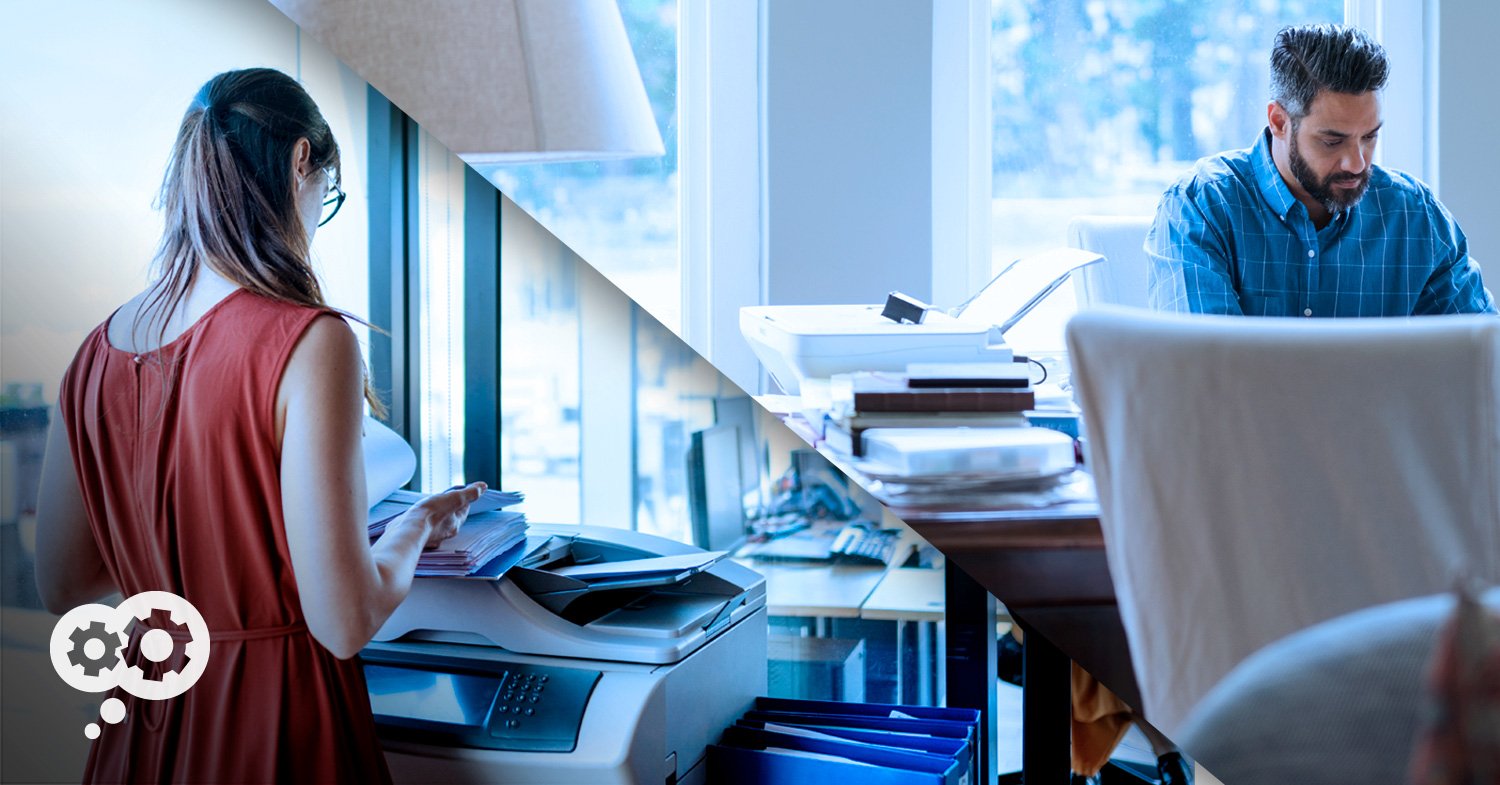 C

onfidence in how well the print infrastructure is protected against security breaches has decreased since the onset of COVID-19. Prior to the pandemic, 33% of IT decision makers said they were completely confident, compared to 21% now.
Work From Home could be a productivity boost for employees, but it's become a downright predicament for those charged with print security.
Work culture and workplace structure remains fluid as businesses deal with the onset and continuing effects of COVID-19. As such, business owners and IT personnel are tasked with a double-edged sword: Reigning in control over print and scan functionality, while ensuring cost/control savings, proper security protocols, and end user flexibility.
Output management becomes a moving target as employees flocked home to work, only to return to the office in varying degrees. Meanwhile, certainty in print security measures are shrinking. According to Quocirca's Print Security 2020 Study, confidence in how well the print infrastructure is protected against security breaches has decreased since the onset of COVID-19. Prior to the pandemic, 33% of IT decision makers said they were completely confident, compared to 21% now.
Andy Slawetsky, President of Industry Analysts, Inc., offers this insight :
Since COVID pushed people to work from their homes, security has become even more critical as end users are now accessing corporate accounts through unsecure home networks. It was challenging for IT staff to keep their networks secure when they were all working under one roof. Now, they've lost control and they've become more vulnerable than ever." - Andy Slawetsky
How to manage print securely and succinctly? That's the big question — one that can be answered with a cloud-based output management solution like uniFLOW Online.
3 Things We Know Right Now

about Remote Work and Print/Output Management:
1. COVID-19 hit the fast forward button on remote work.
COVID-19 has accelerated the move to remote working and cloud computing. Before the pandemic, an estimated 39% of employees worked from home all or part of the time; this is expected to rise to 48% after offices fully reopen.
2. A print security plan is paramount.
According to the Quocirca report, as offices reopen, 73% of those surveyed expect home printing volumes to increase, with 59% anticipating that office printing volumes will do likewise. As the hybrid workplace evolves to encompass both home and office printing, Information Technology Decision Makers need effective print security tools in place to minimize the risk of this expanded threat landscape.
3. Confidence in print security is on the decline.
Confidence in how well the print infrastructure is protected against security breaches has decreased since the onset of COVID-19. Prior to the pandemic, 33% of ITDMs said they were completely confident, compared to 21% now. The steepest drops are in the US (50% to 33%) and the professional services sector (43% to 27%).
3 Ways uniFLOW Online

Works In the Office and at Home:

uniFLOW Online allows employees to seamlessly print and scan documents, whether they're working from the corporate office, their home office, or a combination of both.

The similar user experience and ease of operation of the imageRUNNER ADVANCE multifunction printers in the office, and the compatible desktop imageCLASS multifunction printer at home, make for a smooth transition between the two work environments.
1. Users submit print jobs from anywhere.
uniFLOW Online supports printing to large multifunction devices in the office as well as smaller, all-in-one multifunction and single-function printers in the home. Plus, with Print via Cloud, users can print easily and quickly regardless of the network they're on.
2. Consolidated tracking/reporting no matter device location.
Employees working from home can print directly from their device—and with immediate job release—while still tracking costs. If the device is in the same room as the employee and it's continuously monitored, secure printing is often not necessary. If, on the other hand, the device is regularly shared with family members, secure printing for company documents can still be implemented. Documents can be released following authentication with a PIN code.
3. Access many cloud scanning destinations.
Scan workflows follow employees from device to device, whether at work or at home. A similar user interface and scan profiles are available at the home office as well as the workplace. With uniFLOW Online's innovative cloud technology, conversion to Word or searchable PDF and file compression are also available before the document is sent to the user's email or saved to Box, Dropbox, Evernote®, Google Drive™, Microsoft OneDrive®, or Microsoft OneDrive® for Business.
4 uniFLOW Online Security Features

for a Fluid Work Environment:
1. Print Jobs Stay Within the Local Network.
Thanks to uniFLOW SmartClient, a software installed on a client PC, print jobs stay within the local network where they are processed and stored on users' local PCs instead of being sent via VPN to a hosted server or the internet to a cloud-based service. When a print job release is initiated the uniFLOW SmartClient sends the job directly to the device the user is authenticated at.
Users can also send their print jobs directly to third generation imageRUNNER ADVANCE devices using Direct Secure Print, while still profiting of My Print Anywhere functionality. Print jobs are only released to a selected printer once a user has authenticated at that device. The spool file is automatically deleted as soon as the printout is completed or after a specified period of time.
2. Flexible Authentication.
Users are required to authenticate at their compatible Canon device using a proximity card, PIN code, image log-in and optional PIN code, or department ID. No matter where you are, you can print to uniFLOW's universal print driver and release the documents for printing when you're able to retrieve them. Simply hit print, and pick up at your desired location, securely.
3. Secure Scanning.
Users can scan directly to themselves, Google Drive™ or a variety of cloud-based scan destinations. When scanning, the captured document travels via the cloud to the selected scan destination. However, no scanned content or scan images are stored in uniFLOW Online. Only the processing, if applicable, is done in the cloud. Regular users and administrators have no access to content or index data of the scanned document.
4. Protected Print Job Information.
Only accounting data and configuration information is sent outside the company network to the uniFLOW Online tenant. By default, print jobs' file names are not uploaded to uniFLOW Online which removes yet another potential security risk.
Other sensitive information e.g. ID card numbers or PIN numbers stored in users' accounts are encrypted via a one-way salted hash to enhance security. Mobile print jobs and documents print from cloud services are converted and held within the regional data center until they are released/printed or until they are automatically deleted after a preset time.
Is your business ready to explore a cloud-based solution that ensures central control over a print environment of any size? Let's help you gain that control — and the print security confidence you need — by introducing uniFLOW Online. Get started with a Print Assessment today!