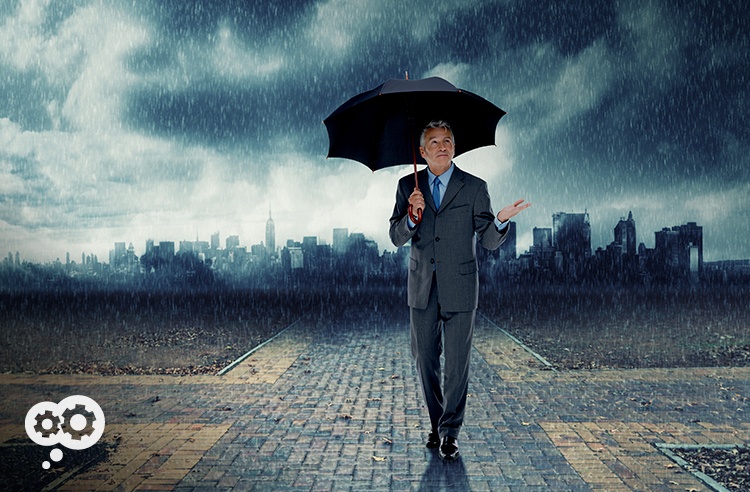 The ability to offer the tools and control needed to help reduce waste and boost productivity can be the difference in whether your organization finds itself "on cloud nine" or "under a cloud" when it comes to managing print.
For many organizations, printing continues to be a frustrating cost issue that remains pretty much untracked and uncontrolled. That's amazing since managing print output and associated costs has been such a hot topic for so long.
More companies understand this now, but not enough want to really pour in the effort to do anything about it. Apparently, they're less interested in the gathering clouds of documents and print and are more convinced of better cost savings they can be chasing down in their businesses — so they think.
"International Data Corporation estimates that fourteen percent (14%) is the amount of revenue wasted by most global companies on document-related tasks and sorely inefficient printing practices."
Have you considered what your organization's revenue waste percentage might be? Might be worth a little spreadsheet analysis. We can provide the template and the formulas.
Either way, we believe finding a "solution" that provides practical insight into your print environment is essential. It's ability to offer the tools and control needed to help reduce waste and boost productivity can be the difference in whether your organization finds itself "on cloud nine" or "under a cloud" when it comes to managing print.
Here is an overview of what we feel are the top 12 capabilities and controls available from uniFLOW that can get your organization out from under the cloud when it comes to managing print output and saving money.
1. Single Platform Management
Incorporating uniFLOW into your document processes will allow you to manage your printing and
scanning from a single platform.
2. Personalized Follow-Me Scan Workflows
Your users can have different scanning requirements, depending on their job role in the organization.
3. Flexible Authentication @ Device
The access of print devices is easily controlled with uniFLOW. You can choose from multiple authentication options, such as card log-in, user name/password, PIN code, job code, and anonymous log-in.
4. Create Intelligent Document Processes
Your users can scan documents directly from Canon MFP copiers and scanners into relevant workflow processes that can be customized according to your business needs.
5. Remote Printing Via Smart Phone or Tablet
Regardless of their physical location, your users can leverage their compatible smartphones or tablets to submit and release their print jobs in a managed way.
6. Device Status Monitoring and Alerts
You can monitor the status of your entire uniFLOW enabled print fleet, facilitating control of all devices.
7. Distribute Documents Wherever Needed
Once documents are captured and processed, your users can easily distribute them to a variety of destinations.
8. Least-Cost Print Job Routing
uniFLOW can help you realize measurable improvements in printing practices and associated costs by redirecting jobs appropriately.
9. Process All Captured Information
Leveraging uniFLOW's powerful scan engine technology, you can process documents using extremely accurate OCR functionality to extract information from your document.
10. Guest Email and Printing
With uniFLOW, temporary users and guests can submit print jobs from their compatible smartphones or tablets by simply sending the documents they want to print to a specific email address.
11. Secure Print From Anywhere, Anytime
Your users can print with authentication from wherever they're working.
12. Integrated Cost Tracking & Control
To ensure that you control costs and reduce waste, uniFLOW can help you visualize how your printing budget is being spent.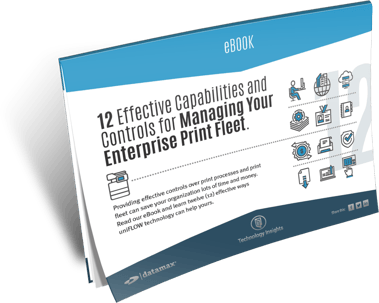 Providing effective controls over document-related tasks, print processes, and management of your print fleet can save your organization lots of time and money.
Please download our FREE eBOOK to learn a little more about the silver lining found in a uniFLOW + Datamax Print Management solution to get your organization on the way to some much-needed revenue recovery for the bottom line.
(Click on the thumbnail at the right to download)
*Note: Various references and content within are from Canon's uniFLOW Brochure: One Platform For Printing, Scanning, And Device Management (0717-uF2017B-PDF-IH) Canon is a registered trademark of Canon Inc. in the United States and may also be a registered trademark or trademark in other countries. uniFLOW is a registered trademark of NT-ware Systemprogrammierung GmbH. All other referenced product names and marks are trademarks of their respective owners.