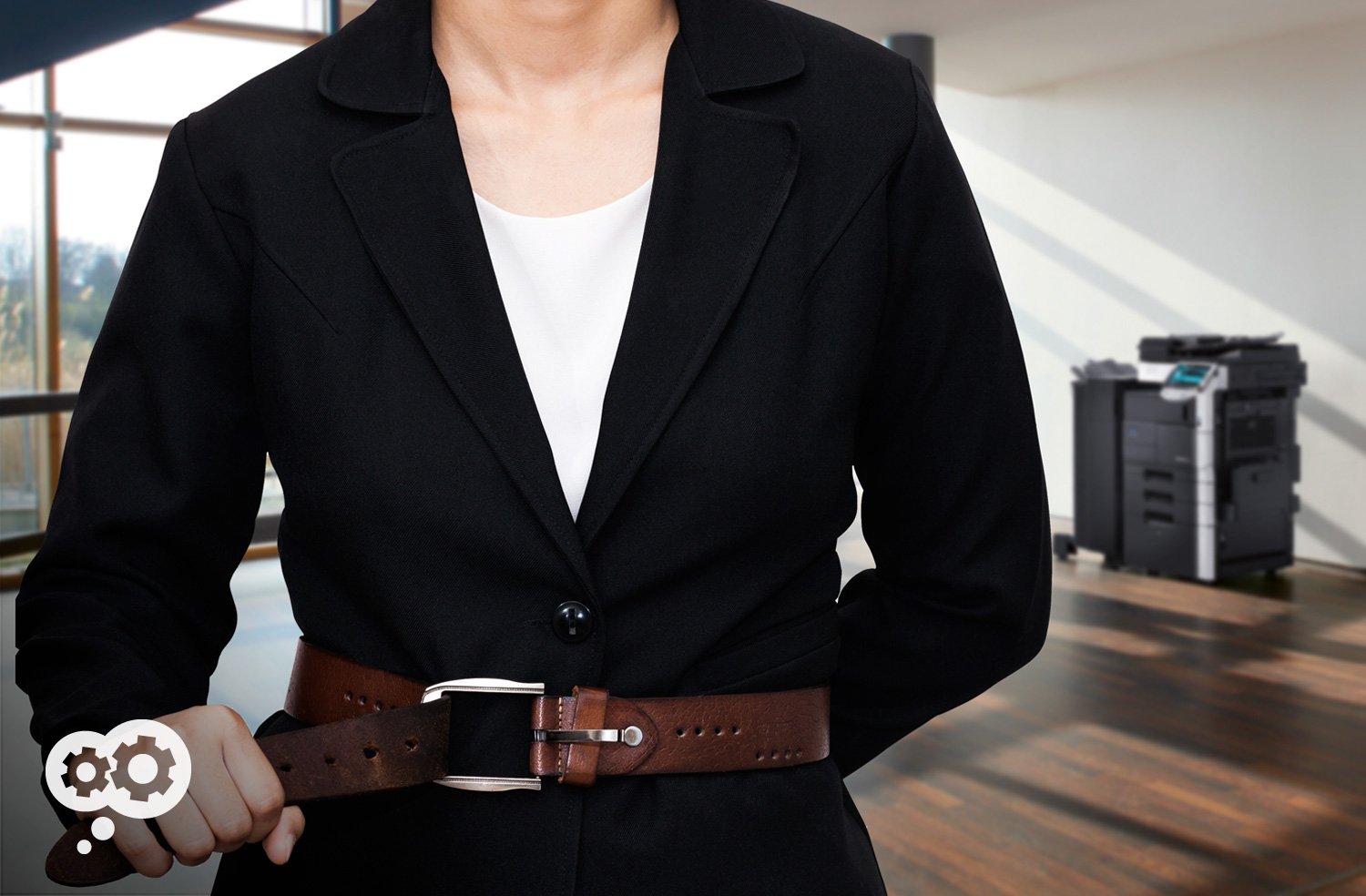 What's commonly perceived as "just another business expense" is an oft-overlooked opportunity for cost-cutting measures. Tighten your budget belt with these 20 ways to cut print costs.
Hoping to trim some fat in 2020?
The extra weight we carry in our operating budgets can certainly impact our budget belt size, but also overall business performance and results. As we approach a new year, with budgets and business plans freshly ingrained in our minds, many businesses are searching for ways to trim some of the fat out of the overall cost of conducting business.
Are you overspending on print? Do you even
know
your spend? What's commonly perceived as "just another business expense" is an oft-overlooked opportunity for cost-cutting measures.
Industry research firm Gartner, Inc. estimates that as much as 3% of a company's revenue is spent on paper, printing, filing, storing and maintaining files of information. Furthermore, the average office worker uses 10,000 sheets of paper a year. It is also concluded that 50% of the waste of businesses is composed of paper.
Ready to print a little leaner in 2020?
Tighten your Budget Belt

With These 20 Ways to Cut Print Costs:
1. Know your numbers.
You can't manage what you don't measure. A Print Assessment can help you fully understand the state of your fleet and beginning to improve total cost of technology ownership.
2. Save as PDF.
If you can, resist the CTRL-P urge and let it stay virtual.
3. Print b/w, when possible.
You're just going to read that 12-page whitepaper – not display it in your show room. Black and white will suffice.
4. Print duplex.
Printing one-sided should be the exception, never the rule.
5. Adjust document formatting.
Tweak margins to allow for coverage on your Word doc. 12-pt font is, generally speaking, more than reliable option.
6. Take a hard look before you hit print.
We're all guilty here. The one tiny tweak you missed seconds after you hit print. Tiny, but significant enough to turn around and hit "print" again. Take a good, hard look first.
7. Scan more. Copy less.
Still copying a document and transporting it across the office, to someone's already paper-scattered desk? Scan it. Then email it to them.
8. Fax Forward.
This standard feature on Canon imageRUNNER devices can help cut waste. When you receive a fax, that fax is directed to a set folder on your desktop or an email address. That way, junk faxes can be disregarded and applicable ones can be printed on demand.
9. Set up print rules.
Ahh… the software engineer at work who doubles as a weekend drummer… and those lavish 11X17 rock show flyers printed on Fridays. Establish clear print rules and administer them effectively with a print management solution.
10
. Route jobs effectively.
Restrict small print jobs to be routed to smaller desktop laser printers while directing larger jobs to be rerouted to faster more cost-effective MFPs.
11. Monitor usage.
Monitor printer use by your users, by examining print logs. If your users know that printer usage is monitored then they will be more careful about using printers.
12. Allocate output quotas.
With a print management solution like PaperCut, you can allocate a quota or allowance for users or departments.
13. Right-size your fleet.
Is your print fleet a band of misfits sitting on top of desks? Contact a reputable technology partner to help you right size a fleet to find the most efficient, cost-effective layout of your fleet.
14. Discover digital workflows that work for you.
Move from paper to digital workflows to expedite the movement of key documents across your office.
15. Embrace Find-me Printing.
Print to a single global queue, walk up and collect at any device.
16. Reduce IT overhead.
Solutions like uniFLOW allow you to reduce IT overhead by rolling out just one printer drive for your entire device fleet.
17. Implement pay-per-use.
For many enterprise fleets (like schools), a model that includes pay-per-use allows them to recoup printing costs.
18. Practice good copier/printer maintenance.
Great preventive maintenance by your technology partner will heed off extended downtime, but also help you maximize your existing equipment and increase its lifespan.
19. Promote print policies from within.
Ease the transition by creating awareness and understanding. If you want to foster positive change, the ability to promote it from within makes your team, who is directly affected, are a part of it as well.
20. Pick a qualified print partner.
Your choices are many. Will a partner hold themselves accountable? Will they dig deep to uncover needs and align their recommendations with your present and future business needs?
Need help in identifying that print partner? Click below to download our free eBook! These 20 questions will help you determine the right partner for 2020 and beyond.