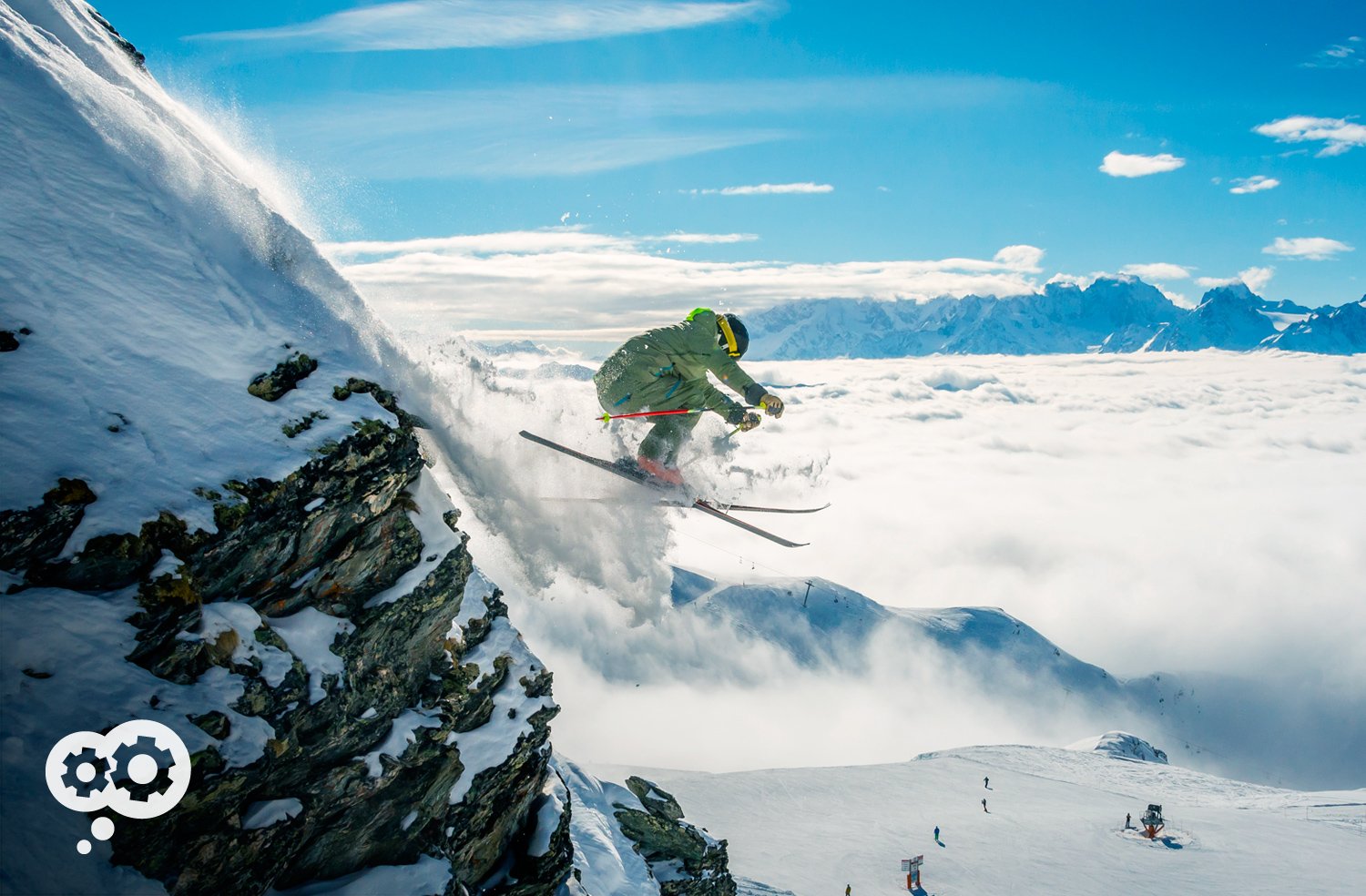 In-course obstacles exist daily. The right skills, training and the right gear are paramount for a more streamlined and capable production process for the entire

run — from pre-flight all the way to fulfillment.
When it comes to Double Black Diamond runs, experts only dare exit the ski lift.
These heart-racing, often terrifying runs are characterized by exceptionally steep slopes, and other hazards such as narrow trails, high winds, and obstacles like steep drop-offs, rocks, moguls or trees. You may contemplate such slopes with hope, but you'll likely retreat with "nope."
The conditions that Production Printers face today can be equally harrowing. Shorter run lengths, mounting costs, increasing customer demand, and the constant pressure to plow through production with more speed and agility, are just a few of the challenges that make it difficult for print operators to stay straight-forward in their skis.
In-course obstacles exist daily. The right skills, training and the right gear are paramount for a more streamlined and capable production process for the entire run — from pre-flight all the way to fulfillment.
Double Black Diamond Runs are intended for experts only. Is your production team properly trained and equipped? How confident, as they exit the ski lift, are they in approaching this level of run?
Here are 5 of the Most Difficult Ski Runs in the World — and the Skills Necessary to Conquer Their Unique Challenges.
Challenge 1: Reducing Production Costs/Improving Turnaround Time — Before You Reach the Bottom of your Bottom Line
The Ski Run: HariKiri, Mayrhofen, Austria — "Skiers come fast down the 1,230-foot drop, and if you fall, it is almost impossible to stop yourself before reaching the bottom."
Named after the Japanese suicide ritual performed by warriors who fell on their swords rather than allow capture, HariKari boasts a 78 percent incline — pretty much a vertical drop. Production Print operators may find themselves screaming "HariKari" as they plow through impending deadlines and impossible print specifications. It's easy to feel like you've reached bottom as you fall further and further behind increasing customer demand.
From negotiating click/rates, supply and medium costs, and training print operators for optimum efficiency, a professional commercial printer or CRD faces a steep question: How can I reduce costs, and find new ways to improve turnaround time?
The Expert Skills Necessary:
Make-Ready:

Preparing files for print directly takes away from time spent in production. Finding viable "make-ready" solutions, like Canon's PrismaPrepare, helps accelerate preparation from composition through production and reduce costly and non-chargeable make-ready time.
Cluster Printing:

Cluster printing is basically utilizing multiple machines for one job, so operators can make job printing as efficient as possible (example: splitting color and b/w pages between machines), allows you to group your printers into clusters. This distributes work among them, helping them to optimize resources and avoid delays.
Plan-ahead Job Scheduling: Accelerate turnaround times with up to eight hours of plan-ahead production. Unique job scheduling provides operators with the ability to monitor multiple jobs, receive custom notifications, and change priorities, as needed.
Challenge 2: Achieving Color Consistency — A Task that Somehow Still Feels Impossible
The Ski Run: Needles, Red Mountain Resort, Canada — "The double black run 'Needles' is in the middle of Granite Mountain and is known and feared by skiers for its speed and impossible steepness."
Needles isn't just steep. The top third of the run is completely littered with rocks and moguls skiers will need to navigate around at a high speed.
After too many on-the-fly adjustments, color consistency can feel impossible. Many Production Print operators, too, feel the pressure of navigating back and forth between color profiles trying to make that "perfectly incorrect (aka, it looks right on the screen!)" fit for the client.
The Expert Skills Necessary:
Collaboration: Designers create documents that look correct on their screen or desktop printer and send them for output. The file is interpreted and queued for printing, during which time its characteristics may change. Designers may not know the precise characteristics of the output device or they may not embed their source color profiles into the document. Designers and production workers must collaborate at this hand-off and can leverage tools like EFI Fiery® Color Profiler Suite to do so.
Calibration: The G7 calibration method is a revolutionary color management method and serves as an industry standard for color calibration. It promotes consistency, standardization and efficiency for the production equipment that is calibrated for G7. (Read our Blog, Accurate Color: No Longer a Balancing Act with G7)
Competent Support: A trusted technology partner should have a dedicated Production Print Specialist as a competent resource for color-related trouble shooting.
Challenge 3: Meeting the Steep Demands of Today's Customer — With Complete Respect and Competence
The Ski Run: La Grave, France — "La Grave is named 'the grave' for a reason. People die here. It demands that you do your homework. It demands respect and competence."
Despite high-profile accidents, the handful of guides who call La Grave home balk at its reputation as "death mountain." As demanding as it may be, it offers hugely rewarding challenges. La Grave presents possibly the best free-style skiing on this planet.
Your clients are more demanding than ever before. Deadlines are shrinking. Runs are getting shorter. And the people you serve wanted to be updated regularly on ongoing progress. Print managers should still strive to reward them with strong communication and streamlined, fast-as-ever submission processes.
The Expert Skills Necessary:
Simple Job Submission: Though it can be a sizeable investment that should measure a healthy ROI, a Web-2-Print solution can make it substantially easier for clients to quickly submit items such as business cards with variable data, without risking shifting in brand standards.
Multiple Job Submission Channels:

PRISMAdirect can help simplify order acquisition from a multitude of channels including email (MS Outlook), FTP servers, supported web shops or uniFLOW.
Automated Job Status Updates: For efficiency sake, a print operator is better when tasked with production, not breaking to email individual clients with updates on their jobs. Automation solutions, such as Canon's PRISMAdirect, improve customer relations with regular communications, with the capability to send both automated and personalized e-mails throughout the production process.
Challenge 4: Taking the Plunge into Workflow Automation
The Ski Run: Corbet's Couloir, Jackson Hole, Wyoming — "The most terrifying part of the run is the very beginning of it. The route starts with a drop-off that requires skiers to first fall 10 to 30 feet before hitting a 60-degree all the way to the bottom. While Corbet's is intimidating from the top, the view from below shows the great snow that usually awaits skiers once they have taken the plunge into the couloir."
Described often as "America's Scariest Ski Slope," anyone who's standing at the top finds themselves stuck on the edge, with any sense of dread or hesitation, may not be committed just yet. Your air time, necessary skills and commitment level will need to expand to complete - or survive - this run.
But the pay-off, judging by who those who've conquered Corbet's, can be life changing.
So, too, with Production Print automation. With the right technology partner and capable solutions in place, taking the plunge can be life changing from an operations perspective. Automation solutions accelerate the entire process for the print operator, from order acquisition, pre-flight, make-ready, client communication, all the way to production and fulfillment.
The Expert Skills Necessary:
A Relevant Technology Portfolio:

How automated is the workflow solution? How automated should it be? With any substantial investment, you need a solution that is relevant and cost-effective: It compliments your business and provides the right advantages. With a fully scalable solution like Canon's PRISMAdirect, whether big or small, you can configure to match the workflow requirements of your operation, from a single operator shop to one with multiple, global locations… with room to grow.
A Real Executive Buy-in: The foundation for plunging into advanced job and workflow automation starts with securing executive support/leadership that guides and champions the project towards clearly defined business objectives and results. You've got to know how to make the case.
A Relevant Technology Partner: Picking t

he right Production Print partner can help you chart the very best course to ensure the maximum Return on Impression (ROI).
Challenge 5: Finishing the Run Demands a Boundless Array of Finishing Options
The Ski Run: Body Bag, Crested Butte, Colorado — "The ski patrollers at Crested Butte cannot be any clearer. The name alone should steer you away from this snowy mountain precipice. DO NOT DO IT. Body Bag is not for beginners. Body Bag is for finishers."
An ominously named run at Colorado's unofficial home to extreme skiing, Body Bag is a steep mix of trees, rocks and cliffs. Skiers must be decisive and keep their edges straight with the fall line. Grabbing air here is necessity, not braggadocio.
Grabbing all necessary finishing options for the final stretch of a print run is a must: Stapled documents. Saddle-stitched booklets. Full-bleed documents or perfect-bound books. The options are boundless.
The end game? To produce high quality documents that delight and impress your customers. To finish the run with style ... and a pulse.
The Expert Skills Necessary:
Staple and Saddle Finishing: With Canon's imagePRESS series, corner staple up to 100 sheets or saddle-stitch* up to 100-page booklets in paper sizes up to 13" x 19.2". An external side jogger keeps paper in neat stacks. An optional 2/3-hole puncher is also available.
High-Capacity Stacking:

Realize maximum productivity with unload-while-run capability, helping to provide uninterrupted printing and virtually unlimited stacking. The integrated DFD interface lets configurations include various third-party finishing devices.
Perfect Binding, Cutting, Folding and More: Using a hot glue approach, a Perfect Binding solution covers book blocks of up to 400 pages at 20 lb. Bond and can trim on all three sides for full-bleed books or manuals. Leveraging advanced technology from companies like MBM, more complex, high-volume off-line creasing, trimming, folding, and booklet-making requirements can also be achieved.
Double Black Diamonds represent "advanced to expert terrain" on any mountain. The professionals will tell you: Don't attempt to ski these runs without experience on the mountain. It would be naive - not to mention dangerous - to approach your next production run without the right expert level guidance and training.
Your next run is approaching. Are you ready to conquer the Double Black Diamond? Schedule a meeting with one of our expert ski instructors (aka Production Print Specialists) and give it a run today!
---
Ready for a Test Run?

Now that you've read our blog and acquired the necessary skills (hopefully), we're confident your next Double Black Diamond experience will look pretty much like this:
(Watch the whole video ... It's NUTS!)