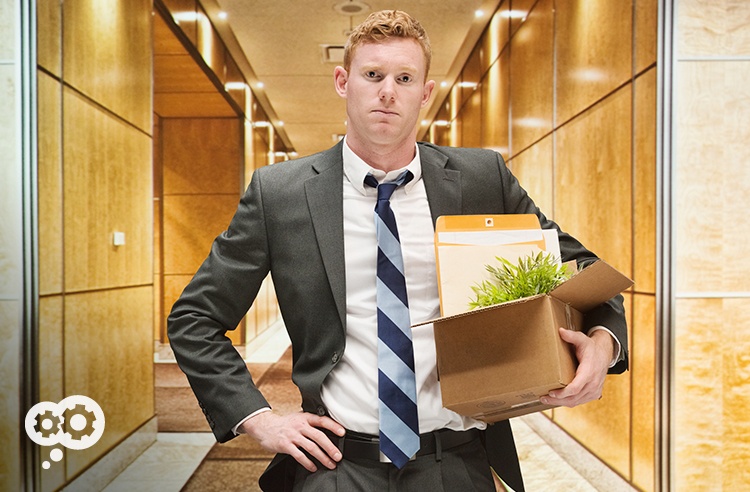 When it comes to your various information technology, document output, and internal network needs; are you still trying to do it yourself? Is your IT deck wobbling?
You're fired!
And thank goodness for it! Network services management is way more challenging than anyone thinks it really is, but you already know that, don't you?
One truism that I find in life is that no matter how easy something looks on the surface; it's almost always at least twice as difficult to actually do (and twice as difficult is just for starters). This is especially true when it comes to things we actually can do.
Take cooking. Many of you reading this most likely regularly cook meals for your family; and probably do it quite well. I caught an episode of MasterChef the other night (the show that takes home cooks then we all watch as they cook – or disastrously don't cook – amazing food creations). I know I've been to restaurants, looked at my plate, and thought, "I could do this."
And then chef Gordon Ramsey cooked one of his dishes. There were five ingredients: scallops, pancetta, peas, parmesan cheese, and quail eggs. In 15 minutes, he had shelled and pan-seared the scallops, pureed the peas while also cooking whole peas, perfectly fried the quail eggs, melted the cheese, crisped the pancetta, and put it all together into a fantastic-looking dish.
I still would have been trying to not crush one of the quail eggs.
Likewise, men, many of whom can barely hang a picture straight, will walk through hardware store and start thinking – inspired by the proximity of so many power tools – I could build that deck if I wanted to.
Simplicity Hides Knowledge and Complexity
OK, beyond poking a hole in men's collective egos and sharing my Wednesday night TV viewing habits, what's my point? Simply this: when someone makes a task look easy; that nearly always hides the years of practice, study, and knowledge behind that "easy."
And that's why we don't do everything ourselves. Families cook for each other, but for a special occasion (say an anniversary dinner), will go to a restaurant because, for most of us, the chef in the restaurant is better at cooking than we are and also has access to a wider variety of ingredients and techniques than we have. And not many people build their own decks, it's often more cost-effective (and structurally sound) to outsource that to a crew that really knows what they're doing.
In each case, we "outsource" our entertainment so that we can relax in the knowledge that we're in good hands – and so that we can enjoy our anniversary with our beloved instead of worrying about burning the haricots verts (or worry about that slight wobble when stepping out on the deck).
When it comes to your various information technology, document output, and internal network needs; are you still trying to do it yourself? Is your IT deck wobbling?
Outsource Your IT Needs
I don't think anyone believes that managing information technology today is an easy task. Yet we see companies – understaffed – continue to attempt to develop the in-house expertise and knowledge to manage their infrastructure instead of using that energy to focus on what makes their business different. Your network and your copier machines aren't your competitive advantage; they enable your competitive advantage.
There are two areas I'd encourage you to investigate outsourcing, in whole or part, to a third-party: your office equipment (multifunction printers/copiers, printers, and fax machines) and your network, commonly referred to as managed network services.
Managed print services is essentially handing over the management of your copiers so that you pay for each copy output from your equipment. These machines are complex – with thousands of moving parts in the largest devices – and require regular maintenance that service technicians undergo training to be able to fix and troubleshoot. This removes the headache of having to constantly divert your internal IT staff from ensuring the copier or the office photocopy machine or Xerox (or whatever you call it) remains in service.
Secondly, your office network is essentially dial tone. Much like a phone is considered a standard item in the workplace, so is your network. However, the expertise to be sure you have the right level of bandwidth, monitoring for security and uptime, backup, etc. is hard to find. There's a shortage of IT talent out there. This is another task that you don't have to do yourself; other companies develop the expertise and resources to deliver this as a service.
If you're struggling to find the time to manage all or part of your business' information technology infrastructure, take some time to discover what these managed services can offer you.