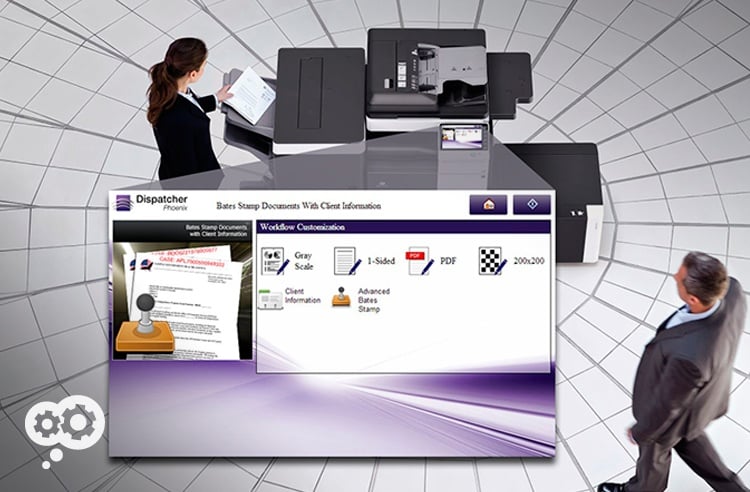 Previously, when you wanted to conduct Bates Stamping for legal documents, you had to download software or find room in the budget for an expensive piece of equipment. However, thanks to multifunctional copiers, this process is now much easier.
Instead of struggling with difficult applications or investing a large part of your budget into a single purpose device, you can do Bates Stamping with the push of a button on your digital copier. This functionality is the kind of thing the legal industry dreams of.
User-Friendly Bates Stamping Solutions
The modern Bates Stamping system has firmware upgrades and robust publishing features, which streamlines this process for your law office. Many popular copiers support Bates Stamping solutions. Make your life a lot easier with these options.
Canon imageRUNNER 7200, 8500 102
All you need to do with these Canon imageRUNNER models is scan your documents and paginate them with Bates Numbers. You don't have to go through the copies manually to do Bates Stamping. Everything is consistent, so the opposing counsel and court have greater accuracy in looking through the paperwork.
Canon imageWARE
Do you work with Canon imageWARE? It recently added a Bates Stamping software feature that works with standard computers in legal offices. This application supports Bates Stamped documents on every imageRUNNER solution. You can use this capability for management facilities, legal offices, and photocopy services.
Ribstone Systems on imageRUNNER Devices
If you use imageRUNNER devices, you are set for your Bates Stamping solutions. Ribstone Systems offers solutions capable of creating Bates Stamped documents directly from digital CDs.
You end up with printed TIFF files. This option is a convenient digital production process for fast and easy Bates Stamped documents. Both legal firms and management facilities can benefit from this configuration.
What's Coming in the Future for Bates Stamping
The difficult days of Bates Stamping are long gone. Software and built-in functionality updates to digital copiers and scanners have eliminated the frustrating parts of the process. Your legal firm now has a much easier time bulk Bates Stamping legal documents, and you save a lot of resources that can be used elsewhere.
Need help figuring out the best Bates Stamping solution for your law firm? Datamax Arkansas has an extensive selection of Canon imageRUNNER devices, and we're happy to use our legal expertise to assist you with picking the right one for your legal document production requirements.