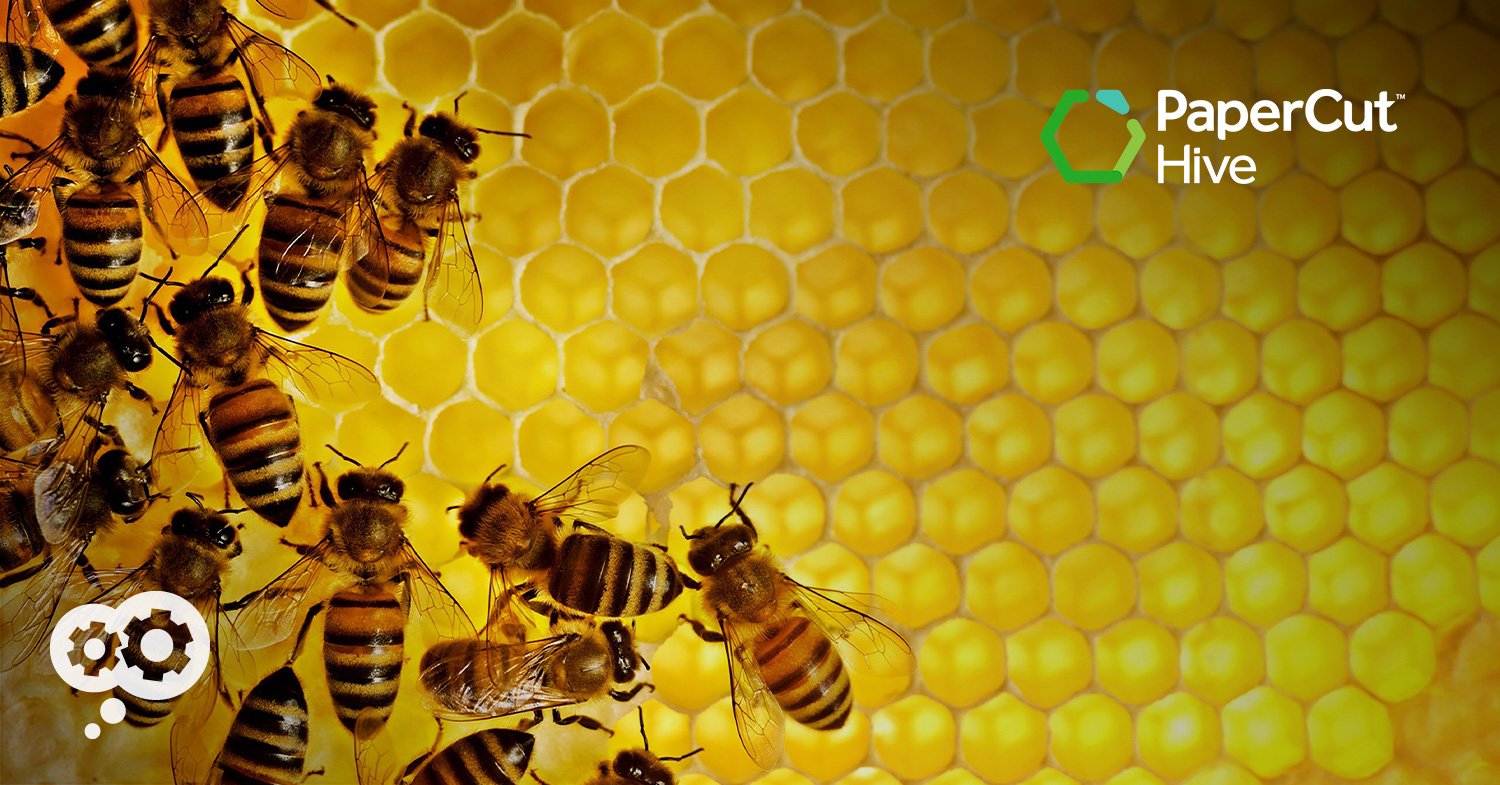 PaperCut Hive is a fully hosted Software as a Service (SaaS) solution that allows cloud-first organizations of any size, regardless of their printer brands, to easily enable and manage printing with just an internet connection.
For organizations looking to best utilize technology to support their everyday business, cloud adoption continues to be all the buzz in 2023. A few statistics from Zippia that support such a claim:
94% of enterprises use cloud services.
67% of enterprise infrastructure is now cloud-based.
92% of businesses have a multi-cloud strategy in place or in the works.
The way that organizations manage their print infrastructure today and into the future is no exception. Cloud Print Management is a modern printing approach that harnesses the cloud's power to streamline and simplify the printing process. Rather than relying on traditional on-premises print servers, cloud print management leverages internet-based technologies, enabling users to send and manage print jobs from any device, anytime, anywhere.
PaperCut Hive is a fully hosted Software as a Service (SaaS) solution that allows cloud-first organizations of any size, regardless of their printer brands, to easily enable and manage printing with just an internet connection. Below are three big ways that the buzz behind Papercut Hive is justified.
Simplicity.
1. Built for all brands and platforms
Print from any device (Windows, Mac, iOS, iPadOS, Android, Chrome, Linux), regardless of network connection (corporate, guest WiFi, home office, etc.).
Release print from any network-connected printer using a simple mobile app, or an embedded application on modern multi-function devices.
2. Save time and money
PaperCut Hive does not require specialized server infrastructure, so it'll save time and money.
There's no need to manage complex infrastructure on-site or worry about systems going down.
The existing Windows and Mac computers and laptops used by employees form an "Edge Mesh" that takes on the role of ensuring print jobs reach the intended printer - thus fulfilling the role of a traditional print server.
3. Convenient printing for everyone
Users set themselves up by clicking a link within an invitation email you or the customer initiates - either manually or after synchronizing users from Azure AD or Google Workspace.
Print from any user device to any printer or MFD - no matter what operating system or brand.
Printing is made ultra-convenient with Find-Me printing and Secure Print Release. Print jobs are sent to one universal queue and held until they are released from any printer, at a time that's most convenient.
Ideal for today's hybrid working environment. Organizations that have staff working remotely to the main office location, or from home, who want to print to the office, or to their own home printer, can have all that printing tracked and managed. You can also enable and track printing for guests and visitors in the office.
4. Integrates onto the MFD touchscreen
Embedded software integrates onto the MFD touchscreen for ease of access using ID card or PIN.
Track and control copy, scanning, and faxing activity.
Available for the majority of MFD brands.
5. Centralized management of everyday scanning
Integrated scanning on selected brands with Full Embedded Apps.
Deploy scan actions across multiple devices for consistent user experience; scan to personal cloud destinations. Scanning to shared Google Drive and MS SharePoint are active roadmap items.
Capture additional data on scanned documents to assist in the process of onboarding these documents into other systems such as document management systems.
Scan compression is done in the cloud even if the MFD itself doesn't do compression.
Cloud document processing technology turns raw scans into useful, text-searchable documents in the PDF/A format (ISO - standardized PDF compression version) using OCR (Optical Character Recognition). Additional OCR features include auto deskew, despeckle, blank page removal, batch splitting, and cloud compression (additional charges apply for the OCR add-on).
6. Easy admin experience
Organizations can get started with PaperCut Hive by simply creating their account online using an activation code that you email to them.
The rest of the setup is done by your Technology Partner with the option for organizations to do it themselves. This super simple setup process includes auto printer discovery and printer apps that deploy with a "one-click" install.
Print a customizable printer ID label with a QR code and attach it to the printers to easily enable guests to request printing access.
The intuitive IT admin online dashboard makes it simple to enable features that deliver value and savings to the business, e.g. turning on black & white and/or double-sided printing simply by toggling on a switch and setting up pre-configured scan workflows (for enabled brands).
Security.
1. Keep sensitive data secure
With PaperCut Hive, data is protected before, during, and after hitting "print."
Before printing, access control rules can be established to limit who can print and when.
During printing, jobs stay local and secure within the Edge Mesh until the owner authenticates at the printer.
After printing, watermarking and digital signatures can ensure every job can be traced back to its origin.
For printing within the customer's local network, print jobs stay local. This optimizes both printing speed and security because print jobs are not traveling over the internet before being printed.
Printing from outside the customer's local network (such as from a café or another office) via the Cloud Node is the only scenario where the whole print job (the document and its metadata), leaves the local network and travels via the cloud to the MFD. But, rest assured, the job is 3-tier encrypted from start to finish.
2. Protect against security breaches
Every laptop, phone, desktop, or server that forms the Edge Mesh is authenticated. Explicit authorization is required at every step of the print journey.
This minimizes the risk of a security breach from inside or outside the print network.
3. End-to-end encryption
Documents are always encrypted, whether in transit or at rest, using multi-part encryption keys (3-tier encryption).
4. Multiple secure release options
Flexible authentication methods such as mobile app, access code (PIN), or ID card.
Reduce the risk of users leaving unattended jobs in an output tray.
Full audit of all print, copy, scan, and fax outputs.
Authenticate users at the MFD to allow access to the built-in MFD functions - e.g. copying, scanning, or faxing.
You can choose to enable Secure Print Release for some users and allow others to print directly to the printers. This is great for home users who print directly to their own printers and when you want to track that usage for reimbursement.
All printing can be tracked regardless of print-release method.
Sustainability.
1. Responsible printing
Reduce waste and create responsible print behaviors by automatically nudging users toward thoughtful print options.
Pop-up messages on the mobile app and MFD screens promote double-sided printing or automatically convert color to B&W.
Set a percentage of jobs to receive automatic reminders, so users don't become complacent in clicking 'next'.
Eliminate wasted print jobs (and money) with Secure Print Release at printers and MFDs.
Customers can also join the PaperCut Grows tree planting program to make their print impact Forest Positive (additional charges apply).
2. Gain insights to drive change
A range of built-in reports* are all ready to review and share. Reports can be filtered by a set of key parameters, previewed, scheduled for email delivery, or shared on an ad hoc basis. Reports can also be downloaded as PDF files or CSV files for further analysis. [*Built-in reports are an active roadmap item].
Data and Analytics add-ons are also available to connect your print data to external reporting tools, allowing you to design and consume data in the way their organizations require it.
Insights are displayed in a variety of formats. There's plenty to explore, whether you're interested in seeing usage trends over time, environmental impact, toner forecast, or simply a table of print activity.
Actively track your Eco Rating, security score, and usability measure to help identify areas for improvement.
Feel the Buzz about Cloud Print Management?
Whether you're searching for ways to better track print-related costs and set up rules-based printing, or you're curious about moving your current Print Management solution to the cloud, we'd love to visit. With a Datamax Print Assessment, we can help identify opportunities for streamlining, find ways to maximize the productivity of print assets and people, and improve your total cost of technology ownership. Click to schedule your meeting with a Datamax Print Specialist!
Source: PaperCut, ACDI