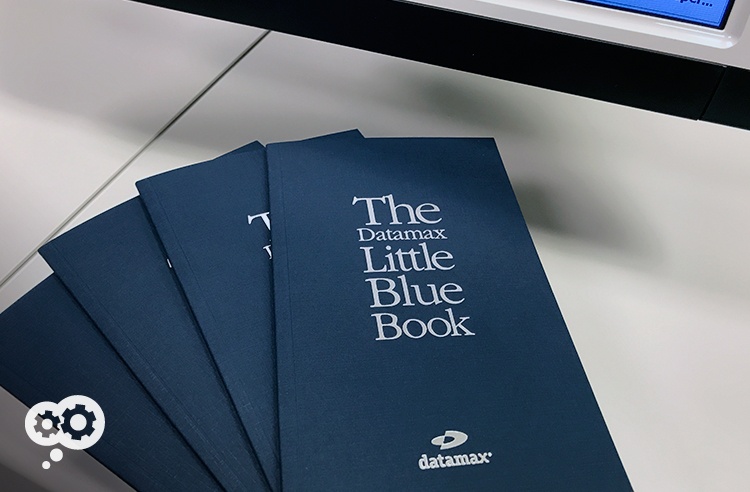 By responding to their career needs and aspirations, resolving real world business issues and challenges, and maximizing investments of time and expertise, we convey our desire to inspire the raves of our very own.
There's nothing insignificant or unintentional about the size or color of The Datamax Little Blue Book. Although brief, at just twenty-six short pages, it's packed with decades of insight regarding "The Datamax Way" and our invitation to you to join in on the journey.
From philosophy to positioning to principles, The Datamax Little Blue Book reflects our culture and our commitment to a unified mission—Creating Raving Fans®. It's our very best thinking in a pretty quick read because we realize the more we say, the less you'll remember.
And make no mistake—we want this to sink in.
It's what we practice from what we've learned. Not a lofty concept—but an authentically lived-out culture. Our culture is colorful and marked by the dark blue in our logo—the color of knowledge, power, integrity, and professionalism. Our culture is one you can count on to be reliable and responsible because your career deserves and demands it.
The following represents an overview of the three core components of our book ...
1. The Datamax Philosophy — What We Believe.
At Datamax, we are all about creating raving fans—in everything we do.
With customers, our formula is pretty simple—provide rapid response to needs, resourceful resolution to issues and real (maximized) return on every technology investment. Through a commitment of heart and mind, it is how we've operated for over sixty years.
For our employees, the promise is the same. By responding to their career needs and aspirations, resolving real world business issues and challenges, and maximizing investments of time and expertise, we convey our desire to inspire the raves of our very own.
In our community, we've also made a pledge to creating raving friends through offering our contributions, volunteers and leadership to help others in need every chance possible.
2. The Datamax Position — What We Do.
RELEVANT TECHNOLOGY. RAVING RESULTS.® represents the brand positioning theme that accompanies the Datamax brand name. It has been designed to quickly translate our business's positioning and brand identity into a single line (a tagline) that means something to our customers.
In just a few memorable words we think it ...
inspires believability,
differentiates competitively,
conveys customer payoff, and
reflects our character.
Please read our blog "Creating Raving Technology Fans - Our Four Word Formula" to learn more about our tagline and what means to our customers — and what it could mean for you.
3. The Datamax Principles — How We Roll.
As Thomas Jefferson said, "In matters of style, swim with the current. In matters of principle, stand like a rock."
We lean on sixteen rock solid principles that govern how we roll at Datamax. They are designed to help the people in our organization come together, stay together and most importantly work together in our pursuit to create raving fans.
We're proud of our operating principles and want you to know you can count on them—like a rock!
A Treasured Endorsement.
Creating Raving Fans is the foundation, the "soul" and the fiber of the Culture of Datamax Inc. When I first met Barry Simon, President of Datamax, he continuously talked about Creating Raving Fans. Many times I hear people use slogans that are clever. However, after a period of time, they move on to another catchy phrase and then another. That's all they are: a clever slogan. I have known Barry for over 20 years and interacted with the people of Datamax for that same lengthy time. They have never wavered. Their Mission, their Vision, their Reason for Being, is to Create Raving Fans. It is not a slogan, rather it is a Way of Life. It is the Heartbeat of their Culture. — Mike Riordan, Riordan & Associates

To create the kind of culture that trumps all, we also lean on the very best management planning, training and consulting expertise we can find. To that end, we are grateful for long time business partners like Mike Riordan and for helping shape, develop, and reinforce the culture of our organization.
So, whether you are a prospective employee, potential customer or friend in the community, we would love to sit down and share the entirety of The Datamax Little Blue Book with you.
Just give us call, the coffee is on us!