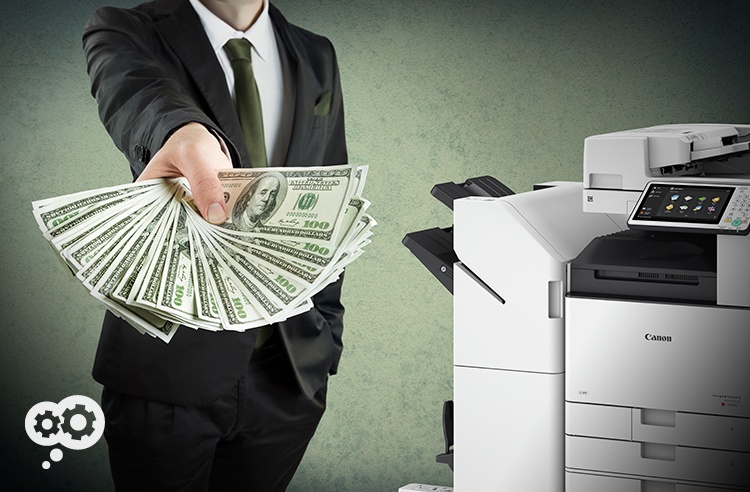 The top 10 questions a sales rep should ask you before they EVER give you a price – or recommendation.
There is nothing more unsatisfying than a salesperson who cannot give you a price when you ask them how much something is going to cost. Their reluctance may even cause you to doubt them. Believe me when I say it, they are actually doing you a favor.
Sure, any salesperson can throw out a number just to make you happy, but in the long run, the true cost of office equipment depends on many things. Sure, you can:
Scour the Internet for the manufacturer's suggested price (don't forget that's just the box)
Find a seemingly comparable unit at a bargain box store (it's cheap for a reason)
Snag a sweet deal on a used device someone is selling on eBay (there's a reason they want to unload it)
But it won't get you far. I too get frustrated when I can't get a straight answer on price for a big purchase. Your BS meter just cant help but go off. Before you think your salesperson is trying to pull a fast one, let me share the reasons why the office equipment sale is not always cut and dry.
The Top 10 Questions They Should Be Asking Before They EVER Give You a Price:
#1
- Do you really need a copier?

If your real goal is to actually go paperless and convert to a digital office, you may not even need a copier at all. Depending on the volume of paper, a scanner could be the device you need. First and foremost, determine your true goals.
#2 - If you actually need one, how much does your office copy, print, and fax each month?
If you don't know, a good place to start is to think about how many reams of paper you are opening in a given month. If it's two reams a day, that equates to 1,000 pages a day x 5 days in a week x 4 weeks in a month, totaling roughly 20,000 pages a month. Knowing this gives the sales rep an idea as to the volume category in which to start looking, as there are thresholds. Light printing might call for a desktop or smaller multifunction copier, whereas an office that has a lot of users and printing/copying/faxing needs might need a combination of light duty and high volume equipment. Faxing is not always standard either, so be sure to ask if faxing is important to you.
#3 - What kinds of paper do you use and what do you need to do with it?
For regular office use, 18-20 lb. bond paper is fine. But if you are printing in color, or print a lot of customer-facing documents, you might want to print on a heavier or glossy paper stocks and you will need a machine that can handle a variety of paper types. All too often offices buy a basic machine only to find themselves crippled by service issues because the rest of the office is putting the wrong kind of paper in the device. Sizes are also something to consider, as not all machines can print all sizes. Law firms for example, will most always need to have legal and tabloid paper printing capabilities.
Once you've determined the types of paper, don't forget to consider how much and where those pages will go once they are printed. Depending on the model, you could have several ways to upgrade paper, output locations, and finishing capabilities such as hole punching, collating, and booklet making.
#4 - Do you need to print in color, black and white, or a combination of both?
Color equipment generally costs more than black and white only devices but hybrid options are also available and can make color very affordable. Consumables are also something to think about, how much of the page are you actually printing on? If you print a lot of full coverage pieces, you might go through toner much faster than if you are just printing text-based documents. Looking at these metrics can help you determine exactly what you you need and how much it will cost to supply it.
#5 - What kinds of people are using the equipment?
If you have a large office, with lots of casual walk-up users, selecting a device that is easy to use, with large touch screen interfaces might be a better option than a device that's more complicated. Be sure to think about all of the ways your office equipment might be used now and into the future.
#6 - Where will you be putting your office equipment?
Where you place your copiers (and printers) can greatly affect the productivity of its users. While you might initially think you need one machine to do it all, you might find it is actually the same price to buy two smaller devices, have the added bonus of a redundant system if one does go down, and place them closer to the people who use them. This can sometimes result in a significant productivity boost. How your team uses your equipment is a critical piece of information in helping determine exactly what fits your office's needs. Some models even have workspace attachments that can be added on for a convenient place for users to work with their documents once they are printed.
#7 - Do you need added security on your devices?
Depending on the industry you are in, you might actually be required to buy equipment that comes with built-in layers of security for compliance reasons (such as HIPAA compliance). Features such as card readers to track access or hard drive data encryption are critical if you're in a heavily-regulated industry with lots of private information flowing through your network.
#8 - How do you plan on servicing your new equipment?
Planning for service is probably not something you want to think about when you buy a new copier, but the cost of service and maintenance is all too-often overlooked when considering your investment. The brand you buy may also give you some clues as to how long you might expect to go without a service call as different manufacturers build machines that perform more reliably than others.
#9 - How connected do you want your equipment to be?
Advancements in technology have made office equipment pretty turnkey these days. In fact, some copiers can even be configured to automatically place their own service calls, or even fix software issues proactively with remote monitoring. Devices can also be setup with cloud-based and smart printing workflows to make things even easier. But again, these features most always require a little more setup, and sometimes additional features such as wireless connection capabilities, so be sure to ask if they don't.
#10 - Do you want to buy or lease this new equipment?
Last, how you plan on paying for your new copier can make a big difference in the final price. Will you buy it outright and just pay for service and supplies? Do you have existing equipment that has a lease buyout attached to it if you switch service providers? Or, might you consider leasing for 36, 48, or more months? The length of a lease can greatly change your monthly payment.
The truth is there are dozens of factors that determine the cost of a copier. If a salesperson IS giving you a price before asking these questions, then I hope for your sake your BS meter is going off. Don't be fooled by a sexy price.
Like any business, copier dealers will also offer specials from time to time to incentivize customers — to move older stock in anticipation of new models (not unlike a car dealer). While the model may be older, software updates can render it identical to the newest model. Don't be afraid to ask!
Not sure where to start? Schedule a conversation with one of our office equipment experts today. No BS here.