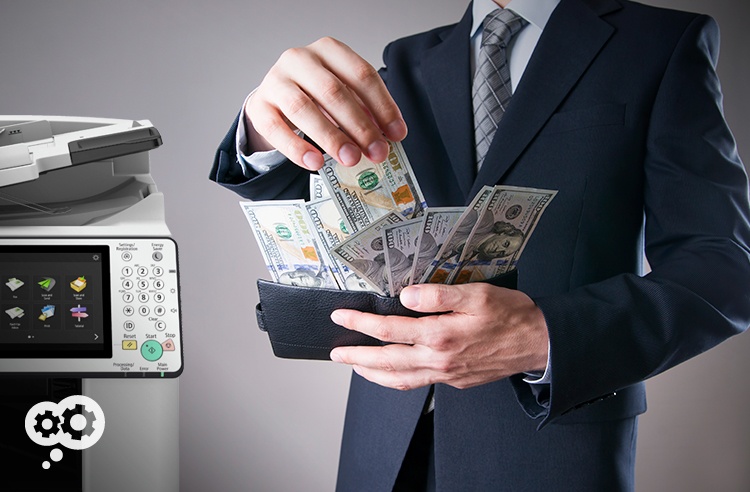 While it's annoying to hear "it depends" when you ask us how much a copier is, it's also the truth. Here's why.
One of the most common questions (if not THE most common question) every copier dealership is asked is some variation of "How much is a copy machine going to cost me?"
Our sales team is asked that all the time.
The answer is (really!): it depends.
I'll explain why.
I get it. That is about the most unsatisfying answer you can get from someone you want to buy something from.
I know I get frustrated when I can't get a straight answer on price for a service or a purchase.
Of course, there are places you can go to find pricing –
Manufacturers' sites have prices scattered around on Web pages and product brochures

Box stores have their prices for the lower-end laser printers and multifunction devices

eBay has prices for used office equipment (not that I recommend buying from eBay)
19 Reasons Why It's Hard to Tell You How Much a Copier Costs
The truth is there are dozens of factors that determine the cost of a copier.
1. What Are Your Output Requirements?
This is the starting line – how much to you print, copy, scan, and/or fax (fax is an option on some models, standard in others). Your monthly volume of jobs and speed requirements are your starting point for determining the model you'll need. Of course, the faster the copier or printer, the more it will be.
2. Buy, Lease, or Managed Print Services?
How you bring a new copier in makes a difference in price. Will you purchase your equipment? Are there any lease buyouts if switching vendors? Does leasing and monthly payments make more sense? Or do you want to outsource the management of your entire print fleet with managed print services?
The length of your lease period – 36 months, 48 months, etc. – will also affect your monthly payment.
3. Cost of service?
Obviously, different manufacturers build copiers that perform more reliably than others. Cost of service can vary due to that, as well as can vary due to the competence and operating efficiency of a given service provider. All these things are reflected one way or another into the cost of service. Great service and maintenance is a too-often overlooked aspect of the overall operating cost of copiers and laser printers.
4. Color or Black and White? Cost of Consumables
Color equipment generally costs more than black and white only devices. Think about how much the consumables cost – investigate toner yield and other metrics. The more pages you can print from a single toner cartridge, the lower the cost to operate over time.
5. Paper Size.
Do you need to print or scan posters, blueprints, or other wide-format documents? You'll need to look into wide-format copiers. You also need to make sure you select a copier that handles the largest paper size you work with – you don't want a copier that can only handle regular office page size if you're a law firm. If you never print larger documents larger than letter size, an A4 device could be more cost-effective than an A3-capable copier or laser printer.
6. Ease of Use.
Simplicity of use and customization are overlooked productivity-boosters. If this is important, you need to look for copiers with large, easy-to-use touchscreen interfaces. Not all copiers are created equal when it comes to ease-of-use.
7. Security.
Do you need extra security features such as card readers to track access and enable walk up printing? Do you require extra levels of hard drive security – such as encryption – if you're in a heavily-regulated industry with lots of private information?
8. Paper Capacity.
Do you need to run uninterrupted large print and copy jobs? You'll need additional paper trays – and output trays to catch those print jobs. Depending on the model, you could have several ways to upgrade paper and output capacity.
9. Finishing Options.
Do you need to staple? Punch holes in documents? What about folding or making booklets? There are options for each of these.
10. Output Resolution.
Do you need to print or scan at higher than 600 x 600 dpi? Office quality or business color output may work for some, but production print output may be what's needed. That can have a big impact on cost.
11. Want More Work Space?
Some models have an optional work surface that can be added, which gives you a convenient place to sort documents.
12. Wireless Connectivity.
Do you need to support mobile workers and/or want to enable printing from smart phones? You need a copier machine capable of wireless connection.
13. What Kind of Paper Will You Use?
For regular office use, regular office paper is fine. Will you need to produce marketing documents? If so, you probably need the ability to print on glossy paper and/or heavier paper stock (and that may require a high capacity copier).
14. Integrations.
Will you need to integrate your copier into your IT infrastructure for scan-to-email/cloud/workflow applications?
15. Remote Troubleshooting & Support.

More copiers are being introduced that can be monitored, updated, and even fixed remotely for software issues (I've yet to see a self-repairing copier that can replace a worn roller). This faster troubleshooting can often come with a premium.
16. SLAs.
Not every service agreement is the same and not every service level commitment is the same (i.e., response time, guaranteed uptime, etc.). Service Level Agreements vary and therefore the price will too.
17. Location, Location, Location.
It's not just for real estate. Where you place your copiers (and laser printers) matters. Rather than one higher-capacity copy machine, you might get a larger productivity boost from having two devices closer to the employees who use them. The cost could be equivalent, but the productivity boost could be larger.
18. Discounts, Specials, and Rebates.
Like any business, copier dealers will also offer specials sometimes – to move older stock in anticipation of new models (just like car dealers, only friendlier!), to incentivize customers, and manufacturer rebates.
19. You Might Not Need a Copier.
Here's the final reason we don't just sell you a copier without a conversation first – you might not need one. If you have heavy-duty printing needs, a high output laser printer might be a better choice for your office. Do you want to digitize your paper documents? Depending on the volume of paper, a scanner could be the device you need.
As you can see, the cost of your copier depends on what you need it to do in your office.
If you know you need a copier, but not sure where to start, it's time for you to schedule a conversation with one of our office equipment experts.