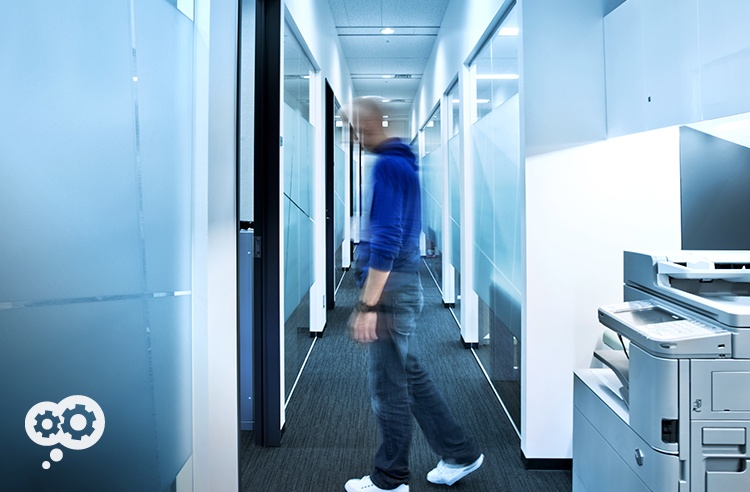 Buying one, centralized multifunction printer for your office will save money, right? It's not as simple as that.
Centralizing your multifunction copiers makes a lot of sense. You don't need to buy multiple machines to cover all of the departments, the IT team can easily network and troubleshoot them, and you won't have employees wandering around trying to figure out where to get their copies.
This configuration works out great, in theory. In practice, you could end up with the MFP becoming the de facto water cooler. When staff makes their way to the digital copier to pick up their papers, they may take a socialization trip at the same time.
The Likelihood of Productivity-Decreasing Socialization
Brother International Corporation found that 61% of employees started up conversations while they were at the multifunction printer. Only 31% of employees took some time to talk at the water cooler. And while it's a good thing for employees to talk to and trust each other, you don't want a group dissecting the latest Game of Thrones episode over copiers either.
The Office-Wide Lap
It's not just the printer you need to worry about. When someone gets up to grab a print job or make a copy, there's a 98% chance that they're going to linger at their coworkers' desks. These conversations only cover work-related topics 28% of the time. The socializing employees not only impact their own productivity but could affect the people at surrounding offices and desks.
Centralization Impacts Device Usage
Another downside to centralization is the lack of convenience. Employees who are farther away from the printing hub may avoid printing at all, or they could forget to pick up the job once it's done. The devices end up underused.
The Benefits of Multiple Basic Devices
You don't have to get everyone a multifunction copier for their part of the office. Consider spreading basic tools to convenient locations for everyone. You overcome the resistance to actually using print, scan, and copy functionality, and you provide backups in case your MFP goes down. This tactic also allows you to tailor the equipment to the needs of a particular department or team.
Managed print services use intelligent device placement so you get more out of your gear. Want to get an honest assessment of your office environment? Let us help out today.
Brother created a clever infographic that sums up the pitfalls of centralized devices.