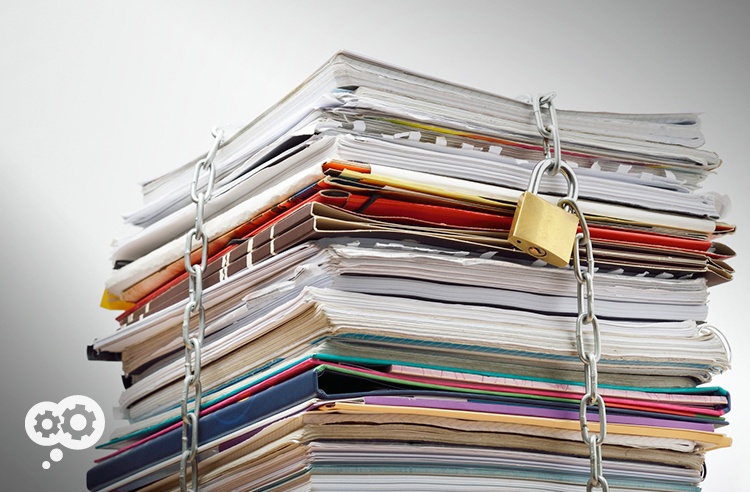 Though each one of the security concerns bulleted above is important, there are still a few other information security issues that copiers can help with.
The biggest concern for legal IT departments is no longer email management.
"Whew!" is what's going through your mind right?
Don't get too excited. Now the number 1 concern is . . . security management.*
With so much personal and privileged information to keep safe, it's no wonder that security of information is so crucial in the legal community, or that 23% of the questions from the International Legal Technology Association's (ILTA) 2015 IT survey report were focused on security.
Jobst Elster summarized a few of the report's key security findings writing in the InsideLegal.com blog
Encryption on laptop hard drives (+10%), in email (+12%), on removable media (+8%), and on smartphones (+13%) is in high demand as an integral component of data security (each of those four statistics are higher than in the survey previous).
Some Stats.
Mobile Device Management (MDM) is now mainstream – with an 8-point gain this year in MDM deployments and 52% of respondents using this technology.
According to the ILTA Tech Survey, compared to the recent related hype and media coverage 'client security requirements' (14%), 'BYOD/mobile devices' (12%) and especially 'cloud apps/data security' (4%) actually ranked much lower. We also observed that the three biggest law office security challenges cited in the ILTA Tech Survey include 'balancing security with usability' (31%), 'user acceptance and behavior' (24%), and a tie for 'user education and awareness' (22%) and 'firm culture' (22%).
Continuing to gain momentum, 49% of law firms (including 86% with more than 350 attorneys) now have security awareness training programs. With 79% of these programs developed internally (compared to 86% in 2014) the trend is falling towards outsourcing in these areas.
Firms are doubling down on security measures like: ethical walls, which averaged 88% usage among firms with 350+ attorneys, intrusion prevention systems (54%, up 14% from 2014) and intrusion detection systems (52%, up 6% from 2014).
What's Missing?
Though each one of the security concerns bulleted above is important, there are still a few other information security issues that copiers can help with.
Over the past year, we have covered quite a few copier security-related issues in our blog posts. Many businesses don't even know about most of the security issues addressed. Here are a few:
Digital Copier – They're a Ticking Security Time Bomb
These day copiers are essentially computers "under the hood." Are you sure your device's hard drive information is secure? Click here to read more.
You Could Be a Sitting Duck for Hackers – Here's Why
Any device connected to the Internet could be a point of penetration for hackers. Here are six tips to help you fill in this potential security gap. Click here to read more.
Did You Know: Your Copier Can Scan to the Cloud
Cloud services can really provide huge productivity and business improvements to an organization. From quick access and updates to documents no matter where you are to printing from anywhere the cloud adds value to the office. Click here to read more.
Fatten Your Bottom Line With Office Printing Rules
Office printing rules are often created to save money. Print rules can also exist to help increase document security. Click here to read more.
You can't address security concerns that you don't know about and understand. I hope these articles help you learn about copier security and how to use your copiers' functionality to keep your firm's documents firmly under control.