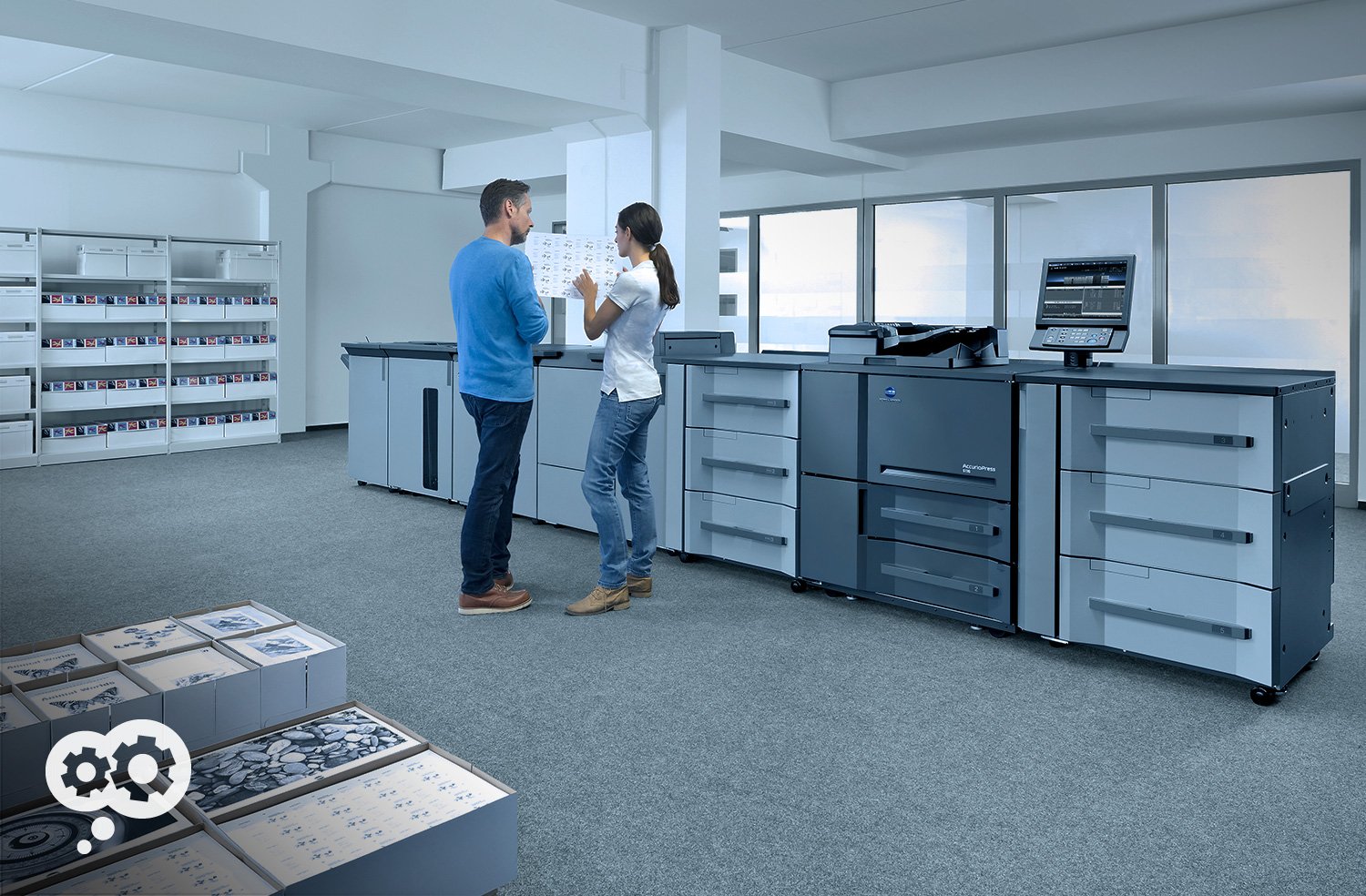 Production printers, in short, need to make-ready for the long print run. But with a well-vetted partner, print operators and print executives alike can exhale a little deeper, breathe a little easier.
The air inside production print rooms continues to get thinner.
When the challenges arise that come with quicker turnarounds and increasing client demands, in-plants, quick print shops and commercial printers find it harder to breathe easy in the press room. Common scenarios...
Overcoming workflow bottlenecks while meeting quicker turnaround times,
Exploring more efficient processes in a hybrid manual/automated production environment,
Dealing with untimely interruptions from persistent service issues, and
Improving the customer experience in the digital (I need it now!) era.
It can be suffocating. In the meantime, amid both pressure and broken processes, production print jobs are inevitably getting left behind.
According to an Epicomm survey, 47.5 percent of providers said increasing production efficiency would help make them more profitable. Optimal efficiency is the only existing option for these facilities moving forward. But what if you could retain lost print jobs, stop walking away from customers and give them the delightful experience they're after?
Resolution to these challenges often lies in the inherent capabilities of your production print partner —making long-term value and demonstrated expertise part of your decision making process. Purchasing not merely on price, but on a well-planned, executed and realized return on technology investment.
Production printers, in short, need to make-ready for the long print run. But with a well-vetted partner, print operators and print executives alike can exhale a little deeper, breathe a little easier.
No Denying the Evolution
The expectations of print customers have evolved.
Whether you're a quick print shop or a large-scale CRD, there's no denying that challenges exist when it comes to managing production demand. Three universal elements – faster turnaround times, shorter run lengths, and increased job complexity – all contribute to the trouble in how to invest in this print evolution.
Investing in tools to improve workflow automation can certainly ease industry pains, but only if they are properly vetted, measured and utilized by the production staff. According to a recent InfoTrends report, nearly 68% of print/marketing service providers currently own print management information system (MIS) software.
Despite this high level of print MIS ownership, service providers cite a number of production bottlenecks. The top three bottleneck issues reported were: "Dealing with a high number of small jobs" (36.2%), "Keeping up with change/training users" (27.7%) and "Working with legacy or old software systems" (27.7%).
The numbers suggest that:
Print providers are not taking full advantage of their workflow automation software,
The team wasn't properly trained on the software, or
Or it just wasn't a good fit.
If you're a printer introducing automation, ask yourself how deep your partner is willing to dig into your print workflow environment. Can they demonstrate that the right tools – be they finishing equipment or automation software – are being introduced?
If you're already utilizing such tools, ask your partner to track operational performance and evaluate the effectiveness of solutions in action. Have them review performance metrics and SLAs, and how well solutions are contributing to your business goals. Ask them what training opportunities exist for your staff. As the InfoTrends report states, "effectively managing challenges involves planning and documenting patterns and processes."
The best response to the evolution is education. Your partner should also be your resource, your trusted adviser. And they should be held accountable as such.
No Room for Interruptions
There's no room for interruptions in today's print room.
It could be downtime, caused by lingering equipment issues or just from a slow technician response. It could be a print operator pulled away from production to email a client pertaining to the job at hand. But in the case of properly vetting a production partner, you show allow no room for compromise in responsive service and advanced technician training.
Do your service technicians show up on time? What is "on time" for them? Valuable metrics such as Response Time, Response + Resolution Time, and First Call Completion Rate are crucial elements to the responsive tendencies of your service provider. Ask for the numbers. See that they're continually being measured, and improved.
Do your service technicians actually know what they're doing? Advanced level training from represented manufacturers— while a huge financial investment for service providers — pays huge dividends in uncovering and resolving escalated service calls. The device-specific and online training involved with earning certifications like Canon ATSP and Konica Minolta Pro-Tech is both a refresher course on the hardware and, for you, validation that your potential issue is not beyond their capabilities.
So what will advanced certifications do for you?
Equips your technical representative to solve a broader range of problems
Fulfills response time promises (just showing up quickly is not enough)
Reduces your service problem diagnosis and resolution time
Enhances the completion of your service calls on the very first visit
Ensures continuity in service approach across all technicians that may support you
Positions expertise in delivering preventive (proactive) maintenance for you company
Fosters team problem-solving when collaboration is required for complex support issues
Maximizes your productivity and ultimate return on technology investment
No Time For Getting Stuck
Getting stuck with broken workflows can occur anywhere within the production process — before and after any actual printing occurs.
According to a 2016 InfoTrends report, 45.6 of all costs associated with the production print process occurred during the print process. What that means, of course, is that 54.4 % of all costs are tied up in pre and post-production workflow.
This includes, but is certainly not limited to:
Internal/external creative
Editorial
Product management
Warehouse/archiving
Fulfillment/shipping/distribution
Business communication, both internal and external
Organizations must examine every stage of the document life cycle to fully improve efficiency. They must take a holistic approach to their workflow, seeing the process from a panoramic perspective.
Web-2-workflow introduces a new standard for streamlining and automating the production process from end to end. As an example, Canon's PRISMAdirect accelerates processes for the print operator, from order acquisition, pre-flight, make-ready, client communication, all the way to production and fulfillment.
Just a few of the automated processes at work with PRISMAdirect:
Automated order acquisition
Automated conversion, preflight and preview
Automated post-print (accounting and shipping information pushed directly to appropriate departments)
Automated Reporting (i.e. - what percentage of time is the press running?)
Automated, flexible customer email communication
No Job Left Behind
Still leaving jobs behind? Do you have little or no trust in your current workflow processes? Is the air getting thinner inside the press room? Perhaps it's time to evaluate your current production print landscape, so that you can operate at peak efficiency, reliability and profitability.
Maximize your production run time. Breathe easier. And leave no production print job behind.