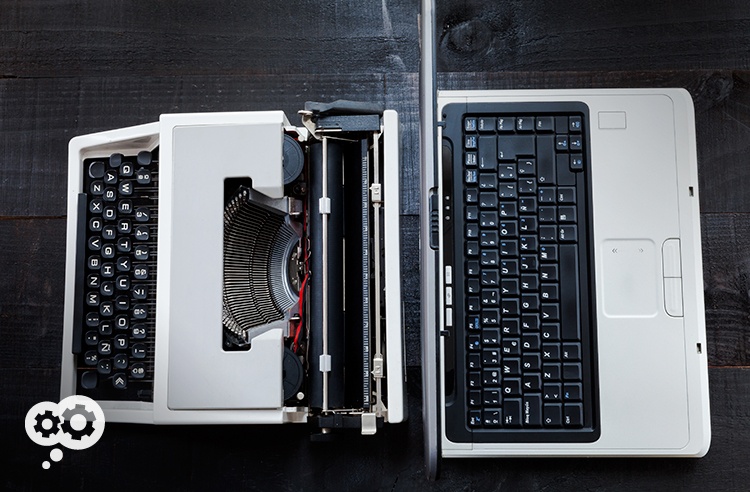 Your 15 year old copier still works. Great. Is that costing your office productivity benefits that newer equipment could deliver?
If it ain't broke, don't fix it.
In many cases, that's not a bad rule to follow.
On the other hand, the copiers, printers, and other office equipment you use now might not be broken (they still work), but could do with some fixing anyway.
How many of you work in an office with copiers and laser printers that just aren't able to do everything you need them to do? Have you ever thought, "I wish it could do . . . "
As the pace of technology continually accelerates, everything becomes better, faster, cheaper (well, not always cheaper). That includes office equipment.
Cost of Repair and Maintenance
How much are you spending on maintenance? Like any machine, copiers and printers need maintenance. As they age, so do maintenance and repair needs. However, unlike that 1957 Chevy one might invest in as a classic, an old copier isn't going to win you style points in your office.
Hanging onto equipment too long is false economy. If you're spending a few hundred dollars every other month to keep an old machine working, you could use that money to lease a new piece of equipment with better functionality and that works.
Improved Document Security
Easier options to incorporate more robust authentication at the device with proximity card readers, swipe card readers, and even biometrics. For environments that need a detailed audit trail of access (like Healthcare to comply with HIPAA), this additional layer of security keeps documents out unauthorized hands.
Many newer models of copy machines include an option for encryption and/or hard drive overwrite. Encryption keeps documents stored on your equipment from being used in case of a data breach. The ability to digitally shred information on the copier hard drive removes sensitive data from your copiers (like social security numbers, banking statements, employee and customer names and addresses, etc.).
Superior Output Capability
Modern office equipment is constantly evolving and getting better at producing high-quality documents and images. Improvements in toner improve print and copy output. Improvements in software improve scanning crispness and resolution. Basically, document output continually improves. It's like your TV, newer models have better resolution than last year's models. Copiers and printers are the same.
Streamline Workflows
Program multi-step tasks to be completed with one push of a button. Use the scanning capabilities to launch workflows.
Power Consumption
Those Energy Star ratings aren't just for show. More energy-efficient devices draw less power and lower your utility bill. Simply put, older equipment is less energy-efficient and will cost you more on your electric bill.
One way to measure power consumption is with a kilowatt meter to measure the draw of equipment when it's in use, on standby, and when simply plugged in.
Let's say you have a copier that is left on 24/7. Using a meter you could determine how much that costs per year and how much you could save by turning it off when the office is closed. All devices should default to standby mode to draw the least energy when not in use. Be careful of turning some copiers totally off as that can affect their reliability over time – check with your copier provider first.
Regardless, let's say you have 3 copiers and 5 printers that cost $1,500/year just to keep on. By ensuring they are off/in standby mode, you can save half or more of that expense.
Remote Troubleshooting and Diagnostics
Many new models of copiers allow not only remote diagnostics, but remote troubleshooting. While your service technician won't be able to fix a copier jam remotely, they will have the ability to identify and repair software-related issues remotely. And that leads to more productivity for you.
Cloud Connectivity
Scanners have been network-connected for decades. However, not all all copiers all one-button connectivity to cloud apps. The ability to scan to email, scan to repository, and/or scan to launch a business process are all huge boosts to office productivity.
Wireless Connectivity
Enable mobile printing for your remote workers. Allow employees to print from their smartphones, tablets, or laptops so they can work on the go.
Easy to Use
While the capabilities of copiers are improving, they're also becoming easier to use. Large, easy-to-read touchscreens allow users to customize frequently used functions. Quick menus allow fast access to personal workflows. Forget how to load the stapler or some other function? Many Canon copiers have how-to videos that can be viewed on user interface.
Constant improvements in paper handling and the inner workings of the equipment serve to minimize paper jams too.
Size
While size isn't always an issue, if you need more room and have an older copier, you can almost always find a newer model with the same (or better) functionality with a smaller footprint.
Track Resource Use
You can't managed what you don't measure. Use tracking and print rules to track and manage print output. Analyze color output (and restrict if needed), route jobs to the most cost-effective device, and track overall printing trends so that you can evaluate and maximize your print spend – without overspending.
Faster Warm up
Newer devices go from stop to first print or copy faster than ever before – that means less time standing at the copier.
More Uptime
Copiers send notification alerts proactively. Allowing you to be prepared to replace toner or ready the machine for maintenance BEFORE the equipment breaks down.
It's time to stop sharing stories at the water cooler about the latest reason the copier has broken down or wishing your could do more.
Outdated technology – and copiers ARE technology – slow down your business, dragging down efficiency and productivity.
The purchase or lease of new office equipment as an investment in office productivity, not an expense that you have to bear.