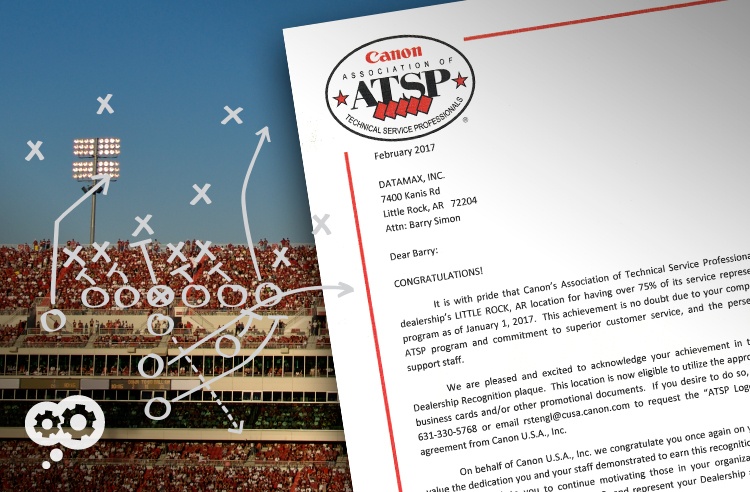 Winning copier service doesn't just happen. You have to practice and train for it. That's what we do.
Every vendor promises speedy and reliable service, but until you have a problem with your office equipment, you really can't be sure. Sadly for their customers, many of our competitors are also unsure - sending rookie technicians out in the field with little or no training at all. Or, maybe they've had training, but it's basic training, at best, inside their dealer's four walls.
This kind of approach is like putting in a quarterback who can't throw the distance, let alone a spiral. You just can't win with this scenario.
Not at Datamax - we believe in training all of our employees to help our customers WIN. We get you back in the game as soon as humanly possibly with services delivery approach hyper-focused on response, resolution, and first call completion.
We also believe in investing in our employees to develop their technical and professional skills direct from our manufacturer's technical training programs. The more they know; they better the can serve our customers. Here's how we do it…
For 2016, Datamax is the only independent dealer / service provider in Little Rock to achieve the Association of Technical Service Professionals (ATSP) distinction—Canon's highest standard for service training certification.
Through a series of exhaustive exams, the ATSP program challenges Canon authorized dealer's technical support professionals to confirm their skills and knowledge utilized in the support of Canon imaging products. When a client sees the Canon ATSP logo, they can be assured that the technical support professional responding to their call has the highest industry standard of service certification and manufacturer training to effectively solve any problem.
As Canon explains:
The Association of Technical Service Professionals (ATSP) prepares service personnel to perform at a high level when interacting with customers and when providing service and support on Canon Business Imaging Systems Group products. Through specific certification exams and hands on challenges, ATSP provides a method that quantifies not only what an individual knows, but also whether or not they can apply their knowledge in real world situations. By confirming an individual possesses the knowledge required to service Canon products, and by confirming they can apply this knowledge, ATSP helps prepare Canon service personnel to work effectively to reduce unnecessary service expense while maintaining satisfied customers.
We are also an elite member (less than 10% of our dealer community qualify) of Canon's Advanced Partner program four years in a row.
Qualifying for this program is contingent on providing high-quality products and solutions with high-quality service and business practices. Additionally, the Advanced Partner Program provides technical "fast pass" support, priority service training, and additional access to "exclusive" training offerings from Canon.
For the last 5 years, Datamax Arkansas has invested over 22.2 thousand hours and $1.2 million dollars in technical training to enhance service effectiveness AND we've been working with Canon for 35 years (read about our 35 year Canon partner award here.)  
This is a huge advantage for Datamax Arkansas' Canon customers – we've put in the time and we know Canon. If there's a problem with your Canon machine we can't fix, no one can. Thirty-five years has not only given us some pretty impressive institutional knowledge to tout, but the history to have literally studied, seen, and fixed it all. Our service professionals already know all of the tricks direct from the manufacturer to service your Canon copiers – and equipment from others too (Hewlett-Packard, Konica Minolta, and Lexmark to name a few).
Learn more about our commitment to service in A Tale of Two Vendors: A Story of Communication.
If you are interested in learning more about the Datamax service approach, let's talk!